by Dane Wilson
|
Last Updated:
October 6, 2020
Hey there! This site is reader-supported and we earn commissions if you purchase products from retailers after clicking on a link from our site.
You know that feeling of cracking open a cold one after a long stressful day or that moment you sink onto the couch with your favorite brew in hand? That little rush you get when thinking about that moment is from feel-good chemicals in the brain. Those neurotransmitters and hormones work together to make for a fantastic beer-drinking experience. What if you could punch up the effect? Would you consider taking beer showers?
When we say "beer showers," we don't mean those fancy beer spas or even getting bathed in beer. Instead, we're talking about sipping beer in the shower, or something called a "shower beer." You might think it's peak decadence to have a shower beer. In reality, they are underrated, overlooked, and, as science has proven, actually good for you.
Today, we're going to explain why shower beers are awesome and give some recommendations for the best shower beers to try.
Table of Contents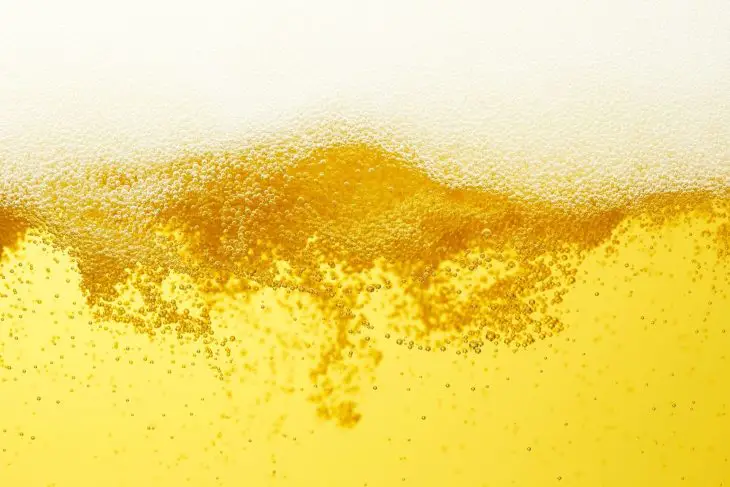 What is a Shower Beer?
The basic idea between beer showers is to drink a brew while you shower to either save time before hitting the bar (pre-gaming) or to relax and wind down after a long day. Interestingly, the first titled Shower Beer was made by PangPang, a Swedish Craft Brewery, whose members all loved drinking beer in the shower so much that they wanted to develop an ale that could be swallowed in three sips.
But, any brew can be a shower beer, so long as you can finish it before ending your shower.
How Are Beer Showers Good For You?
Believe it or not, but showering and drinking beer actually does the same thing inside your brain. Both light up the reward centers, where dopamine is created. According to NYC Surgical Associate Dr. Christopher Hollingsworth, shower beers are "a great way to improve productivity and creativity." The doctor goes on to say that showers trigger dopamine, and drinking during that moment can help bring about some inspiration.
Studies have proven multiple times that light drinking can increase happiness. Pair that with the benefits of taking a shower, and you obtain ultimate stress-relief.
How To Maximize Your Shower Beer Experience
There are a few Golden Rules of Shower Beer that you need to know if you want to beer shower like the pros.
Rule 1: Finish The Beer Before Your Shower
Pick your beer with the intention of being able to down it before you are shutting off the water. There's a reason for this. First, the heat of the shower could make your beer warm pretty fast. You don't want that. Second, it's just the principle. You're trying to multitask, so you shouldn't be nursing your beer.
Rule 2: Positioning
Ideally, you are going to want to get a holder for your beer (like a Sudski) so you can suds up without holding onto the can. That said, you don't want to position the holder where water and foam is splashing. Otherwise, you might as well pour the beer down the drain. If you have a beard, don't forget to wash out the suds before you take a sip.
Also, be wary of glass bottles. Opt for cans. They are slightly less dangerous in the shower when you are mildly tipsy and covered in soap.
Rule 3: Hot Shower, Cold Beer
Choose a beer that is known for tasting best cold—really cold. Nothing is going to feel better than hot water pouring down your back while you sip on an icy brew. This also means that stouts or brews with lactose are not ideal.
The Best Beers To Bring Into The Shower
It's time to meet the best shower beers around. These beers are light, fresh, and, most importantly, chuggable, making them excellent for your next shower.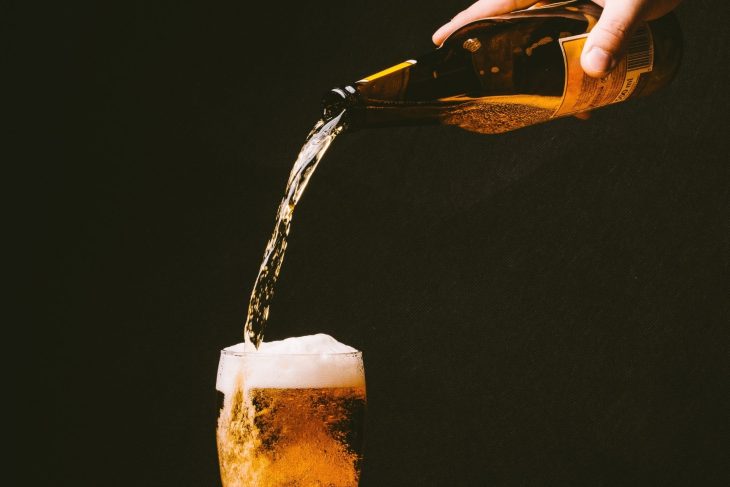 Coors Light or Coors Banquet
ABV: 4.2%
You might think Coors Light tastes a little like cold water, but that's exactly the point. If you absolutely cannot stand Coors Light, then you can try Coors Banquet, the Pilsner-style beer offered by the brewery from the Rocky Mountains of North America. Banquet is slightly stronger than its Light cousin. There is one reason why Coors is the classic American shower beer: it is easy to find in a can and gets icy cold.
Also, Coors beers already taste a little soapy, so even if you get some shower water mixed in, it won't throw off the flavor much.
If you don't love the idea of bringing Coors to the shower, you can always substitute it with another cheap beer, such as Millers Light or Pabst Blue Ribbon (PBR).
Champion Brewing Company's Shower Beer
ABV: 4.5%
Here is one beer that has been crafted solely for the purpose of knocking back while in the beer showers. Even the can is designed to look like a bar of soap covered in suds. Does that say anything for the flavor? Not really. The flavor will surprise you. Champion's Shower Beer is a Bohemian Pilsner (Czech), which means that it is strictly malt. You get a bit more of a hoppy vibe than you would with an American or German Pilsner.
The Czech Saaz hops blend beautifully with the spices that add substance to the beer. Finishing off the brewing process, Champion's Shower Beer is aged cold with Lager yeast for a few weeks. That means a superbly refreshing beer for you.
Sierra Nevada Brewing Company's Summerfest
ABV: 5.0%
From California, Sierra Nevada is one brewing company that has spread their beers far and wide—and for good reason. Unlike some other popular brands, Sierra Nevada Brewing Company has some pretty tasty beers. Case in point: Summerfest. The brewery gives a nod towards a more traditional Pilsner and uses the original Czech recipe as inspiration. The end result is a beer that is crisp, dry, and pours golden.
The spices and floral notes make Summerfest a wonderful shower beer, because it reminds you of those relaxing and warm summer evenings on the beach. There are also some hints of caramel, lemon, and malt. Best of all, you won't feel too fancy while drinking it in the shower, but that won't stop you from bringing a second poolside or to the sofa, either.
PangPang Brewery and Snask's Shower Beer
ABV: 10%
We mentioned PangPang Brewery's Shower Beer earlier, so it wouldn't do any good to look over it now. When the brewers decided to craft their version of Shower Beer, they wanted to play up the soapy flavor that some people talk about with beer. They decided to let the brew sit with the primary fermenter just a little longer before beginning the dry hopping and cold crashing process.
The brew is also flavored with Citra hops, which are known for having a herbal, citrus, and soapy profile. One funny note to PangPang and Snask's Shower Beer is that the ingredients make it a wonderful hair conditioner, too. So, in this case, you can literally take beer showers and come out looking and feeling fine.
Though the bottle is palm-sized and only has about 3 gulps of beer per bottle, the alcohol content is pretty high. Sip responsibly!
Shock Top Brewery's Belgian White
ABV: 5.0%
Shock Top has come out with a lot of interesting flavors throughout the years, but one of the best is the traditional blend of the brewery's Belgian White. You get a spicy tang from coriander spice, as well as the zest of orange, lemon, and lime. On top of that, you have a subtle hint of wheat to polish off every sip. Such flavors taste infinitely better when paired with a hot shower.
Shock Top's Belgian White has been uniquely crafted and goes into the bottle unfiltered, so it looks lightly golden and slightly cloudy. Every bottle finishes smooth and keeps you reaching for more.
Anheuser-Busch's Bud Light Lime
ABV: 4.2%
Better than the chuggable plain Jane Bud, this is one brew that goes down easy enough and doesn't leave you feeling totally sloshed by the time you are stepping out of the beer showers. The color is a light yellow, and the flavor is very light.
Barley malts and non-malted cereal grains make up the bulk of Bud Light Lime, but you also get a subtle hint of the citrus. Bud Light Lime does pour a little flat, so you won't be tempted to grab a glass to sip from while you lather up.
Consider this a perfect appetizer beer for a night out (or night in).
Good Word Brewing's Anna Fantastic
ABV: 4.0%
If you love singing in the shower, then you are going to love this beer that was named after Prince's girlfriend, Anna Fantastic. You can expect this beer to be bubbly, smooth, and maybe just a little decadent. You might find yourself bringing this beer into the bathtub with you instead of a shower (but we won't judge). Anna Fantastic is flavored with tart cherries and sour tangerines, making the beer slightly acidic and tropical.
When you pour it, the body sparkles slightly. At only 4.0% ABV, you might not feel buzz right away, but you will definitely feel your singing improve by the time you finish off your first beer.
Sierra Nevada Brewery Company's Torpedo
ABV: 7.2%
One of the more alcoholic beers on this list and also the only super brassy Indian Pale Ale (IPA) to make the cut is Sierra Nevada's Torpedo. Why is this one a fantastic choice for your beer shower? It's bright, sharp, and delicious. It also features enough alcohol to take the edge off after a long day.
Sierra Nevada made this IPA extra hoppy, thanks to a blend of Crystal, Citra, and Magnum hops. Note the soapy Citra. There are also two kinds of malts: two-row pale and caramelized.
This is one beer that has aroma and layers of flavor instead of just pure IPA bitterness. You will also be able to taste the citrus notes better as the steam from the shower begins to rise.
Conclusion
So, are shower beers good for you? Yes, as backed by science. When you do two things that increase happiness by triggering the reward centers of your brain, like taking a shower and drinking a delicious beer, you actually feel more energized and creative than you would just standing in the shower. Now that you know some recommended beers to bring to the shower next time, why not test the theory for yourself?