by Dane Wilson
|
Last Updated:
March 1, 2020
Hey there! This site is reader-supported and we earn commissions if you purchase products from retailers after clicking on a link from our site.
When you think of a beer, what do you imagine? Ale? A stout? Or maybe you think of a lager or a pilsner? As you can see, there are more varieties of beer than you may realize, and each of them have their own aromas, flavors, and colors. Learning the differences between more popular styles, like pilsner vs lager, can help you when it comes time to navigate the beer aisle or a beer hall. 
Today, I'm going to explain the fine differences between pilsner and lager, so get ready to take some notes!
Table of Contents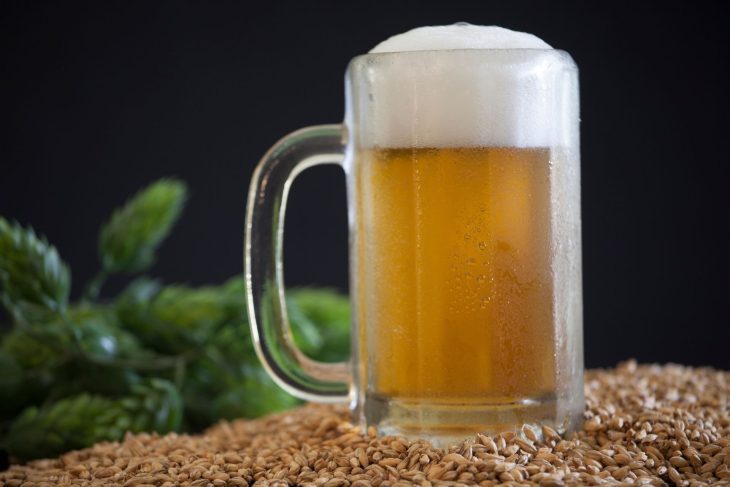 Pilsner vs Lager – What's the difference?
Let's get into it…
What is a Lager?
In the world of beers, things are generally split between ales and lagers. The separation comes down to the yeast used during fermentation. Ales use a top-fermenting yeast and higher temperatures, while lagers brew in cooler temperatures and have bottom-fermenting yeasts. In other words, the yeast ferments at the bottom of the barrel or container. 
This also changes the flavor of lagers. Unlike ales, which are fruitier, a lager is going to be cleaner and crisp. Put an ale and a lager side by side, and you should be able to tell the difference in taste and scent alone. 
Common Misconceptions About Lagers
While we're on the topic of lagers, we wanted to discuss some common myths that often confuse people new to the beer scene: 
"Lagers have less flavor than ale." Wrong! Lagers are just as flavorful as ales but have a unique flavor profile. If you love Oktoberfest beer, then you know just how tasty lagers can be.
"Lagers are less difficult than ales to brew." Again, no. Lagers require more experience, skill, and time to brew up. 
"The alcohol content of lagers is too low." There are lagers with low ABV, but there are many breweries with high ABV lagers out there. 
"Lagers are watery and look yellow." No. Lagers originated as darker beers in Bavaria (think dunkel and doppelbock beers) that are rich and have robust aromas. There are also golden lagers, also known as pilsners. Only American lagers are known for being light and bland.
What is a Pilsner?
So, here's the thing: every pilsner is a lager, but not every lager is a pilsner. Mind blown? 
Pilsner beer has a long history that has the development of the 18th century kilning method invented by the British. Then, in 1842, Josef Groll from the Bohemian city of Pilsen decided to use Saaz hops in his brew to prevent spoiling alongside things like soft water, pilsner malt, and lager yeast.
He ended up creating magic—the Pilsner Urquell. To this day, it is the Saaz hops that separate pilsners from other lagers. 
However, there are a few pilsner styles in existence: Czech (Bohemian), Bavarian, German, and American. Czech pilsners are the most traditional (and the most popular). For many years, the Pilsner Urquell enjoyed soaring popularity. It took a few decades for the beer wizards in Bavaria to imitate the Bohemian pilsner. It ended up becoming known as the modern day Munich helles. In German, "helles" means "light" or "pale."

Later, a German-style pilsner emerged that had more assertive flavors while having a lighter color, making it stronger than the Czech pils. Then, there is the American pilsner, also called the American pale lager. 
Characteristics of Pilsners
As mentioned earlier, a pilsner is a golden or pale lager. Because of the ingredients, pilsners are a very unique beer, but they do have the typical characteristics of a lager, such as the crisp flavor. The Saaz hops used in pilsners also add a little zing or kick to the beer.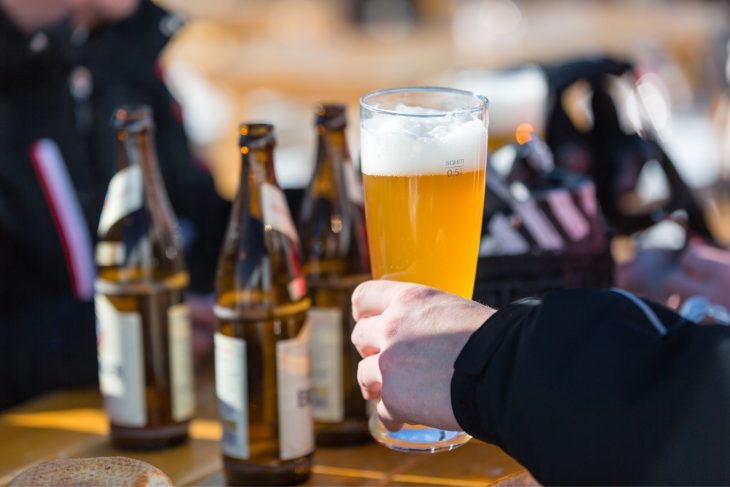 Different Kinds of Lagers
There are various kinds of lagers. Introduce yourself to a few so you can start picking dark lagers apart from light pilsners and other brews.
Here are some of the lagers that are bound to show up on a dinner menu or in the stores: 
Czech Dark Lager: Known for being dark brown, almost black, and with a large off-white head. Malty. Usual has notes like coffee, caramel, and a subtle amount of hops. ABV ranges between 4.2% to 5.5%.
Dunkel: There are two kinds—Munich and Franconia. The first is darker and chocolaty, while the Franconia style is slightly dry. Usually very balanced between malt and sweetness. 4.0-5.5% ABV.
Bock: Reddish amber color that is malty, deep, and absent of bitterness. Due to high ABV (6.0-7.5%), you get the warming sensation of alcohol with each sip. One example is Sam Adams Winter Lager.
Doppelbock: 7.0-9.0% ABV. Originally from Munich, this is a double bock. It contains things like exotic spices, fruit, chocolate, toast, and caramel. Very smooth and boozy. The popular Troegenator by Troegs Brewing Company is a Doppelbock.
Eisbock: With an average ABV of 9.0-15%, the eisbock is the strongest of lagers. The color is an intense mahogany, and it is usually sweeter than it is bitter. Eisbock is popular in the winter months.
Czech Pilsner: The original golden lager. The scent of spicy Saaz hops and malt are matched by a delightful caramel on the tongue. You get a perfect balance between the sweetness and the bitterness of the hops. Want to try a traditional brew? Check out Plzeňský Prazdroj Pilsner Urquell or Oskar Blues Mama's Yella Pils. 4.0-5.5% ABV.
German Pilsner: If you want something with a bit more substance that a Czech pils, then you should try the German blend. A German pilsner pours clear and bright, and it has a crisp cracker taste with more bitterness. 4.5-5.4% ABV. One of the most popular is König Brauerei König Pilsener.
Bavarian Helles: 4.5-5.5% ABV. Brewed in southern Germany to combat the Czech pilsner, the helles was originally marketed as a pale lager. It is straw-colored and malty. The hops are less noticeable than both Czech and German blends, and that is because the water from Bavaria is not as soft as it is in Pilsen. Try a helles from Zwei Brewing or Bierstadt Lagerhaus.
Oktoberfest Amber Lager: 5.0-6.2% ABV. Also known as Märzen, this is the classic beer served up during Oktoberfest celebrations throughout the world. The amber lager is malty, with hints of caramel and earthy German hops. There is also a sweetness that is matched by a flavor of toasted bread. Check out Samuel Adams Oktoberfest.
Maibock/Hellerbock: A fusion between a bock and a helles? Usually seasonal, hellerbock beers are pale in appearance but rather strong. There are hints of bread, floral hops, spice, and malt. You may also see this beer sold as "blonde bock." ABV ranges between 6.0-8.0%.
Classic American Pilsner: Because 6-row barley malt contains so many enzymes, American brewers were forced to add corn into the mixture. The result was a unique kind of pilsner that has a herbal taste of hops mixed with the sweetness of corn. This style is very rare to find these days, as it was a pre-Prohibition era lager.
American All Malt Pale Lager: The American remake of an Old World favorite made only with ingredients found in the New World—barley malt. This pale lager is known of its straw color and clarity. 4.5-5.5% ABV. 
What Beers Are Pilsners?
So many pilsners, so little time. Anywhere you go in the world, there is a pilsner to be had. Some many even consider this style of pale lager to be the standard domestic beer. Yes, you may have even heard of the go-to Pilsner in the US: Budweiser. Other common names include Miller Lite, which is considered an American Pilsner (also known as an American pale lager), and PBR.
American Pilsners are less colorful and flavorful than their European counterparts, as you can see from the brands calling themselves a pilsner. This can make shopping for a good pilsner in the US a little underwhelming—if you don't know where to look. That said, you can't overlook a decent pils, especially when there are hundreds of truly exceptional brands and brews out there.
To introduce you to some mouthwatering pilsners, here is a list amazing brews for you to try:
Basically, if you want a pilsner that blows your mind, go for a traditionally brewed one. Look for Noble hops in the recipe (though that's not required), and seek out beers with notes of citrus, lemon, and spice. You'll find a pilsner to love, guaranteed.
Conclusion: Pilsner vs Lager
Now, you're definitely an expert on both lagers and pilsners. As long as you remember that pilsners are a kind of lager, then you are good to go! The main difference is in the flavors. Hops tend to have more of a presence in pilsners than other forms of lagers, but all lagers have that classic refreshing flavor. 
FAQs About Pilsner vs Lager
Is pilsner better than lager?
Since a pilsner is a kind of lager, there is no definitive way to say if a pilsner is better than a lager. There are just too many styles of lager to choose from! The only way to define whether or not a pilsner is better than a lager is to figure out your preference for beer. Do you like traditional European styles? Do you prefer something watered down and light? If you want golden hoppiness, a pilsner might be for you!
Is Budweiser a lager or pilsner?
Budweiser is technically an American pilsner, also known as an American pale lager. Since pilsner beer is a form of lager that is known for its light golden color, it is safe to call Budweiser either a lager or a pilsner. However, make sure you're defining it as an American pilsner, because European pilsners, particularly Bohemian pilsners, tend to taste very different.
Is Heineken a lager or pilsner?
While Heineken can be defined as a pilsner or a lager, since pilsners are a kind of lager. If you were to compare Heineken to a German and Czech pils, you will find that they taste similar, though the Heineken would be a little weaker.
Is pilsner a lager beer?
Yes, a pilsner is a type of lager beer. A pilsner is a pilsner because of the strong hoppy flavor that it comes with. Unlike other pale lagers, pilsners are more flavorful, especially when brewed according to the traditional German or Czech style.
Are all pilsners light?
Yes, all pilsners are light in color. Pilsner beers are often straw or golden colored, though they are not light on flavor. Due to these beers being brewed with Saaz hops, a Czech pilsner usually has a kick to it. On the other hand, American pilsners, like Budweiser, are weaker in flavor and body.