by Dane Wilson
|
Last Updated:
November 23, 2020
Hey there! This site is reader-supported and we earn commissions if you purchase products from retailers after clicking on a link from our site.
There are some people in this world who do not enjoy sweet baked goods to celebrate. Some people like cracking open a cold beer. So, why give them pastries and sugar when you give that person the gift of beer? If you are tired of gifting beers in bags and boxes, there is a more fun way to dress up beers: make them a beer can "cake." Yes, this is not a baked good but a three-tier masterpiece composed of beer cans that is sure to delight any beer lover. 
Today, we're going to explain how to make a DIY Beer Can Cake for all kinds of special occasions.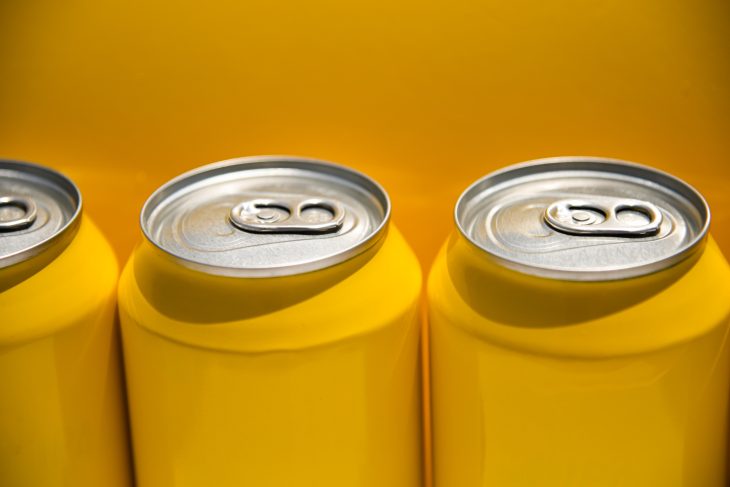 Table of Contents
What You Will Need
Here are the "ingredients" for your beer can cake: 
A 12, 18, or 24 pack of beer, depending on how many tiers you want
Ribbon 
Glue or tape
Scissors 
1 platter
2 bristle boards (for a 12 pack, cut into 3 circles of 3-inches, 6-inches, and 9-inches)
If you cannot find a platter and bristle boards, you can also use cardboard or cake boards from the local craft store. Keep in mind that you are going to need a very sturdy base, since the beer cans (or bottles) are going to be much heavier than your average cake. 
You can also purchase different kinds of beer if your beer-lover doesn't have a favorite. Figure out how many tiers of cake so you know how many cans of beer you need.
Step-by-Step Beer Can Cake Tutorial
Want to make a three-tier beer can cake? Follow these directions:
First, grab your platter or cake boards. Most beer can cakes have three tiers, where each board is slightly smaller than the last. For example, you might have one 14-inch cake board as the base, then a 10-inch board for the middle, and an 8-inch for the top tier. Some people might decide to do two 14-inch boards then a 12-inch or 10-inch. 
If your platter or cardboard does not have a pattern, you can wrap them in sturdy paper, aluminum foil, or something festive. 
Get your beer. You can mix it up between cans and bottles. A 9-inch circle fits around 6-7 beer cans. A 14-inch cake board or platter is rather wide, so this will be a large base. You will be able to fit around 20-23 bottles or cans on a 14-inch board, for example. 
Once you complete the bottom layer, take your ribbon and wrap it around the beers. 
Place the next board on top of the beers of the bottom layer. 
Use less beer cans this time, leaving a space between the cans and the edge of the cardboard. Tie another ribbon around the cans of the second tier. 
Put the third layer on top. This should cover the tops of the cans perfectly. The top tier is perfect for cans or bottles that were an awkward height that wasn't uniform with the rest. 
If you are planning on making a smaller beer can cake, you can use a 12-pack to create two tiers. The instructions are the same. 
Here are a few video tutorials on how to make a beer can cake to inspire you:
Decorating Your DIY Beer Can Cake
Now that you have your cake constructed for the most part, it is time to decorate! You can get different kinds of ribbon to jazz up the layers of the cake. You can also glue garland to the edges of the cardboard circles. 
The top tier of the DIY beer can cake is where you can be the most creative. If you are celebrating someone's birthday, you can add streamers or more ribbon and some candles. Other options include making a small banner, tying a large bow, or mounting it with a figurine or stuffed animal. 
Making a DIY beer can cake for another event? Spice it up with some thematic decorations. For example, if you are making a beer can cake for a holiday party, you can use winter season beer, some Christmas colors, and maybe an Elf-On-The-Shelf up on the top. Add some fairy lights or tinsel. There are so many options, from individually wrapping the beers for a real surprise to letting the labels be a part of the overall design, too. 
Conclusion
Beer can cakes are a fantastic way to do something unique for a birthday or holiday party. Not only is it unique, but beer can cakes are fun for all adults in the room. Now that you know how to make a DIY beer can cake, why not check out all the fantastic beers you can use for it?