by Dane Wilson
|
Last Updated:
September 17, 2020
Hey there! This site is reader-supported and we earn commissions if you purchase products from retailers after clicking on a link from our site.
London has always been known for having a good time, especially if you're looking to knock back a pint or two. The city is always transforming, always bringing something new to the table—beers included. These days, top quality craft breweries can be found everywhere you turn in the UK, but only a few deserve to be called the best.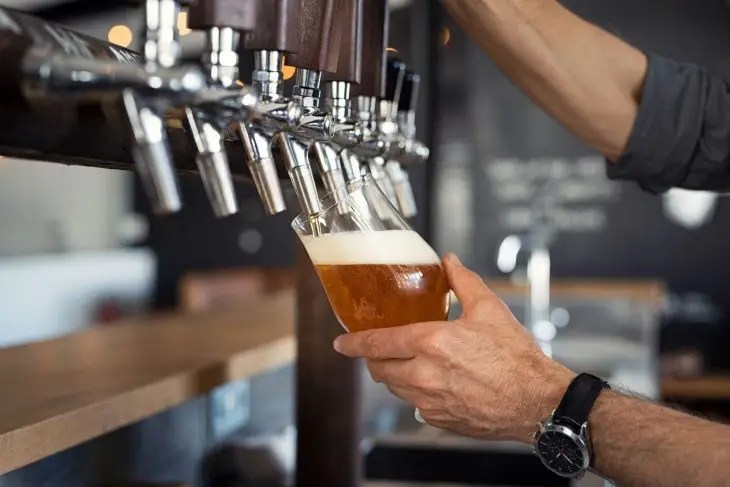 So, where should you go to sample some of the finest brews? Here is our list of the top craft breweries in London, UK.
Table of Contents
1. Gipsy Hill Brewing – Gipsy Hill 
It all started when the two founders, Charlie and Sam, but at The Rake in Borough Market. After hitting it off, they decided that they would make their own brewery and take over the world. Now, Gipsy Hill Brewing Co. is excelling at making fantastic beers with colorful cans, funky names, and delicious flavors. The brewery is still small, with around 25 employees and 25 tanks, but that doesn't mean it isn't cranking out some serious brews. 
The best beers from Gipsy Hill include: 
Hepcat – Session IPA with 4.6% ABV
Hunter – Helles Lager with 4.8% ABV
Baller – IPA with 5.4% ABV
Bandit – Gluten Free Pale with 3.8% ABV
Gipsy Hill also releases specials throughout the year that are often considered one-of-a-kind, like a Mai Tai Sour Ales or a Triple Fruited Sour. Keep your eye out for the next offering. 
Website: https://gipsyhillbrew.com 
2. London Fields Brewery – Hackney 
Here is a brewery that is as creative and unique as the packaging of their beer labels. The company strives for community and does their part in supporting local artists, charities, and organizations throughout the London area. Not only do they have a taproom in Hackney where you can try out all their latest blends, but you can also have beer delivered right to your door if you live in the UK. 
All beers are brewed up in small batches, ensuring high quality and amazing flavor. Here are some beers you should try: 
Broadway Boss – Pilsner Lager with 4.6% ABV
Hackney Hopster – Pale Ale with 4.2% ABV
3 Weiss Monkeys – White IPA with 5.0% ABV
The favorite among the three is Hackney Hopster for its citrus and passionfruit notes. 
Website: https://www.londonfieldsbrewery.co.uk/home 
3. Beavertown Brewery – Tottenham 
Kudos to Beavertown Brewery for providing beer lovers with a full experience. From the website to the Tempus Taproom, Beavertown is all about bright colors, unique characters, and just enough quirkiness and cheekiness to keep you hooked. The founder, Logan, started brewing at home, then in the kitchen of a BBQ restaurant, and eventually, the brewery landed in Tottenham. 
Every beer has a fun name (Neck Oil and Lupuloid, anyone?) and crazy designs on the cans. Some Beavertown favorites include: 
Gamma Ray – American Pale Ale with 5.4% ABV
Bloody 'Ell – Blood Orange IPA with 5.5% ABV
Black Betty – a seasonal Black India Pale Ale with 7.4% ABV
Beavertown Brewery also does collaborations with other brands to come up with truly delightful flavors. 
Website: https://shop.beavertownbrewery.co.uk 
4. Fourpure Brewing Co. – Bermondsey 
Unpretentious in every way, Fourpure is all about the beer and nothing else. The brewery was founded by two brothers who wanted good beer and great adventures. Tom went off to America to visit the West Coast while Dan studied home-brewing. What came from that are beers that showcase the finest flavors of the UK and USA. Flavors are experimental but comforting. You're bound to love sampling them all. 
The core beers to keep a lookout for are:
Easy Peeler – Citrus Session IPA with 4.0% ABV
Shapeshifter – West Coast IPA with 5.9% ABV
Lost at Sea – Maple Imperial Stout with 9.0% ABV
Fourpure also has a fantastic blog for those who love reading about the world of beer, too. Give it a look. 
Website: https://www.fourpure.com 
5. Weird Beard Brew – Osterly 
The name should give you a hint about the philosophy of the company. Weird Beard is as edgy as you would expect, and some of their blends are truly beyond all expectation. Batches of beer are handcrafted and mixed, so you can sample winning core beers and crazy concoctions. Weird Beard also has some well-loved vegan beers to sample. 
What are the best beers from Weird Beard Brew Co.? Check it out: 
Black Perle – Coffee Milk Stout with 3.8% ABV
Mariana Trench – Transpacific Pale Ale with 5.3% ABV
Bat Oat of Hell – DDH Oat Pale with 4.0% ABV
None of the beers are what you would anticipate, though. The best way to learn more about this non-conformist brewery is to pick up some bottles from them today.
Website: http://www.weirdbeardbrewco.com 
6. Howling Hops – Hackney Wick
The people who started Howling Hops were craving something a bit more interesting. In the beginning, Howling Hops created over 100 different types of beer, never sticking to the same recipe. Once they got into the current location, they opened up a tank bar, where beer is poured directly from tanks instead of kegs, so you know you are getting super fresh brews. 
Howling Hops has dozens of beers to choose from, but you should try one of the following: 
Tropical Deluxe – Pale Ale with 3.8% ABV
Sliced Not Diced – Pineapple NEPA with 5.0% ABV
Well Shot – Bourbon Barrel Aged Stout with 13% ABV
The beers offered online and at the Tank Bar are rotated often. You never know what will be available, but Howling Hops is helpful with getting you the beer you want to try. 
Website: https://www.howlinghops.co.uk/shop/ 
7. Sambrook's Brewery – Battersea 
Here is a no nonsense brewery that began in the remnants of an old photography studio in 2008. Sambrook's has won dozens of awards for their flavorful beers. If you visit their brewery, you can speak with the team directly, and they will help you figure out which brew is right for you (or contact them virtually). 
Here are the top-selling beers from Sambrook's Brewery: 
Session – IPA with 5 different hops and 4.0% ABV
Powerhouse – Handcrafted Porter with 4.9% ABV
Batter Rye – Rye beer with 5.8% ABV
The best part of Sambrook's Brewery? You can purchase mini kegs instead of bottles and cans. Bringing a mini keg to a social gathering is bound to make you a favorite, especially if it comes from Sambrook's. 
Website: https://sambrooksbrewery.co.uk 
Wrapping Up
Ready to pack up your tasting glass and head to London? Though there are plenty more craft breweries in London to try, these are the ones where you are bound to have an amazing time and taste something phenomenal. The only question is, which beer are you going to try first?