by Dane Wilson
|
Last Updated:
November 20, 2022
Hey there! This site is reader-supported and we earn commissions if you purchase products from retailers after clicking on a link from our site.
The Coronarita started the trend. Now the beergarita—or beerita?—is here to stay. That's right, we are talking about beer margaritas, a fabulous fusion of two beverages that goes down easy. Whether you are looking to fix up some beer margaritas for a holiday celebration or you need one to wind down after a long day at the office, this easy beer margarita pitcher recipe is perfect.
Let's get mixing.
Table of Contents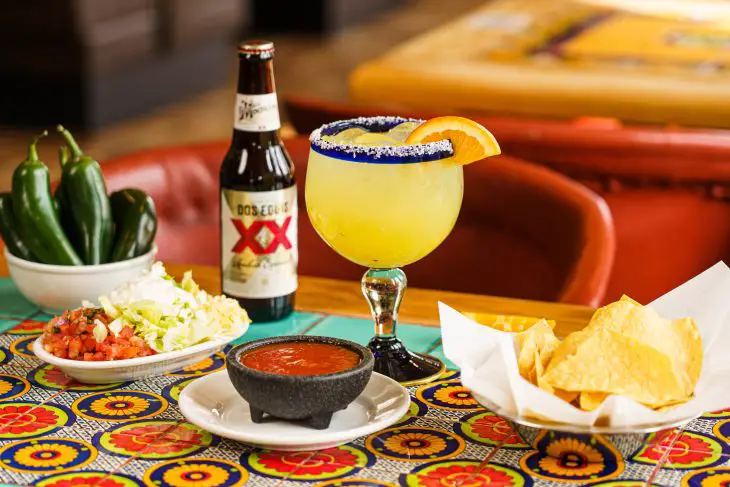 What is a Beer Margarita?
If you have never tried one, you may not fully understand what a beergarita is and how it works. And yes, it does work. At its core, a beer margarita is a beer and margarita mixed into one glass. Oddly enough, the hops in beer, some of which impart a citrus-like flavor, pair well with the tartness of the lime. Tequila also plays a role in this sweet yet tangy cocktail.
Check out the Tipsy Bartender version of the beer margarita or try out the recipes further down below:
What is in a Beer Margarita?
What goes into a beer margarita is generally up to some debate. It depends on how heavy of a margarita flavor you want. Some recipes call for frozen limeade. Others say just use lime juice, which means the recipe goes the more traditional (or official) route. That said, there are two things that are absolutely essential to a beer margarita: beer and tequila.
For the beer, you should use either:
A crisp pale lager, like Corona or Dos Equis;
Or a craft IPA, preferably one with citrus notes
Should I Rim My Beergarita Glass With Salt?
Salting the rim of your beer margarita is up to you. Since the recipe below is made for a pitcher, the assumption is that you're pouring this into a chilled glass or red plastic cup. So, if you want to feel festive, do it up and use the salt rim. Salt tends to give a beer margarita a bit of a zing. Kosher or flaked sea salt will give you the best taste and experience. You could also add in some lime or orange juice to the salt for more punch.
However, if you don't want a salt rim, you will not be disappointed. A beer margarita has so much flavor that it can standalone without any embellishments.
Easy Beer Margarita Pitcher Recipe for Summer Fun
Want a mellow, fruity, yet slightly hoppy frozen drink that pairs well with a summer night? Then this is the beer margarita for you.
Ingredients
12 ounces (one bottle) of a light lager, such as Corona, Coors, or Dos Equis
12 ounces chilled blanco tequila (or anejo, if you want a smoother beverage)
12 ounces thawed frozen limeade
Lime, cut into wedges
Directions
Combine the beer, tequila, and limeade in a pitcher.
Add in a little bit of crushed ice, enough to bring the level of the liquid up a little.
You can squeeze in some fresh lime juice.
Stir to combine the ingredients.
When serving, pour into a small 6-8 ounce glass, over ice. You can add slices of lime as a garnish.
This recipe is going to be on the sweeter side. Be sure to pair it with salty snacks, including chips, salsa, and guacamole. You can also complement spicier dishes with this drink, as it will cut through some of the tang.
Stronger Beer Margarita Pitcher Recipe
Looking for a beergarita that will get your guests dancing and chatting? The following bonus recipe follows a more traditional margarita recipe and adds in some delectable IPA beer.
Ingredients
12 ounces tequila reposado (Tequileno Reposado, Milagro Reposado, and Siete Leguas Reposado are recommended)
8 ounces Cointreau or Grand Marnier
4 ounces fresh lime juice
12 ounces chilled citrus IPA beer
Ice, for serving
Directions
In your pitcher, combine your tequila reposado and Cointreau or Grand Marnier.
Pour your beer and lime juice in next then stir to combine the ingredients.
When serving, add some ice to the glass first. Pour in the cocktail then garnish with a lime wedge and salt rim.
This cocktail pairs perfectly with any Mexican-style food, such as tacos, elote-style corn, salsa, guacamole and tortilla chips, and even fajitas. Since there is no limeade concentrate added, the flavors are going to be much more crisp and pronounced.
Want to make this at home for yourself? Cut all the liquids down to a single ounce, except for the beer. Make that 4 ounces. Pour everything into your glass over ice then stir gently. Viola.
Can I Freeze My Beer Margarita Mixture For Later?
Yes, you can! Beer does not freeze easily, much like other forms of alcohol (tequila and Cointreau included). If you find that you have run out of space in the refrigerator, go on and pop the pitcher into the freezer for a short while. Not only will your drink taste just as good when you are next ready for it, you may even get a slushier consistency, which, let's face it, is always delicious when it's a margarita.
If you plan on freezing this drink for longer than a few hours or day, make sure you put it into a freezer-safe container.
One Ticket to Beergaritaville, Please
Now that you have seen two easy beer margarita pitcher recipes, what do you think? Don't beer margaritas sound amazing? This is definitely something you can try to make when you are planning on entertaining a crowd. Of course, this is also a cocktail that you could make by yourself at home! Bottom's up!
FAQs
Why put beer in a margarita?
Some people put beer in a margarita recipe to replace the orange liqueur that is traditionally used. This is a good idea if you want less orange flavors. Lighter beers, such as a pale ale or lager, work well. It is recommended that you use Dos Equis or Corona.
How does a Corona margarita work?
Also known as a Coronarita, a Corona margarita is when you take a bottle of Corona and turn into over into the margarita, letting the bottle drain completely. If you want to make one at home, do it with the smaller version of Corona, the Coronita.
How much beer goes in a margarita?
If you want to make a beer margarita, it will be mostly the margarita cocktail, some ice, and a whole bottle of Coronita or a similar beer. Generally, that is around 6-12 ounces of beer, if you plan on making a pitcher
What is a Milwaukee margarita?
A Milwaukee margarita is typically made with limeade, water, tequila, triple sec, and a bottle of beer. Some people like honey wheat beer. You can also go by the Urban Dictionary definition, calling a Milwaukee margarita a Pabst Blue Ribbon beer (canned) with a slice of lime.