by Dane Wilson
|
Last Updated:
October 30, 2022
Hey there! This site is reader-supported and we earn commissions if you purchase products from retailers after clicking on a link from our site.
When it comes to drinking some of the truest, oldest brews in the world, German beers are among the best. Renowned for their pure recipes, beer halls, and Oktoberfest, Germany has long been an integral part of beer culture and history. If you find yourself wishing for a taste bud adventure, here are 16 of the best German beers to fill up your stein.
Table of Contents
What Makes German Beers So Good?
Historically speaking, Germans know their way around beer. Due to purity laws and tradition, German beers are generally not mass produced like many of those available in the United States. Each brewery—some having been around for centuries—focus on perfecting the recipe. German beers also tend to taste a little different from offerings like Coors and Millers. German beers, having been made with bottom-fermenting yeast for many years, are brewed at colder temperatures, resulting in a taste that is crisp yet fruity.
There is also a tremendous range of German beers, including light and refreshing Helles lagers to more smokey rauchbier. Germany has a beer for almost everyone; some styles available there may even be unknown to you.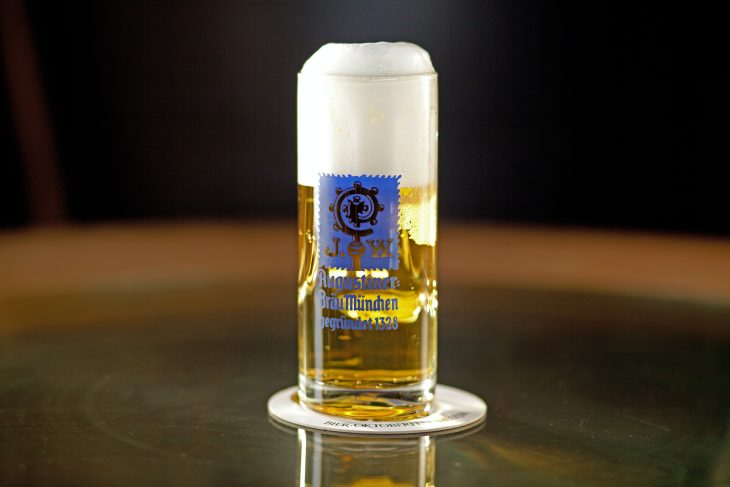 16 Best German Beers You Should Try Out
Without further ado, here is the list of German beers you should try.
Also, to help you order these beers like a pro, check out this video:
1. Rothaus Tannenzäpfle, Badische Staatsbrauerei Rothaus
The brewery, Rothaus, has made numerous beers throughout the years, but their Tannenzäpfle is one of the best. Tannenzäpfle is a pilsner that is ideal for those who want a beer that is easy to drink, not too complex, yet full of enough flavors for analyzing. Rothaus Tannenzäpfle is also pretty fun to say, once you get the pronunciation down.
But what makes this pilsner such a mouthwatering brew? The recipe uses Hallertau and Tettnang hops (also known as noble hops), making it largely herbal. There is a slight note of fruits, but the balance of malt plays well with the hops. You are not going to want to put this German beer down.
2. Weihenstephaner Hefe Weissbier
Earning a well-deserved place on this best-of list is Weihenstephaner Hefe Weissbier, which is well known for using a classic method of brewing this beer style. In fact, Weihenstephaner is the oldest beer brewery in the world—which says something about the beer they brew. The sweetness of the Hefe Weissbier is reminiscent of gum or banana, which is a result of the brewing process.
A surprising twist is the cinnamon that will dance on the back of your tongue. The Hefe Weissbier is a bright gold in color with a little foam at the top. Take a whiff, and you may notice a little orange blossom.
This is one beer you are going to want to keep handy, because you and all of your friends are going to love it.
3. Aecht Schlenkerla Rauchbier
Schlenkerla has recipes that date back to 1405. It is one of the few remaining smoke beer breweries in the world and is currently located beneath the Bamberg Cathedral. The brewing process of all their beers has long adhered to the Bavarian Purity Laws of 1516, and they have felt no need to do anything else.
Schlenkerla prepares their malts using a kilning process to give their beer a unique smokey tang. All smoked beers need to be kept in a cool location when stored.
Any of the beers created by Schlenkerla are among the best, and each beer type has won awards that are far too numerous to list. That said, these three varieties are definitely worth keeping an eye out for:
Marzen: 5.1% ABV
Oak Smoke: 8.0% ABV
Lager: 4.3% ABV
And yes, each of these are considered a rauchbier, or smoked beer.
4. Ayinger OktoberFest-Marzen
Ayinger makes a good number of German beers, each one delicious and well-rounded, but the favorite among beer drinkers far and wide is the Oktoberfest-Marzen brew. When poured, you will notice that Ayinger's Oktoberfest-Marzen beer is a gorgeous golden color that promises a sweet malt on the tongue. It smells of oranges and caramel and smoke, and those aromas are also carried throughout each sip. The foamy head clings to the glass as you drink.
Oktoberfest-Marzen by Ayinger is a pleasure to drink. It has a decent alcohol by volume (5.8%), and the overall richness definitely makes you want to party. Traditionally, Ayinger brews up their Oktoberfest-Marzen beers in preparation for the grand celebration in March. Keep an eye out for this one or book your ticket to Oktoberfest now so you can get it as a draft.
According to the brewer, one of the best food pairings with this beer is pretzels and radishes. However, they also recommended wiener schnitzel, roasted chicken, sauerkraut, and goulash with dumplings. Very German, indeed.
5. Augustiner-Brau Edelstoff
Founded in 1328, Augustiner-Brau is the oldest independent brewery in Munich. As such, their Edelstoff Helles lager is the stuff of legends. Not only is it the brewery's most popular brew, it has also kept a good many Germans from converting over to Czech's light pilsners. For many years, Bavarians loved dark lagers, but when the Czechs started developing their beers, it gave German brews a run for their money. Augustiner-Brau proved that Germans can make a killer Helles while keeping it lawful.
Edelstoff contains 5.6% ABV and is medium-bodied, malty, and playful. Though the color is a very pale yellow, the flavors are punchy. You get notes of honey, hay, chamomile, grass, and biscuits that makes it easy to drink and memorable all at once. Careful, though. You may find yourself knocking back more Edelstoff than you thought you could.
Good news: Edelstoff is available in the US through Global Village Imports, LLC.
6. Einbecker Ur-Bock Dunkel
Here is a beer with a bit of fascinating history. The original recipe came about during the 14th century in a place called Einbeck. It is thought that the term ein bock is a mispronunciation of the city's name. Bocs are malty lagers with many variations, including maibocks and dunkels bocks.
The Einbecker Ur-Bock Dunkel is, as you may have guessed, a dark and brooding dunkels bock made for the coldest of winter nights. The packaging retains the original 1851 design, and the flavors are somehow very nostalgic. Ur-Bock Dunkel is a boozy 6.5% ABV. Notes of molasses, raisins, and toffee whisper through the bitterness of the hops. Balancing out everything is a stroke of caramel that stays with you on the back of the tongue.
It's rich, delicious, and dessert-like.
7. TAP7 Mein Original Schneider Weisse
Here is another beloved German wheat beer—or Hefeweizen—that deserves a try. TAP7 is a family-owned brewery that has been around since 1872. At 5.4% ABV, Schneider Weisse is a great beer for pairing with a variety of foods, especially since it has a stronger flavor than what you may expect. It can be used to tone down spicier dishes or bring out some subtle flavors in things like pumpkin pie.
TAP7 Mein Original Schneider Weisse looks amber when poured and immediately gives off spiced aromas. Indeed, you will taste a bit of nutmeg, allspice, and cloves on the tongue. There is also some coriander in there. This Hefeweizen brings a decent balance between hops (Hallertauer and Herkules) and malt to the table. Except a bit of honeyed lemon to linger on the palate long after you have finished your bottle.
While this may sound overwhelming, Schneider Weisse is actually very mild.
8. Hofbrau Original
Did you know that the most popular type of beer in Germany is the lager? It's true. Germans love lagers, and Hofbrau Original is among the best. Hofbrau Original is full-bodied, crisp, and has 5.1% ABV. You get everything you could ever want from a full-bodied lager, including breadiness, malty aromas from the grain bill, and spice from the hops. Hofbrau even adds a touch of sweetness in the form of honey.
This beer is surprisingly easy on the tongue, thanks to those honeyed notes. You find that each sip introduces something new.
For those who love taking pictures of their beers, Hofbrau Original is rather photogenic. The thick white head and amber body is extremely pleasant to see in your pint glass.
9. Hacker Pschorr Kellerbier Unfiltered Lager
If you have never tried unfiltered beer, make a note to yourself to try this one first. Hacker Pschorr has a couple of flavors available internationally. What luck that their Kellerbier is among them. Despite being 5.5% ABV, Hacker Pschorr's Kellerbier is easy to drink and has loads of flavor.
The first sample of this beer will have notes of wheat and peach, but the more you drink, the more other flavors shine through. Honey, toast, apricots, and walnuts stand out among the toasted malt in the background. There is excellent balance to this German beer. You never get too much sweetness. Plus, since it is unfiltered, you get a decent amount of fizz.
10. Kostritzer Schwarzbier
Kostritzer has been brewing up beers since 1543, when it was founded. In other words, their brewers have mastered the art of making delicious brews. Case in point, their schwarzbier.
Schwarzbier, which means black beer, sounds like it would be thick, almost like a stout. However, you would be mistaken. Schwarzbiers are not like porters and stouts at all. The color is derived from the darkly roasted malts, which tend to take on the qualities of medium-roasted coffee beans. As such, Kostritzer Schwarzbier is extremely light and clean-tasting, even with the hints of dark chocolate and pumpernickel bread.
It is surprising, and it is one kind of beer that will convince people who do not drink dark beers to have a taste.
11. Klosterbrauerei Weltenburger Kloster Barock Dunkel
Here is another dunkel that deserves a lot of praise. Considerably low in alcohol—around 4.7% ABV—this beer is an enjoyable experience. Weltenburger Kloster Barock Dunkel is malty, chocolately, and thick. You also get a long-lasting head when the draft is poured correctly. Just like the color, which is neither too light or dark, the flavors are balanced and not overpowering.
One of the more unique notes that you do not get a lot of in the USA is caramelized Munich malt. No, it is not sweet, like it sounds. Instead, caramelized Munich malts are more mellow, making for a truly drinkable dunkel that you will want again and again.
Currently, it is unknown if you can procure this delectable beer in the US, but those in the EU and UK may have better luck.
12. Hofmeister Helles Lager
Hailing from an award winning brewery, the Hofmeister Helles Lager has a distinctive taste that will make you say, "Whoa." Hofmeister Brewery makes all their German beers using slow brewing and cold fermentation, which builds immense flavor in every single bottle. This Helles Lager is known for having a pale golden color, frothy head that sticks to the glass, and an array of flavors.
One sip is loaded with hops, barley, and mineral water, as well as cloves and oranges. The less obvious notes of honey and apricot make Hofmeister Helles Lager feel like you are drinking sunshine in a glass. At 5.0% ABV, you can certainly drink your fill without teetering too much.
13. Krombacher Pils
Want a crisp beer that is light in body and tastes great when chilled? Reach for a Krombacher Pils, Germany's No.1 premium lager (as stated on the website). This German beer is sweet and has only 4.8% ABV. It is a beer that almost anyone can drink, because it tastes a little like Budweiser, but with more flavor. The aromas of malt, wheat, and yeast are very mild. When poured, Krombacher Pils is a pale yellow that looks a bit like honey, which makes sense, considering that it has some honey notes.
The flavors of peach and lemon stick around on the palate for a while, so consider pairing this German beer with more bready snacks, like crackers. The light carbonation also makes it great for sweeter fruits.
14. Benediktiner Helles
Benediktiner did something a little different with their Helles lager. They created a complex assortment of flavors that seems to melt in your mouth. Benediktiner Helles is a moderate 5.0% ABV and is loaded with hops, malt, and fruit. Initially, you get a sense of peaches and toasted caramel, which sets this beer apart from more traditional German lagers. Then you breathe in the aromatic herbs and hops, and it adds a whole other dimension to this beer.
Benediktiner Helles is a touch drier than what you may expect, but that cuts through any of the fruity sweetness, building the intensity of this beer. It's definitely a beer for sipping with friends.
15. Gaffel Kolsch
More recently, kolsch beers have reentered the spotlight for being thirst-quenching and crisp. They make a perfect summer beer. Interestingly, many American breweries have tried their hand at making a delicious kolsch, but German imports seem to blow them out of the water. Case in point: Gaffel Kolsch.
Easy and light, Gaffel Kolsch is a bit dry and has notes of grass, lemon, and biscuit. Gaffel's Kolsch gets most of its flavor from a special kind of ale yeast that is lagered in cold cellars for a couple of years. Recommended as an aperitif or digestif, Gaffel Kolsch is a crisp, hoppy beer that cleanses the palate.
16. Paulaner Salvator
Often called the "best value" German beer, Paulaner Salvator may be less expensive in the homeland, but the flavor is not cheap. In fact, Paulaner Salvator takes the gold when it comes to being a flavorful and full-bodied doppelbock. Salvator is a beefy 7.9% ABV brew with a signature maltiness that results in a thick mouthfeel. Salvator is thought to be the progenitor of all doppelbocks brewed since, as it was first produced by the Franciscan monks at St. Francis of Paula during the 17th century.
Word has it that those boozy brothers wanted a beer to get them through Lent. Salvator was what they came up with; and boy, is it a stroke of genius.
Of course, you may want to fast before downing a bottle of Salvator, because it is enticing and filling. Caramel, chocolate, figs, and bread are just some of the heady aromas and flavors that you get when drinking this beer. At the end of your drink, you get a splash of hops to round it all out.
Why Are The Best German Beers More Simple Than Craft Beers?
Having gone through this list of the best German beers, you may be wondering why the recipes seem to be more simple than craft beers from the US or UK. Throughout the years, many breweries have come and gone, adding new technologies and spins to traditional beer recipes. Germany has not followed that same path.
Back in 1516, Wilhelm IV brought the German Beer Purity Law into effect. To this day, the law still stands, making it the oldest regulation on alcohol beverages in the whole world. Perhaps though, that is what has made German beers so delicious, despite being made with just water, hops, and barley malt. Fascinatingly, the purity laws did not recognize yeast as an essential ingredient until the 19th century! Thankfully, a fourth amendment to the law was introduced to include yeast.
For that reason, German brewers needed to get a little creative and also commit to quality ingredients and masterful methods. As such, German beers continue to be among the most popular in the world.
Now to Enjoy The Best German Beers
Dunkels, pilsners, lagers, and ales…there are so many different kinds of German beers out there worth trying. There is no doubt that Germany has aided in the creation of some of the best tasting beers on the planet. Hopefully, this list of the best German beers helps inspire your next beer menu or flight. Even though some of these beers will be hard to get, depending on your location, keep an eye out for opportunities to give them a try or search for similar beers. Did we miss any of your favorite German beers in this list? Let us know.