by Dane Wilson
|
Last Updated:
April 16, 2021
There are few people in the world who would turn their nose up at a chance to have draft beer available to them at home or outside. But full-sized kegs are too cumbersome for the house, and commercial kegerators are extremely expensive. So, how do you get the amazing draft beer experience whenever you want? Buy a mini kegerator.
There are dozens of options out there, each with awesome features that suit any beer lover's needs. Plus, they make amazing gifts for your friends who homebrew beer. We put together a list of the top quality products, so you can find the best mini kegerator for you or your friends easily. Excited yet?
What is a Mini Kegerator?
You might hear mini kegerators called a lot of different names, like "mini keg coolers," "portable keg coolers," "table top kegerator," or "mini keg dispensers." Who knows, you might decide to name yours something pop culture worthy. But whatever you call a mini kegerator, you're going to want one for your next outing or party.
Basically, a mini kegerator is the downsized version of a kegerator, which is a combination of a keg and a refrigerator. Kegerators are used to both store and dispense beer from kegs, but they can also be used for storing all kinds of beverages—not just beer. That said, most functions on a kegerator are meant solely for beer.
A mini kegerator is not any different from the full-sized one in functionality, only size. Mini kegerators are ideal for home use, while large kegerators are best for restaurants and bars.
Benefits of Mini Kegerators
Why should you consider purchasing a mini kegerator? One word: Convenience. Think about all those times you wished you could have multiple servings of beer with you while hunting or fishing or on a beach but didn't want to carry multiple bottles or cans. A portable keg cooler is exactly what you needed. Simply keep your mini kegerator with you, and you'll have an endless supply of beer for parties and outdoor activities.
Whenever you need more beer, put your glass on the designated spot on the kegerator then hit the tap. Some mini kegerators will have a lever. Others have buttons. Either way, you get a perfect draft beer every single time.
The 5 Best Mini Kegerators Around
We analyzed some of the most popular mini kegerators on the market and based the list on the availability of the product, the cost, materials, size, and features and selected five that will satisfy most people. Most of the options we chose are affordable but don't sacrifice quality.
Take a look at the 5 best mini kegerators below:
1. NutriChef Pressurized Beer Mini Keg System
Out of all the mini kegerators we reviewed for this list, the NutriChef Pressurized Growler Tap System is one of the best. You can choose between sizes—64 oz or 128 oz. Both are compact enough to be carried wherever you need them, and they also have enough insulation to stay cool throughout the day. The overall design looks clean and sleek, too. Plus, the screw-on lid ensures your beer won't spill during transport.
One of the features that we adored was the upgraded adjustable pressure regulator. You can raise the pressure to create the perfect head for every pour. The CO2 cartridge keeps your beer carbonated and crisp for up to 2 months. Every accessory, along with the mini keg itself, is fabricated from high quality rustproof stainless steel.
In the box, you also get all assembly hardware, a brass tap, and a neoprene koozie to keep your beer cool when it's not stored in the fridge. With the price of both sizes being such a steal, the NutriChef Mini Keg System is perfect for the holidays and travel.
Check the price for the Nutrichef Mini Keg System now.
2. uKeg 64 oz Pressurized Growler for Craft Beer
Want a bit of a vintage look without spending a fortune? Then you are going to love the classic appeal of the uKeg Pressurized Growler by GrowlerWerks. The unique design looks a bit steampunk, especially when you go with the copper-plated option. Otherwise, you can choose between regular stainless steel or black. All of the mini kegerators are made from high quality stainless steel, minus the strip of sight glass that lets you see how much beer you have left.
The uKeg can keep beer fresh for weeks on end in the double-walled vacuum-insulated container. On the outside is an easy to read pressure gauge, automatically regulating carbonation cap, and easy pour dispenser tap. The tap handle can also be changed out to fit whichever brewery you favor.
On the side, the built in carrying handle makes the mini kegerator highly portable. The contents will remain cold throughout the day, so you and your friends can enjoy crisp chilled beer whenever you want.
Check the price on the GrowlerWerks uKeg Pressurized Growler now.
3. Keg Smiths Mini Keg Portable Draft System
One of the best options on the market, the Keg Smiths Mini Keg System is portable and attractive. It can hold up to 128 ounces (3.7L) of beer, and one CO2 cartridge can last for 2 months. Disassembly for cleaning and sanitizing is easy, so you can have a new batch of beer ready as fast as you emptied it.
The unit can force carbonate any beverage you want, not just beer. Simply set the adjustable pressure regulator to 15 psi or higher and let the system make magic. You can easily swap out the tap system to suit your needs. The sleek design makes it highly portable, so you can fuel your outdoor fun throughout the day without worrying about your beer going bad.
The only problem with the Keg Smiths stainless steel unit is the size. You can't fit it in a standard sized refrigerator.
Check the price on Keg Smiths Portable Draft System now.
4. BACOENG 64 oz Pressurized Keg Growler for Homebrew Beer
Here is our budget friendly pick. The BACOENG (try not to call it BACONEGG) pressurized keg growler is a low price but big on features and quality. Being that this is a pressurized growler (not just a kegerator), you can bring it along with you to the local brewer and have them fill it right there. At 64 oz (or 4 pints/5 bottles of beer), the BACOENG keg growler is the perfect party companion or gift.
The unit is crafted from food grade stainless steel. It also uses a Perfect Pour Regulator System that helps regulate the beer flow. The regulator and spout is also detachable; and when you remove those pieces, your beer will still be under pressure and safe from oxidation.
When kept in a cooler, this pressurized keg growler can keep beer fresh for 2 months. It's a great way to store your homebrewed beer. Want to directly infuse carbon dioxide directly into your beer? The force carbonation time for this unit is 9-12 hours!
Check the price on BACOENG Pressurized Keg Growler now.
5. TMCRAFT Pressurized Stainless Steel Mini Keg with Cooler Jacket
The 128 oz (3.7L) pressurized stainless steel mini kegerator by TMCRAFT is highly rated for a couple of reasons. First, the size. At 128 ounces, this is the perfect solution to storing some homebrewed beer or a craft beer without it being too large. In fact, the dimensions of this model will fit a standard sized refrigerator. Second, this mini keg dispenser is crafted from food grade stainless steel. It is capable of maintaining vacuum pressure for months, keeping your homebrew, draft, or craft beer fresher for longer.
The latest model comes with an upgraded regulator. The PSI readings are far more accurate, and you can even fine-tune the pressure with just the twist of a knob. Assembly is easy. Simply install the faucet after cleaning every piece then attach the hose and tap system. Screw in the CO2 capsule, connect the regulator, and you're more or less ready to go.
Outside of the refrigerator, the TMCRAFT mini kegerator will stay cool for 3 hours when using the included cooler jacket.
Check the price on TMCRAFT Pressurized Mini Keg now.
Things to Consider When Buying a Mini Kegerator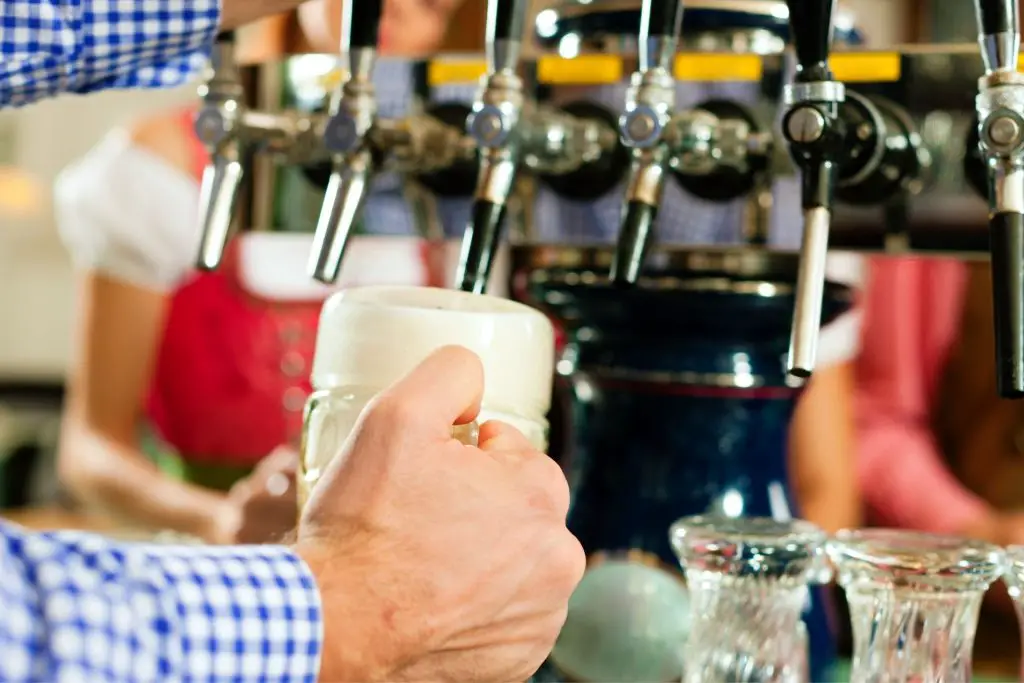 With so many mini kegerators available from dozens of well known brands today, it can be challenging to figure out which model is right for you. No one wants to make a purchase that ends up regrettable, especially when you've bought a mini kegerator for a friend or family member.
After looking through the reviews, you will notice that our favorites had similar construction and features. We considered a number of qualities, but the things you should consider when buying a mini kegerator come down to the four following points:
Size & Capacity
Prioritize the size of the mini kegerator. You want something that is going to be portable enough to carry around when necessary. Something that won't take up too much space on the countertop. Size and capacity will dictate just how much room the unit takes up as well as how much beer it can hold.
Mini kegerators come in a wide range of sizes and capacities. Some will fit on the countertop, taking up as much room as a toaster or microwave. Others are much larger and may seem full-sized compared to others. If you want to keep your mini kegerator in the refrigerator (as some models lack built-in cooling), you will have to measure the space available.
Lastly, how much beer do you want to carry around? If you want to bring a bubba (mini keg) to a party, you are going to need a mini keg dispenser to house it safely.
Material Quality
If you plan on ordering a mini kegerator from an online shop, there is no easy way to determine the quality of the materials. Yet, knowing which materials are best for such a product, as well as reading reviews, can help you determine whether or not something is going to be well made and durable. Stainless steel is one of the best materials for a mini kegerator, because it is hygienic and scratch-resistant. Aim for a stainless steel version first.
Price
Your budget will play a role in selecting the best mini kegerator for you or for gifting. Depending on the brand, material quality, capacity, and size, the price will change. Smaller models with less features will be cheaper than those that are larger. Certain brands will charge more for a product than lesser known ones. Do some research to see which brands are the best. We have chosen several of the best around, but you may find something better or more within your budget!
Features
Mini keg dispensers tend to have a wide array of included features, which usually influences the price. The more one of these bad boys costs, the more features it will most likely have. Here are some features worth having:
Compressor
Multiple taps
Pressure regulation
Temperature display
Temperature control
Carrying handles
Battery power
Can I Use a Mini Kegerator For Homebrewed Beer?
As you may have noticed throughout the list, we mentioned several mini kegerators that can be used for storing homebrewed beer. Once your homebrew is done fermenting, you simply transfer it over to the mini keg instead of bottles. Since the mini kegerators are outfitted with equipment for minimizing oxygen exposure, you don't have to worry about anything affecting the flavor.
Final Thoughts on the Best Mini Kegerator
Mini kegerators are convenient, portable, and most of all, very easy to use. Hopefully, you have found one or two options from our best mini kegerators list. Any one of the mini keg dispensers on the list is a prime example of what a portable kegerator should be: well-constructed and compact. If you didn't find anything you wanted, you should at least now know what to look for when shopping around for a portable keg dispenser for yourself or a beer-loving buddy.