by Dane Wilson
|
Last Updated:
October 7, 2020
Hey there! This site is reader-supported and we earn commissions if you purchase products from retailers after clicking on a link from our site.
All beers have an optimum temperature for consumption that brings out the best flavors, but keeping your beer (or any other beverage) at that temperature can be difficult. Whether you have plans for a party or a camping trip or just want to keep a can or bottle of brew from getting too hot, you should consider investing in a beer can cooler, also called a koozie. There are dozens of options to choose from, so we have come up with a list to help you find the right style and material that works best for you—and the beers you love to drink.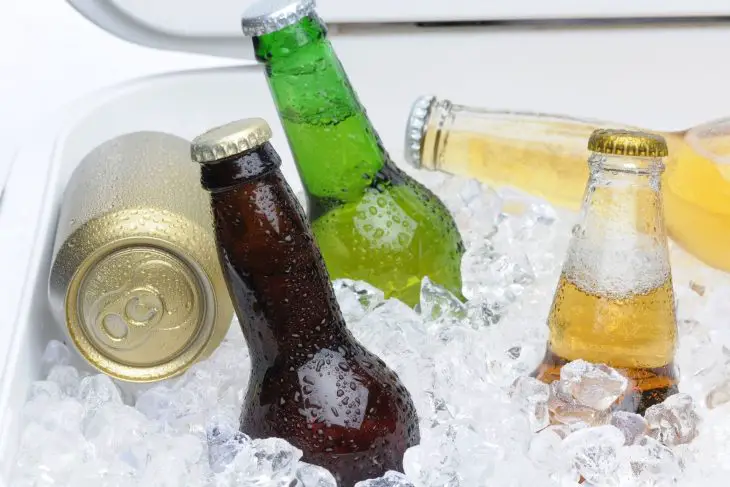 Table of Contents
What is a Koozie?
Beer bottles and can coolers have many other names, such as Koozies (a brand name), coolies, and beer hugger. Interestingly, beer bottle coolers were popular in Australia and Canada before ever gaining attention in the United States. Koozies were invented by Alex Land, an Australian, in 1967.
Koozie performance is based on a couple of things, such as the kind of beverage in the can or bottle, or the temperature, or where the beer can cooler is placed (direct sunlight versus shade), for instance. The most common type of koozie is made of neoprene, which can keep a drink cold for about 40 minutes.
How Do Koozies Work?
You might be thinking, "My can of beer is going to inevitably get warmer, no matter what. So why should I use a koozie?" Well, yes, your beer will get warmer—in certain conditions. Once a beer can is removed from the ice inside a cooler, for example, the internal temperature of the can, and the liquid, will rise to balance out with the humidity and temperature outside the can.
That is why on the hottest days, your beer bottles and cans are sweating like crazy. And it is that sweat, or condensation, that is warming your bottle up rapidly. In other words, those little droplets are transferring the cool temperature from the inside to the outside.
Koozies help stop this heat transference by blocking condensation from forming. The neoprene kind simply wicks away moisture, so there is no latent heat exchange. Insulated versions work a bit differently by sealing in the heat. Therefore, koozies are insanely useful for anyone who wants a cold drink.
The Best Beer Bottle and Can Koozies Available
Let's have a look at some of the best bottle and can sleeves you can currently buy. We looked at the cost, quality, durability, and other unique features of popular koozies to narrow down the list to the best of out five. Whether you want a budget-friendly choice for keeping your beer from getting warm or are looking for a koozie that will stand the test of time, there is bound to be something for you on this list.
First up, we have a classic koozie design with a modern twist. Marble patterns are all the rage recently, so these can sleeves are trendy and functional. Best of all, these kinds of koozies are not going to take up too much room in the bottom of a bag or even in a kitchen drawer. You can bring them along for a day at the beach or for a picnic and pass these sleeves around for adults to cover their beers (or kids for their sodas). Since the colors are different, you can easily tell which drink is whose.
The design is simple. The added lip around the top of the koozie helps to keep the sleeve's shape and holds it to the can. Stay goodbye to chilled hands and moisture rings on the countertop, because these do exactly what they are meant to do for a truly reasonable price. As a bonus, these soft neoprene can sleeves are an excellent gift for any beer-drinking buddy who dislikes a lukewarm brew.
Pros
Decent price for the quality and thickness of the neoprene
Works for standard 12-ounce can or one with a 2.75" diameter (but are available in different sizes)
Super flexible and portable
Reinforced stitching helps to maintain the sleeve's shape over time
Added stitching around the bottom prevents moisture leakage
Cons
Fixed size—not stretchable
Looking for a version of these cool can coolers that fit skinny cans? CM has the same marble design available in a pack of 4 for about the same price as the standard can sleeves. Check them out.
This is no doubt one of the coolest designs in the koozie market. The beer bottle sleeve is form-fit, so it hugs the bottle to keep beer cooler for many hours. The neoprene is around 3mm, so it is thick enough that you will not have to worry about frozen or slippery hands. The thickness of the material also means you can say goodbye to needing coasters for your furniture, so the bottom is completely sealed and will look in any moisture.
The Power Deals Neoprene Bottle Sleeves also have one unique feature: a built-in bottle opener. That makes these bottle coolers ideal for socializing and parties, where you can take the beer from the refrigerator or the ice bucket, pop open the cap, then slip it into the koozie, where it will stay cooler for hours on end. The backs of the koozies are left blank, so you can even add logos to them, if desired.
Pros
3mm thick neoprene shell to seal in the cold
Manufacturer offers a 100% satisfaction guarantee for 30 days for full refund if dissatisfied
Zippered front for easy insertion and removal
Fits standard beer bottle perfectly
Reasonable price for a pack of 4
Bottle opener
Cons
May be a little short around the neck
Not extremely durable, especially the stitching around the bottle opener
If you are tired of having to decide between purchasing a koozie for a can or getting a set for bottles, then why not just choose a can cooler that is compatible with both? Introducing the Frosty Beer 2 Go Vacuum Insulated Can Cooler by Asobu. What seems like an investment based off the price tag is, in fact, a beautiful piece of engineering. Asobu does a great job of bringing aesthetics to the koozie world. Not only does this can cooler look cool, it keeps your beer much colder than a neoprene koozie can.
Not only that, but it's convertible. Standard sized 12-ounce or a bottle can easily fit with a twist of the bottle top. You can go from sipping a Heineken straight from the can to knocking back a bottled craft beer in no time. There is also a built-in bottle cap opener in the actual cap. Crack open the bottle then seal in the fizz—that's what we call a good design.
Drinks will stay frosty for up to 30 minutes then remain cold for over 60 minutes, even in direct sunlight. You can thank the rubber seal and vacuum insulation for that. The only downside is that you can't tell when you are running out of beer!
Pros
Can be used two ways—as a bottle sleeve or a can sleeve
Fits multiple beer brands
Double-walled and vacuum-insulated for fantastic cold retention (up to 10 hours)
Comes with a bottle opener and cap to seal your beer up tight
Comes in different colors and patterns
Durable construction
Cons
The design of the bottle opener—and its location—could be better
Figuring out how to unscrew the different sections of the can cooler has a learning curve
Rubber ring sometimes comes out when removing a can or bottle
A little on the heavy side
Bringing a touch of elegance to the koozie game is the ORCA Rocket Bottle Vacuum-Insulated Bottle/Can Holder. The overall look of this koozie is one that is sure to please any beer can sleeve connoisseur. Sleek 18/8 stainless steel surrounds your entire beer, sealing in the cool temperature of the drink. And if you love versatility, you are in luck. Much like the Asobu koozie, the ORCA is a 3-piece bottle or can cooler that fits either 12-ounce cars or bottles.
Another amazing feature of the ORCA is that the company selected anti-microbial materials to ensure that you go no weird chemical scents or flavors intermingling with your beer, which is something that happens with low-quality neoprene. Furthermore, the ORCA Rocket Bottle has a no-sweat design. The surface stays cool but not cold, so you never have to worry about frostbitten fingers again.
Overall, you can expect a single beer to stay cool for up to 12 hours in the shade, so even if you happen to forget your bottle on the kitchen counter in the evening, well, it's five o' clock somewhere when you find it again.
Pros
Decent price for the quality when compared to the Asobu and YETI koozies
18/8 stainless steel construction with vacuum insulation and a copper-clad interior
Keeps drinks cold for up to 12 hours
Anti-microbial materials
No-sweat design
Base includes a twist-off top and bottle opener
Cons
Weighs 1 pound on its own
Doesn't fit anything but standard sizes, so your 16-ounce craft beers aren't going to fit
Some people have had issues with durability
YETI is a brand name that many people have come to know and trust. Even though the products the company makes come with a high price tag, the level of quality is well worth the investment. If you are an outdoor enthusiast, you may even already own a larger YETI cooler for camping, fishing, or going to the beach. Well, now you can own a mini YETI insulated stainless steel beer koozie to up your drinking game, too. Technically named the "Rambler Vacuum Insulated Stainless Steel Colster," this nifty little gadget has a lock-and-load gasket that seals your 12-ounce can into place and doesn't let it go for nothing.
The YETI Colster koozie has a sweat-free design, so you don't have to worry about leaving water rings all over the place. An added bonus is that, unlike other stainless steel can sleeves on the market, this one has been designed to fit a standard cup holder.
Some people might call the Colster the Cadillac or Mercedes of koozies because of the quality. The sleeve itself is crafted from 18/8 stainless steel. It is double-walled and vacuum-insulated. On top of that, this koozie is seriously durable. Drop it down a flight of stairs, run it over with your car…it will come out unscathed.
Pros
Double-walled insulation with a screw-on gasket to lock the can in place
Sweat-proof
Made of 18/8 stainless steel
Can keep your beer up to 30-40 degrees cooler than outside temperatures for more than 90 minutes (and potentially all day)
So durable you never have to worry about buying another koozie, ever
Excellent for long days out in the sun
Available in a wide array of colors made with Duracoat
Cons
Only fits 12-ounce cans. No other sizes are available (which means you are out of luck if you like IPAs that come solely in 16-ounces).
Not very portable and heavy compared to a foam koozie
Expensive
Things to Consider When Buying a Beer Bottle Cooler
Koozies are available in virtually any style or size. Finding the best beer bottle cooler for you, though, requires some consideration. Here are some things to think about when shopping around for your next koozie: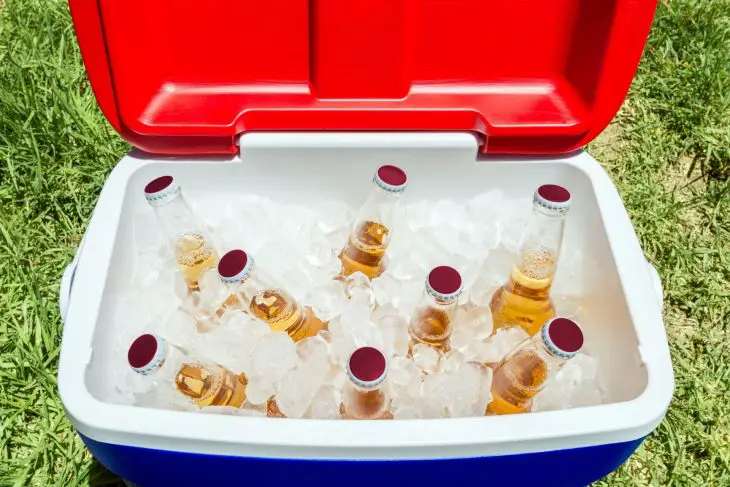 Material
One of the most important things to consider is the material. There are three popular options: neoprene, polyurethane, and stainless steel. Other materials, like gel-lined styrene or EVA foam, have also been used, but neoprene and stainless steel are the most common.
Neoprene is excellent for insulation, because it is highly durable and waterproof. Furthermore, it can prevent a can from sweating, so that condensation doesn't dampen your clothing or slick your hands. Some neoprene koozies are collapsible, maximizing portability; some are machine washable. Polyurethane is similar to neoprene and is often a cost-effective option that can be purchased in bulk. However, polyurethane does have less insulating abilities than neoprene.
Lastly, we have stainless steel. Though the material is far more expensive than neoprene and less travel-friendly, stainless steel promises hours of insulation. If you want your beer to remain chilled for hours, then stainless steel is worth the investment.
Insulation
How long do you want your drink to stay cold? A few hours or nearly a whole day? In the same way you look at the insulation of a larger cooler, you should consider how well a beer bottle or can cooler can maintain the temperature of the liquid. The longer the beer stays cool, the more insulation power the koozie will have.
Also, price is directly proportional to the insulation of the koozie. That means that a beer can cooler than keeps your drink cool for a week is going to cost much more than one that only sustains the cool temperatures for 40-60 minutes.
Size
The majority of beer coolers are made for 12-ounce cans or bottles. Neoprene koozies are available in a range of shapes and sizes, while stainless steel types are more often uniform. Consider whether you like drinking beer from the bottle or from the can before investing in a koozie. If you prefer going either way, there are some beer can coolers out there that can be converted to fit both types of containers.
Recently, there has even been a crop of koozies dedicated to slim cans, wine bottles, and even cold brew coffee bottles. You should have no problem finding one that suits your needs.
Carrying Method
Some koozies are more than just a sleeve that slips onto the can or bottle. Some come equipped with little handles or straps for added convenience and portability. This is especially great for people who love consuming their beer outdoors.
Conclusion
Anyone who loves cracking open a cold one and keeping it cold for a good while is going to want to get their mitts on a koozie, also known as a beer can/bottle sleeve. Be sure to consider the material type and the insulation properties, as well as the price before making a purchase. But, no matter which type of koozie you choose, you will be able to enjoy colder beers for longer.
You searched for:
cousy beer
beer cozy