by Dane Wilson
|
Last Updated:
March 8, 2021
Hey there! This site is reader-supported and we earn commissions if you purchase products from retailers after clicking on a link from our site.
The more you brew beer at home, the more you will realize that sometimes cleaning, racking those beers, and balancing tasks can be utter chaos. You may be looking for a way to reduce some of the stress and make your homebrewing a bit less arduous, you might consider a conical fermenter. No, we're not talking about the professional-only brewing units. Conical fermenters have become more and more budget-friendly and efficient. What's not to like? 
After all, a streamlined brewing process is all the more enjoyable. And you get tastier beer out of it, too. But you need the best conical fermenter for your needs first. 
So, to help you out, we are going to break down the benefits of having a conical fermenter, as well as the features you need to consider when purchasing one. Let's begin.
Table of Contents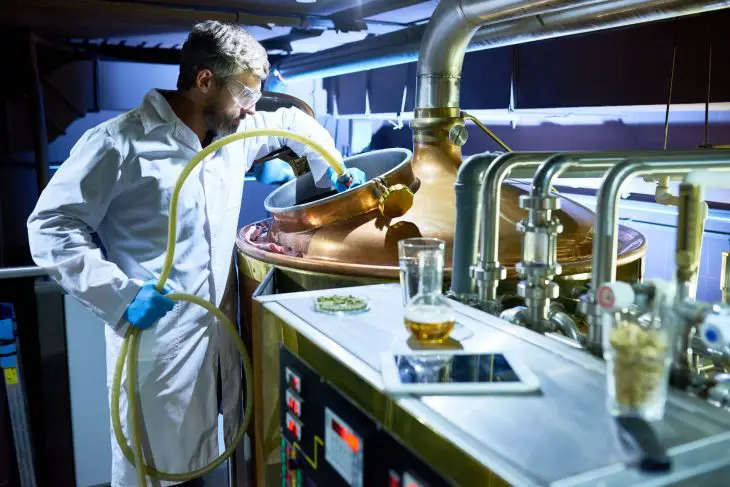 What is a Conical Fermenter?
You may know what a conical fermenter (also spelled fermentor) looks like already. In industrial breweries, there are massive stainless steel conical fermentors all lined up. The technical name of these brewers is "cyclio-conical fermenters," but they are really no different from the 6 gallon conical fermenter your homebrewing buddy has in the kitchen.
Conical fermenters for homebrewing are shaped much like your regular fermenting kettle, but there is a cone at the bottom.
But why are conical fermenters touted as the best fermenters for homebrewing? The shape helps.
Benefits of a Conical Fermenter
Behold, the power of the cone! Conical fermentors are wonderful for a couple of reasons:
Reuse That Yeast
"How is that possible?" you think. Well, with a conical fermenter, it truly is. You can save yeast, wash and reuse it down the line. And while this might sound a bit far fetched, commercial breweries wash their used yeast all the time. 
Yeast washing is done for a couple of reasons:
When brewing larger batches, using new yeast all the time can be costly.
Commercial breweries use yeast much faster than home brewers and do not need to store it for as long. 
Commercial breweries use only a single strain of yeast.
Now, you might not have the same industrial grade set up at home as a commercial brewery does, but you can use the same principle behind yeast washing to save yourself some time and money. Plus, you get better fermentation from a batch of reused yeast, because the yeast has already been active. 
Yeast washing is also a great idea if you want to try making a high gravity beer. Think of it as a yeast starter that gets you another, heavier batch of beer. 
But how does a conical fermenter help with this? Simple. Using a conical fermentor eliminates the need to transfer to a second fermentation tank. During the process, the yeast and trub (debris) falls into the bottom of the cone. You can more easily flush sediment from your beer using the dump valve at the end of the cone, too. 
Then, you just scoop up that yeast for recycling.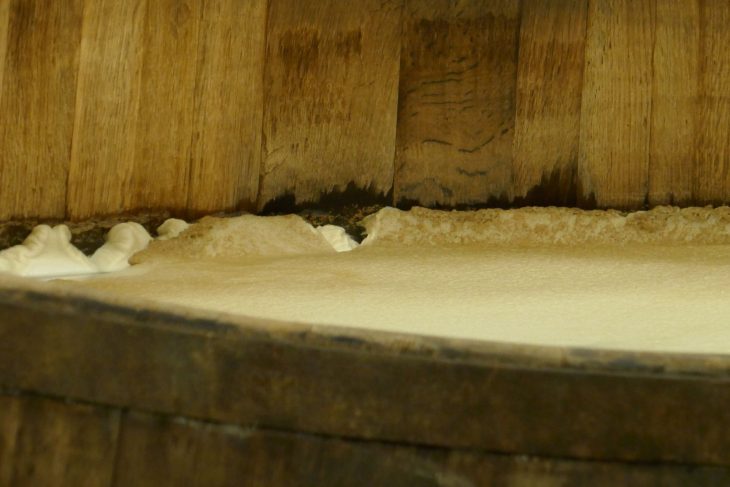 Say Goodbye to Racking
Racking and transferring beer to another fermenter is time-consuming and labor-intensive. It's not the most entertaining part of homebrewing your own beer, that is for sure. But it is also a necessary step that you really can't skip—unless you have a conical fermenter.
During the fermenting process, trub—a mixture of yeast, proteins, and wort remnants—drifts to the bottom of the fermentor. There, it becomes a sediment that, were it to remain with the beer, will make it look cloudy. Not too many people enjoy a hazy looking beer, particularly when it's a light beer. 
But trub isn't the enemy. In fact, it can give your beer an extra kick of hops. You just don't want it tagging along to the bottle. 
Conical fermenters keep that from happening. Yeast and trub collect at the end of the cone, so you can drain it out swiftly, leaving only crisp, clean beer behind. Also, since you do not have to transfer your beer to another fermentor after cleaning out yeast and trub, you aren't risking any oxidation. Awesome, right?
Longer Use, Less Mess
Depending on the material your conical fermentor is made out of, you could potentially have years upon years of use from it. You also cut down on a lot of equipment, such as the carboy and second fermenter. All you need is to accompany the conical fermenter is a siphon hose to drain off the trub.
Stainless Steel vs. Plastic Conical Fermenters
Here is one debate that is going strong among homebrewers: should you get a stainless steel or a plastic fermenter? Both materials have their advantages. Stainless steel can be quickly cleaned and sanitized, do not stain, and you can even find models with temperature controls, multiple racking valves, and so on. The downside? Stainless steel conical fermenters are expensive. 
Do you absolutely need a stainless steel conical fermenter? No, you don't. Conical fermenters are available to every budget, so you can get a plastic one that functions just as well—if not better—than some stainless steel variations. Sure, you go high-end with all kinds of fancy functions, or you can just get a basic but easy-to-use plastic conical fermentor.
A plastic conical fermentor comes at a lower cost, but they will stain over time and can be scratched. Since scratches can house bacteria, you will have to replace plastic fermenters more frequently.
Best Plastic Conical Fermenters
As mentioned above, plastic fermenters are the budget-friendly option for those who are just starting out. If you are just testing the waters yet and don't want to purchase a stainless steel conical fermentor, check out the options below. 
Keep in mind that, when we are discussing these conical fermenters, we are comparing the standard fermenter size of 6-8 gallons. If a fermentor listed below does not come in a standard size, we will make a note of it. 
Without further ado, here are the best plastic conical fermentors:
Perfect for those who consider themselves beginners, the FastFerment Conical Fermenter comes with an entry level price tag and excellent construction quality. Made from HDPE food-grade plastic, this conical fermenter is easy to clean, maintain, and use. It is also lightweight and durable, so you will get a lot of use out of this plastic fermenter. 
Coming in at 7.9 gallons (30 liters), the FastFerment Fermenter is the perfect size for an average size brew batch and head space for foam. You also get a removable trub and yeast reservoir in the shape of a ball for easier cleaning and yeast preservation. 
Between that reservoir and the fermentation vessel, there is an airlock to stop unwanted oxidation. It also means that your beer doesn't come spurting out when you try removing the trub and yeast. To do that, simply turn the airlock, remove the reservoir, and do what you will with the collected sediment. 
The FastFermenter package comes with a wall mount, since the size of the device is too large to standalone. You will need to purchase a separate floor stand if you do not want to hang it up. 
Pros
Large opening at the top for easy cleaning
Can use wall mount kit to place the unit on the wall
Affordable price tag
Standard size
Cons
Valve opening at the bottom can become clogging up with trub and hops, since it is too small
No pressure rating
Prices pulled from the Amazon Product Advertising API on:
Product prices and availability are accurate as of the date/time indicated and are subject to change. Any price and availability information displayed on [relevant Amazon Site(s), as applicable] at the time of purchase will apply to the purchase of this product.
Craft-a-Brew is a well-known producer of homebrewing and industrial grade fermenters. So, you can expect their products to be some of the best on the market today. The Catalyst is ideal for those who are looking to make a single investment on a fermenter that will last decades. For that reason, this is one of the better options for beginner-intermediate home brewers.
The fermenter is made of plastic, yes, but it's some of the strongest plastic out there: BPA-free, medical-grade polymer. It is scratch-resistant and is even dishwasher safe. The Catalyst has a butterfly valve connection that is compatible with a standard mason jar. Not only is cleaning easier, but you can also bottle straight from the fermenter. 
One thing you need to keep in mind: the baseline model is bare-bones and doesn't come with a sample port. If you opt for the Craft-a-Brew fermentation system, make sure you customize it. 
Pros
Compact size 
Sturdy construction
Large butterfly dump 
Unique trub trap that also fits standard mason jars
Cons
Looking for something simple? Take a look at the BrewDemon Clear Conical Fermenter. The compact size and sleek design of this fermenter is perfect for home brewers who make small batches (about 2 gallons) of beer in quick succession. Easy to clean because of the angled walls, you will have no problem wiping up and moving on to the next project. 
As for the quality of the plastic, it is food-grade, BPA-free PVC. With this unit, you can bottle right from the fermenter without any need to transfer, and the valve's flow rate can be adjusted. 
One downside is the challenge of collecting yeast. Since the fermenter is so small, you might have a difficult time cleaning it out. 
Pros
Simple and easy to use for beginners
Innovative airlock keeps oxygen out
Affordable
Cons
Yeast dump is sold separately
Some people have reported issues with the top seal not being completely airtight
We happily call this conical fermenter the most affordable on this list. Unlike some other plastic conical fermentors, the FermZilla has been pressure rated for 35psi. Why is that important? With that psi, you can ferment, add carbonation, and bottle your beer all from the FermZilla. All transfers are 100-percent closed. 
There is also a 4.75-inch port to make cleaning a snap. The 3-inch dump valve is wide enough to prevent clogging. 
Yet, even with that added convenience, there is one glaring mistake in the FermZilla's construction. The use of PET plastic was not the best choice for KegLand. PET plastic is far less durable than other kinds of plastic, and you will need to be careful when cleaning the fermenter. The walls could get easily scratched and end up housing harmful bacteria. 
Pros
Pressure rated for 35 psi
Can transfer easily with the airtight design
Easy to clean
Cons
Made from PET plastic—less durability
No sample port
Prices pulled from the Amazon Product Advertising API on:
Product prices and availability are accurate as of the date/time indicated and are subject to change. Any price and availability information displayed on [relevant Amazon Site(s), as applicable] at the time of purchase will apply to the purchase of this product.
Best Stainless Steel Conical Fermenters
Moving onto stainless steel. One thing you will notice is that stainless steel conical fermenters are worth two or three times as much as plastic vessels. But, hey, at least you don't have to replace it constantly or worry about bacteria! Here are some of our favorite stainless steel versions:
Known for their superior quality stainless steel equipment, the Chronical by SS BrewTech is worth every penny. This fermenter takes the guesswork out of brewing with all its features and incredible design. The cone comes with a 1.5-inch opening, so dumping trub is no longer a trial. 
The stainless steel container holds about 7 gallons (though there are other sizes available). Sitting atop the fermenter is a domed lid that fastens tight with spring-loaded clamps and a silicone gasket. No air is getting in this thing. The legs are also made of stainless steel and keep the vessel standing tall, so you don't have to worry about rigging up your own stand or hammering it to a wall. 
There are a couple of optional accessories that you can add on when purchasing, like temperature control.
Pros
Rotatable racking arm and sample port
Has volume marking etched on the side 
½" racking valve and a ¾" dump valve
3-piece ball valves and tri-clamp fittings can be completely cleaned 
Transfer under pressure at 1-2 psi.
Cons
Not rated for carbonation
One of the newer releases to take the homebrewing world by storm is the BrewBuilt X1 Uni Conical Fermenter. There are two other levels, the X1 Uni+ and X1 Uni Pro, to consider, but for now we are going to discuss the entry-level vessel. Right off the bat, the sleek design and sizing of this conical fermenter will wow you. You get premium materials, such as silicone grips, a stainless butterfly valve, and a reinforced four-legged stand that makes this one durable unit. 
Unlike some of the other units we talked about, the BrewBuilt conical fermenter has a slew of additional features at no extra cost. For instance, the feet are adjustable. It also comes with a sample valve, a Blowoff U Barb, volume markers, and a thermowell. More parts and accessories can be added, or you can upgrade. But whichever you choose, you are making a great investment.
Pros
Affordable entry-level stainless steel conical fermenter; customizable at your own pace
Extra large bottom port to make dumping trub hassle-free
Molded silicone grip on the handle 
Internal volume markers and adjustable feet
Cons
High price tag
Not suitable for beginners
Yes, the Cornical Fermenter is considered a budget-friendly option by Blichmann, despite most of their products being extremely expensive. The fact that the Cornical Fermenter is priced reasonably does not mean that it's of poor quality. No, this fermenter, which is a unique hybrid between a Cornelius keg and conical fermenter, is a fantastic choice for intermediate to expert level home brewers. Beginners may be overwhelmed by the amount of work that goes into assembling and operating this unit. 
And it is an absolute unit. 
The tank is an all-in-one. In other words, when you are ready to switch from fermentation to carbonation, you simply drain the fermenter, flip the tank, and then swap out the conical end for the keg, before returning it right side up. You can also sample your beer easily with the sanitary valve. Cleaning is also easy, because you can remove both the top and bottom of the unit.
Pros
You can carbonate, ferment, and serve all from the same fermenter
Manufacturer has a strong reputation and is known for wonderful customer service 
Pressure rated for 50 psi
Comes with all kinds of extras, like a rotating racking arm and racking valve
Cons
Size and assembly may be overwhelming
High price 
Swapping the corny lid with the fermenter can introduce oxygen
Things to Consider When Buying a Conical Fermenter
Before you go ahead and make an investment in a single fermentor, there are a few things you need to think about, including: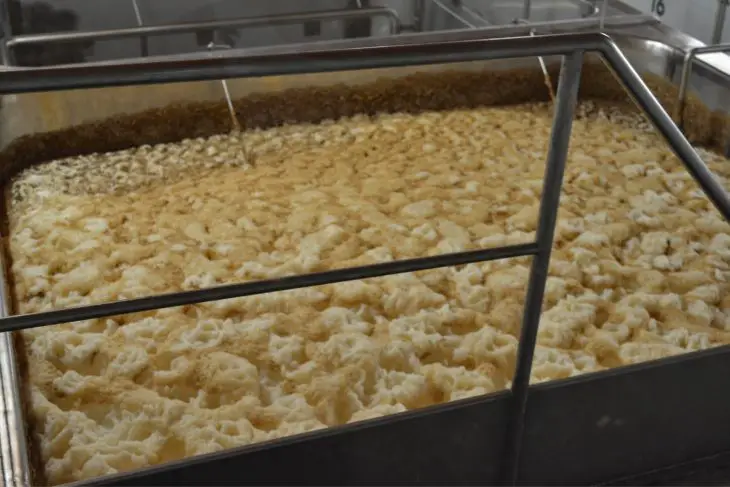 Pressure Rated
Having a fermenter with a pressure rating is always going to be better than one that isn't. Brewing beer under pressure dampens the effect of any odd flavors that would otherwise show up. Additionally, that pressure lets you naturally carbonate the beverage. 
So, be sure to look for fermenters with a pressure rating.
Size
As you may notice when shopping around for the best conical fermenter for homebrewing, there are several sizes available. Although the most common size is for a 5-gallon batch, you can also find conical fermenters for 10-gallons or larger. Remember that it is best to always buy a fermentor that is 2-3 gallons larger than the brew volume. That gives the foam plenty of head space.
Value
You will find that the price range for fermenters is vast. So, be sure to consider your budget and what you plan on doing later with homebrewing. If you plan on keeping to more simple recipes and smaller batches, you can spend less on a conical fermenter and never have to worry about needing an upgrade. But, if you are more experienced, you may want to buy a larger unit that fits both your aspirations and your budget.
Accessories
Many of the conical fermentors mentioned also come with a plethora of add-ons and features. You can get things like vessel extensions, pressure kits, and carrying bags. Getting a fermenter with additional features could be useful (and save you some money) in the future.
Final Thoughts
Conical fermenters may cost a bit more than your standard issue carboy or bucket, but they have numerous benefits and will take your homebrewing to the next level. The good news is that you have plenty of options. Just consider your space, needed features, and your budget. We recommend going for fermenters that are constructed well, have a broad number of features, and an excellent price. 
Hopefully, we have made selecting the best conical fermenter a little easier. Now get out there and brew!