by Dane Wilson
|
Last Updated:
September 8, 2022
Hey there! This site is reader-supported and we earn commissions if you purchase products from retailers after clicking on a link from our site.
Similar to every industry in the world, whiskey has some leading brands that are known globally. Among these brands are some household names such as Jack Daniel's, Jim Beam, and Johnnie Walker. These three companies all offer brilliantly crafted whiskey that is definitely worth a try. Johnnie Walker labels also offer a lot of different flavors and variations that are also worth giving a go if you are looking to adventure outside of your current comfort zone.
Table of Contents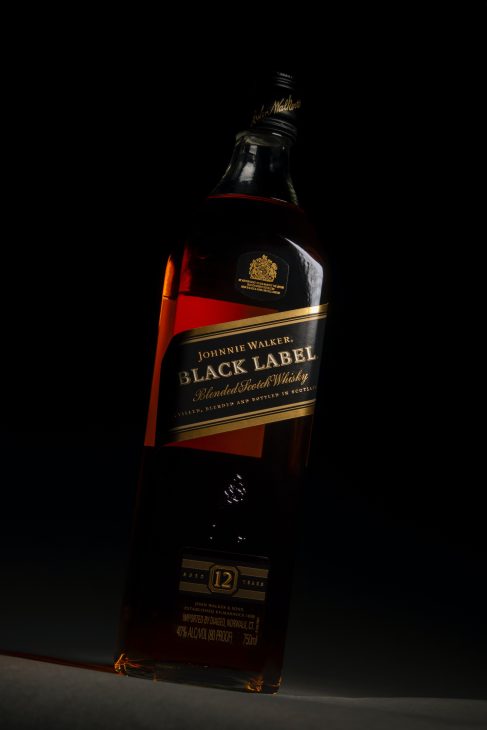 Johnnie Walker Types Of Whiskey
While Jonnie Walker sells mostly Scotch whisky, there is still a lot of variation in the product lines as to what type of Scotch they sell. Scotch is separated into 5 categories that will determine what type of Scotch it is. These categories are:
Single Malt Scotch Whisky
Blended Malt Scotch Whisky
Single Grain Scotch Whisky
Blended Grain Scotch Whisky
Blended Scotch Whisky
Single Malt Scotch Whisky
Single malt Scotch is distilled in a single distillery and malted barley is used. The whisky is distilled in pot stills from a mash of malted barley exclusively. No other grains are used, as the name implies, as there is only a single malt used in the recipe for this.
Blended Malt Scotch Whisky
Blended scotch whisky was once known as pure malt whisky. This is created by blending different batches of single malt Scotch together to create a blended barrel. The other types of Scotch used in the blend will come from different distilleries and this will result in a very unique batch of whisky.
Single Grain Scotch Whisky
Single grain Scotch whisky is made using water, malted barley, and whole grains of other malted or unmalted cereal grains. This is distilled in a singular distillery.
Blended Grain Scotch Whisky
Blended grain Scotch whisky is a blend of numerous different single grain Scotch whiskies. They all come from different distilleries and are blended together to create a final product. This results in a grain whisky that will have the flavor profile from a few different bottles.
Blended Scotch Whisky
Blended Scotch whisky is a blend of both grain Scotch and malt Scotch whiskies. The whisky used in this blend can all come from the same distillery, or can all come from different distilleries. As the word 'single' is not used in the title, there is no regulation on how many distilleries can be involved.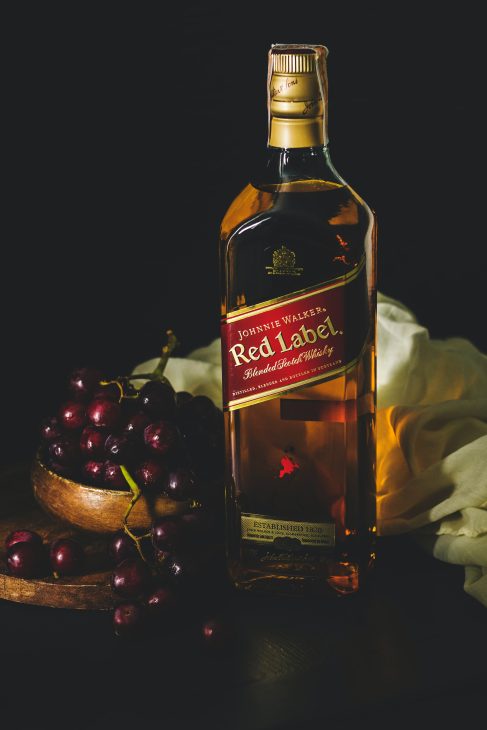 Johnnie Walker Flavors and Labels
Johnnie Walker is a very famous and esteemed company that distills Scotch whisky and some other alcoholic beverages. The majority of the stock is Scotch and it can come under different labels. To keep things nice and simple, the company has color-coded the labels so that lovers of the drink can easily identify which one they want. Each label is a different type of whisky and will be unique and have its own different traits, making it stand out from all the rest.
The average ABV (alcohol by volume) for Johnnie Walker is going to be around 41%. This is not necessarily high for a whiskey but it is a lot higher than a beer. For instance, one shot of this would be the equivalent of around a single beer. Lots of alcohol content, not as much liquid.
Red Label
The Johnny Walker red label is a blended Scotch whisky that is made from a blend of East coast Scotland whiskey and West coast whiskey. The East Scotch has a light body and vibrant flavor, while the West Scotch has a dark color and a more earthy taste. Anyone wanting a smoky-tasting Scotch will be delighted by this choice.
Black Label
What sets the black label bottles apart from all of the other choices is that it undergoes even more maturation than Scotch naturally has to. While Scotch is required to be aged for 3 years, this blended Scotch is aged for 12 years until it is smooth and delicious. The black and gold coloring of the label is there to emphasize that this is a well-crafted, well-rounded, and well-respected drink. The Johnnie Walker Black Label is brilliantly crafted and should be sipped so that you can enjoy the flavors it offers.
Double Black
If the rich depth and complex flavors of the black label were not quite good enough for you, Johnnie Walker offers a double black label. This is another blended Scotch whisky that is heavily influenced by the distilleries in the West of Scotland. The double black is a much more intense take on the black label and is best enjoyed neat and served with ice. While the Johnnie Walker Double Black should be served with ice, try not to let it melt too much. Such a brilliant drink should not be diluted if you can help it.
Gold Label Reserve
The Johnny Walker Gold Label Reserve is a more casual experience when compared to the Johnnie Walker Red. Instead of being a strong-tasting and powerful Scotch, it opts for a smooth and creamy texture with a sweeter flavor. The whisky has a strong honey taste and is light and sweet, tasting like a perfect combination of both Speyside and Highland whiskies.
Blue Label
The Johnnie Walker Blue Label is going to be arguably the hardest bottle to find. The bright blue label may sound easy to spot in a liquor store, however, because of the low quantity produced, this bottle can be quite rare. After all, it does say 'A blend of our rarest whiskies' on the bottle.
The Johnnie Walker Blue Label has complexity and depth like no other. At first, you will find yourself experiencing earthy flavors such as honey, hazelnuts, and sherry. However, after a while, you will start to notice the undertones of dark chocolate, dried fruits, and a lot of spices.
Green Label
The Johnnie Walker Green Label is a blended malt Scotch whisky. This whiskey is matured for 15 years and the malt used in the mash is obtained from four different regions of Scotland. The malt comes from Speyside, Highland, Lowland, and the Scottish Islands. This results in a unique flavor that can capitalize on the defining qualities of each region.
Aged 18 Years
The Johnnie Walker Platinum Label 18 Year Old is among the finest of all the product sold by Johnnie Walker. While the flagship product such as the Johnnie Walker Red Label is amazing and delicious, it does not even come close to how good the Johnnie Walker Platinum Label is. This fine blended Scotch whisky is matured for 18 years and has unique flavors that are fragrant and citrusy. Alongside this, there are also a lot of nutty flavors to experience. Expect a smoky citrus aftertaste that will leave you satisfied.
Johnny Walker White Walker
By far the most interesting bottle. This Johnnie Walker Label is a promotional product for the hit TV show Game of Thrones. The bottle is ice white with very exciting graphics printed on it. The bottle also has a temperature-sensitive coating that will display the words "Winter is here" when the bottle is at the perfect serving temperature. This is a reference to a common line of dialogue in the show.
As for the whiskey inside, you will immediately smell Fruit Pastilles and dried apricot. While it is immediately fruity, you will also be able to smell toffee, vanilla, and ginger. Once you taste the whisky, you will experience another round of vanilla paired with cinnamon and almond. Alongside this, you will also taste charred oak and a lingering pepper taste that is finished with festive spices.
Johnnie Walker Whisky Price Guide
Like all whisky companies, not every bottle of Johnnie Walker is going to be the same price. Some of them are going to be more expensive, as they may require a longer production process or they may include more expensive ingredients.
Scotch whisky is naturally already more expensive than bourbon and rye, so when comparing the prices of Scotch with more Scotch from the same brand, it can be difficult to keep track of it.
| | | |
| --- | --- | --- |
| Johnnie Walker Label | Size (ml) | Avg. Price (USD) |
| Johnnie Walker Red Label | 700ml | $23 |
| Johnnie Walker Black Label | 700ml | $35 |
| Johnnie Walker Double Black Label | 700ml | $40 |
| Johnnie Walker Gold Label Reserve | 700ml | $50 |
| Johnnie Walker Blue Label | 700ml | $180 |
| Jonnie Walker Green Label | 700ml | $60 |
| Johnnie Walker Platinum Label 18 Year | 700ml | $100 |
| Johnnie Walker White Walker Label | 700ml | $50 |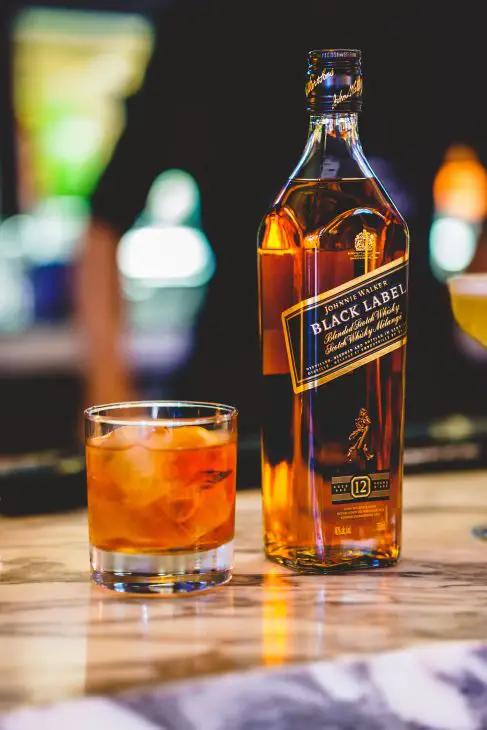 How Does Johnnie Walker Compare To Competitors?
When being compared to competitors, Johnnie Walker holds its own quite easily. While the most notable whiskey brand, Jack Daniels, is beloved and iconic, there is not the same sense of premium from the company. As Johnnie Walker only deals with Scotch whisky, you immediately know that it is quite a luxurious company and will have quality products waiting for you.
As for pricing, despite selling high-end alcohol, the prices are still quite fair. You will have outliers such as the Johnnie Walker Blue Label that retail for a high amount but for this price you are getting a much higher quality drink. Even at the lowest retail price of $23, the Johnnie Walker Red Label is still an amazing bottle of whiskey to enjoy. If you haven't had the chance yet, I highly encourage you to try out any bottle of Johnnie Walker that you can get your hands on.
While all whiskey is going to make your throat burn to some extent, you just cannot beat the smoothness of Johnnie Walker.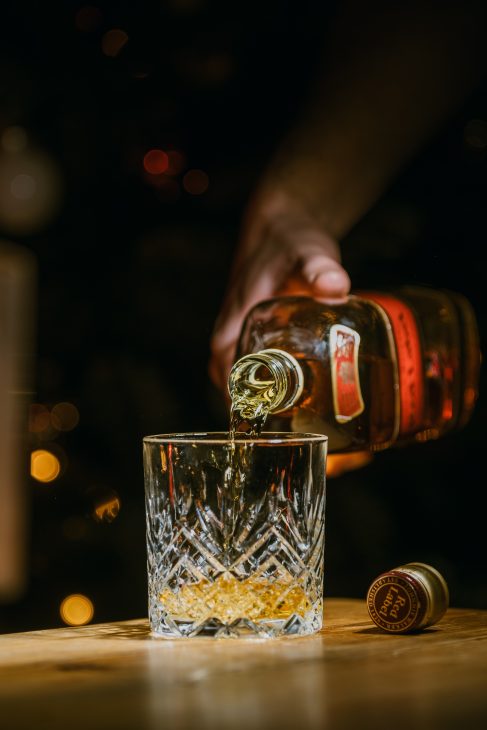 FAQs On Johnny Walker
What are the tiers of Johnnie Walker?
While there are not necessarily tiers of Johnnie Walker, there are some products that are of a higher class and this is reflected in their retail price. For instance, the flagship product, Johnnie Walker Red Label, retails for around $23. However, the Johnnie Walker Blue Label retails for $180 as it is a much higher quality Scotch.
How many different labels of Johnnie Walker are there?
While there are many different labels that have been released and will be released, Johnny Walker has 7 core labels that they will always sell. These are Red, Blue, Black, Double Black, Green, Gold, and Platinum.
What is the difference between Johnnie Walker labels?
The main difference between Johnnie Walker labels is the flavors that you will experience. As a lot of the different labels are blended Scotch, they offer incredibly unique and diverse flavors that you cannot expect to find anywhere else.
What are the color labels for Johnnie Walker?
The main color labels for Johnnie Walker are; red, blue, black, double black, green, gold, and platinum. These are what Johnnie Walker considers to be the "core range" of their products. Alongside these, there are a lot of limited edition or special edition labels that will be released for certain occasions.