by Dane Wilson
|
Last Updated:
March 25, 2023
Hey there! This site is reader-supported and we earn commissions if you purchase products from retailers after clicking on a link from our site.
Whiskey is an incredibly popular spirit that is seeing a bit of a Renaissance. People throughout the world are experimenting with whiskey, refining it, and giving it new flavorings that are surprising and delicious. Case in point: Peanut butter whiskey. This flavor of whiskey has been trending recently, so if you have spotted peanut butter whiskey on the shelves of your favorite liquor store, it is no wonder you are intrigued. Whether you are a fan of nut butter or simply want to try something new, here are the 14 best peanut butter whiskeys you can try today and discuss with your whiskey-drinking friends tomorrow.
Table of Contents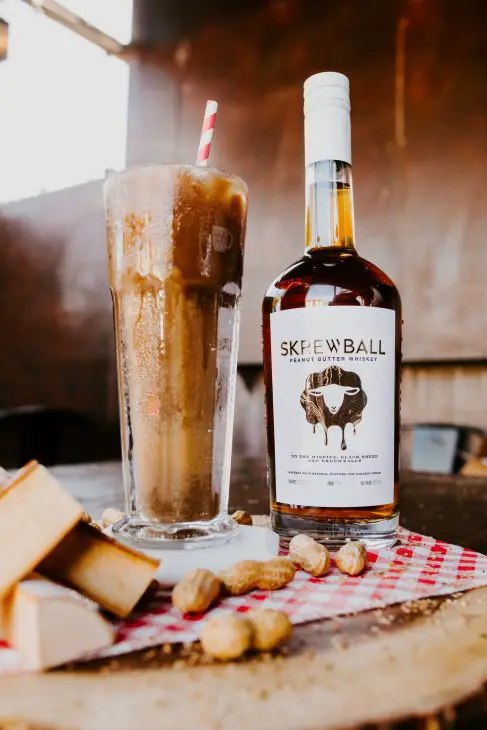 What is Peanut Butter Whiskey?
Peanut butter whiskey is a type of flavored whiskey that has a distinct peanut butter flavor. It's made by infusing whiskey with natural or artificial peanut butter flavoring, which gives it a sweet, nutty taste. Peanut butter whiskey has become increasingly popular in recent years and is often enjoyed as a dessert or after-dinner drink, because it is sweeter than naturally flavored whiskey. It can be consumed neat, on the rocks, or mixed in cocktails. You can also use various peanut butter whiskey brands as a substitute for traditional whiskey in recipes such as whiskey sours or Old Fashioneds.
Some drinkers also recommend pouring a little bit of peanut butter whiskey over your favorite vanilla or chocolate ice cream!
The Best Peanut Butter Whiskey Brands to Try Today
Being that peanut butter whiskey has seemingly blown up overnight in terms of popularity, it is no small wonder that more and more brands are releasing it.
You will find a wide variety of peanut butter whiskey available, proving that whiskey has never been nor will it ever be a one note alcohol:
Skrewball is, without a doubt, the current crowd favorite and one you should pick up if you want the real experience. Here is some fun history behind the brand: Skrewball Peanut Butter Whiskey was created by a bartender named Stephen Yeng who used to serve peanut butter and whiskey shots to his customers. After seeing the popularity of these shots, he decided to create a peanut butter flavored whiskey that could be enjoyed in a variety of ways. It's made with a blend of American whiskey and all-natural peanut butter flavoring, giving it a distinct and delicious taste that's both sweet and savory.
Skrewball Peanut Butter Whiskey has a smooth and creamy texture, making it easy to drink on its own or as a base for cocktails. It has won numerous awards and accolades, including a Double Gold medal at the 2018 New York World Wine and Spirits Competition.
Want a fun way to incorporate Skrewball into a cocktail? Mix it together with milk and chocolate liqueur, as well as a generous squirt of chocolate syrup in a highball glass. It will taste like the adult version of the popular Reese's peanut butter cup candy.
PB&W Peanut Butter Whiskey is a flavored whiskey produced by the PB&W Distillery in Fort Collins, CO. The whiskey is made by blending natural peanut butter flavor with their blend of American whiskey. PB&W Peanut Butter whiskey is an absolutely delicious take on creamy peanut butter mixed with whiskey. The balance of the aroma and flavors is superb. Moreover, the smooth finish is matched with a delicious and authentic peanut butter aroma.
Like most peanut butter whiskeys, it is on the sweeter side. You have to be careful about which cocktails you put this in, because the sugar and peanut butter flavors may overpower more subtle notes in your beverage. That said, PB&W Peanut Butter whiskey is perfect when poured neat or on the rocks. You can also put it into richer, creamer cocktails and martinis.
If you are looking for a peanut butter whiskey that is smooth and sweet, consider the one made by popular brand Bird Dog. They make their peanut butter whiskey by blending together aged Kentucky whiskey (a mixture of rye, corn, barely, and bourbon) and natural peanut butter flavoring. After blending, the whiskey is then aged in regular oak barrels. It's nutty, creamy, and goes down incredibly easy.
In addition to its Peanut Butter Whiskey, Bird Dog also offers a variety of other flavors such as Blackberry, Peach, and Honey-Jalapeño. The brand has recently won a Gold medal at the 2016 San Francisco World Spirits Competition and was also the winner of the Best American Flavored Whiskey Gold medal. So if you are looking for something high quality that is bound to please, check out Bird Dog.
Out of most peanut butter flavored whiskeys, Bird Dog comes in with a higher ABV—40%—than the competition.
Made by Copper Still Distillery, this peanut butter flavored spirit is interesting to say the least. The dark chocolate and peanut butter notes certainly go well together; it's nostalgia in a bottle. You also get a pleasant aroma of roasted peanuts, chocolate, caramel, and even some toasted oak and cinnamon. It smells more expensive than it actually is priced. Yet, for a whiskey, it does have a bit of a burn.
The distillery recommends that you try this whiskey with some Hershey chocolate and cream. Shake it together and pour into a martini glass.
If you happen to love this offering, you may also want to try Copper Still's pecan and root beer flavored whiskeys.
Looking for one of the top selling peanut butter whiskeys in the world? Check out Sqrrl, produced by Beam Suntory. If you aren't familiar with that distillery, here is what you need to know: Suntory is known for their Japanese whiskeys, and Beam, well, that's the one and only Jim Beam.
One whiff of Sqrrl Peanut Butter whiskey, and you will be transported to a magical land of butterscotch, chocolate, and roasted peanuts. Many who taste it also say that they are reminded of caramel corn and sugar. Although the peanut butter is not as noted in this whiskey, it is a fine choice for those who want a whiskey that blends with just about anything.
You can find a wide variety of Sqrrl whiskeys on the market. Many of their offerings are aged between 3 and 40 years.
Ole Smoky Peanut Butter Whiskey is a flavored whiskey that is made by Ole Smoky Distillery, a Tennessee-based distillery that is known for its moonshine and flavored whiskeys. The whiskey is made by blending natural peanut butter flavor with Ole Smoky's signature whiskey, which is made using a traditional Tennessee whiskey recipe. The resulting product has a smooth, sweet flavor with a distinct peanut butter taste and aroma.
Ole Smoky Peanut Butter Whiskey can be enjoyed neat, on the rocks, or as a mixer in a variety of cocktails. It is typically bottled at 35% ABV (alcohol by volume) and is available for purchase in liquor stores and online retailers in various sizes, including 750ml and 1-liter bottles.
If you love their Apple Pie, Salted Caramel, Peach, or Watermelon flavored whiskeys, then you should be tempted to give this new flavor a try.
Skatterbrain Peanut Butter Whiskey is made by Universal Products and is noted for having a smooth and sweet taste, with a prominent peanut butter flavor that is more authentic than artificial.
Universal Products produces a variety of spirits, including whiskey, rum, vodka, and tequila. Skatterbrain Peanut Butter Whiskey is one of their newer products, and it is made by blending natural peanut butter flavor with their whiskey base, which is distilled from a blend of corn and rye. Skatterbrain Peanut Butter Whiskey is bottled at 35% ABV (alcohol by volume) and is available for purchase in liquor stores and online retailers in various sizes.
You should try some Skatterbrain with a raspberry-flavored liqueur for a PB&J shot.
Hailing from Louisville, Kentucky, Sheep Dog whiskey has everything you need in a whiskey, including the nutty goodness of a peanut butter sandwich. One of the advantages of this whiskey is that it is on the cheaper end of the market. While that does mean it is not as complex as some of the other contenders on this list, it does not disappoint. Sheep Dog Peanut Butter whiskey has notes of butterscotch, vanilla, and caramel to bolster the peanut butter flavoring of this drink.
If you are new to the world of whiskey, particularly flavored whiskey, this is a good place to start. You will not be too overwhelmed with flavor and can even mix Sheep Dog with a variety of other drinks.
If you love small craft whiskey, then you may like what Two Trees Distillery has come up with. Based in Fletcher, North Carolina, Two Trees produces a range of flavored whiskey, as well as vodka. Their Two Trees Peanut Butter Whiskey is one of their newer products and is made by infusing their signature corn-based whiskey with the taste of slow roasted peanuts.
According to the distillery, Two Trees Peanut Butter Whiskey has a smooth and creamy taste, with a rich peanut butter flavor that is balanced by notes of vanilla and caramel. One of the things that separate Two Trees' offering from the pack is woodiness. This whiskey is infused with more than the typical flavor profile. It also has a touch of Appalachian white oak, which makes it a unique competitor that whiskey drinkers will find intriguing.
The whiskey is bottled at 35% ABV.
If you love salty peanut butter, then you are going to want to imbibe Hard Truth Peanut Butter Whiskey right away. It is produced by Hard Truth Distilling, a craft distillery located in Nashville, Indiana, that produces a range of spirits, including vodka, gin, and whiskey. This whiskey in particular is made with Hard Truth's signature Indiana straight bourbon whiskey alongside natural peanut butter flavoring.
The whiskey has a strong and authentic peanut butter flavor, including that smidgen of salt, that is complemented by notes of vanilla and caramel. On the tongue, Hard Truth Peanut Butter whiskey is also velvety and smooth. It has depth, making it a delicious choice for an aperitif or a dessert. You can also mix this whiskey into cocktails.
11. Blind Squirrel Peanut Butter Whiskey
Made by the same company that makes Skatterbrain—Universal Products—Blind Squirrel is another entry-level whiskey that makes sampling different flavors easy. Although reviews are mixed when it comes to drinking Blind Squirrel straight, there is one thing to be said: This is a whiskey for cocktails. On the tongue, Blind Squirrel is a bit thick and syrupy, almost too artificial to be enjoyed straight. Yet, when you combine the sugary, cinnamon, and peanutty taste with berry or banana liqueur, you get a fantastic cocktail for any time of the year.
Here is a group taste-testing Blind Squirrel:
Produced by Sazerac, Rams Point Peanut Butter whiskey is another option for those who want to give this kind of whiskey a try without breaking their bank. This whiskey has a medium oak coloring and the aroma of peanut butter and a touch of chocolate. When it comes to taste, Rams Point Peanut Butter whiskey imbued with peanuts, vanilla, and a lot of sugar. The vanilla may come on a bit strong, but if you like that in a whiskey, then this is the one for you. It is notably heavy on the sugar, though the finish is somewhat bitter.

The best way to consume Rams Point Peanut Butter Whiskey is on the rocks, as the sugary flavor of it will cover up anything else you try to mix with it. While this may be a downside for some, those who prefer straight whiskey will likely find this one a winner. Either way, it is worth a sip or several.
Yet another offering from Sazerac, Shepherd's P'Nutty Peanut Butter whiskey is very balanced. It's in the middle between Sheep Dog and Rams Point when it comes to flavor, aroma, and mouthfeel. Many peanut butter whiskeys try to be in your face with the flavor. Meanwhile, this offering takes a step back. You get prominent vanilla and caramel at first. The peanut butter takes the backseat, letting you enjoy the subtle hints on your tongue. The flavor tends to linger, but it does not develop into anything bitter or overly sweet. As such, you can enjoy this whiskey neat or on the ice. It's perfect for sipping.
Do you consider yourself a sophisticated whiskey consumer? Then you are going to enjoy the peanut butter flavored whiskey made by Barrel & Banter. Without relying on any additional sweetness, Barrel & Banter crafted a whiskey that is good on its own without requiring any peanut butter flavoring. Thus, when you add in that peanut butter taste, you get a blend that is unique and complex.
Here is a description straight from the distiller: "Perfect balance of peanut butter and bourbon makes this 70 proof whiskey something to talk about. Even sweetness combined with the oaky notes of our mellowed bourbon make for a well balanced flavor."
Couldn't have said it better!
Some Peanut Butter Whiskey Inspiration
Looking for some fun ways to incorporate peanut butter flavored whiskey into your cocktail lineup? Here are some recipes for to get the creative juices flowing:
PB&J Martini: Combine 2 oz peanut butter whiskey, 1 oz raspberry liqueur, and 1 oz cranberry juice in a shaker with ice. Shake and strain into a glass, garnish with a raspberry.
Peanut Butter Old Fashioned: Muddle a sugar cube, a few dashes of bitters, and a splash of water in a glass. Add ice, 2 oz peanut butter whiskey, and stir. Garnish with an orange twist.
Peanut Butter Banana Milkshake: Blend 2 scoops vanilla ice cream, 1 sliced banana, 1 oz peanut butter whiskey, and 1 oz chocolate syrup until smooth. Serve in a tall glass and top with whipped cream.
And as some people on the internet have noted, peanut butter whiskey is also excellent for adding flavor to food and baked goods. Try this peanut butter whiskey sauce the next time you are cooking up chicken wings for a barbecue:
Combine 1 cup ketchup, 1/2 cup apple cider vinegar, 1/4 cup brown sugar, 1/4 cup peanut butter whiskey, 2 tbsp Worcestershire sauce, 2 tsp paprika, 1 tsp garlic powder, and 1 tsp onion powder in a saucepan. Simmer for 10-15 minutes, stirring occasionally, until thickened.
It's Time to Go Nuts for Peanut Butter Whiskey
If you love flavored whiskey or have a craving for drinking down some peanutty deliciousness, then you may find yourself in love with peanut butter whiskey. There are many brands out there, but the ones in this list are the best peanut butter whiskey brands available right now. Some of them are salty. Others are sweet. Whether you prefer savory, salty, or dessert-like peanut butter, there is a whiskey out there to fulfill your craving! Are there other peanut butter whiskeys out there that we missed? Let us know and we will be sure to add it to the list.
FAQs
Is peanut butter whiskey good?
If you are a lover of peanut butter whiskey, then you will find this flavoring delicious and surprising. You will also love how many different cocktail variations you can enjoy. For those who do not find peanut butter appetizing, you may still love various brands of peanut butter whiskey, especially the ones that taste more like candy.
Should someone with a peanut allergy drink peanut butter whiskey?
For those with severe peanut allergies, you may want to ask a medical professional first. Peanut butter whiskey is made with peanut butter flavoring, which may contain trace amounts of peanuts. For someone with a peanut allergy, even small amounts of peanuts can be extremely dangerous and potentially life-threatening.
Does Skrewball Peanut Butter Whiskey taste like peanut butter?
Yes, that is why it is called peanut butter whiskey. You may find that it tastes more like the peanut butter used in candy bars than on a sandwich, however.