by Dane Wilson
|
Last Updated:
April 10, 2022
Hey there! This site is reader-supported and we earn commissions if you purchase products from retailers after clicking on a link from our site.
About 1.4% of the global population suffers from celiac disease, meaning that there are about 2 million Americans who once had to give up wildly delicious beer. Due to wheat, barley, and rye all containing gluten, those with a gluten-sensitivity were forced to drink other alternatives (or flavorless gluten free attempts at beer). Fortunately, breweries are answering the call for delicious gluten free beers. More and more are hitting the shelves and making waves for their rich flavor.
Thirsty for the ultimate gluten free beer list? Keep reading.
What is Gluten Free Beer?
There are three categories of gluten free beer: dedicated gluten free, gluten free, and gluten-reduced. Gluten free beers are made from gluten free ingredients. This includes buckwheat, millet, rice, sorghum, and quinoa. As long as it is not rye, wheat, or barley, you're safe.
In the US, beers can be labeled gluten free if the gluten content is less than 20 ppm. Breweries are responsible for getting their beers analyzed in a laboratory before they can slap "gluten free" on their label.
Dedicated gluten free beers are crafted in special facilities that do not risk cross-contamination with gluten-containing foods. Plus, the grains used for the beer are often grown in regions where there was neither wheat nor barley nearby. This, too, reduces the chance of gluten showing up in a beer.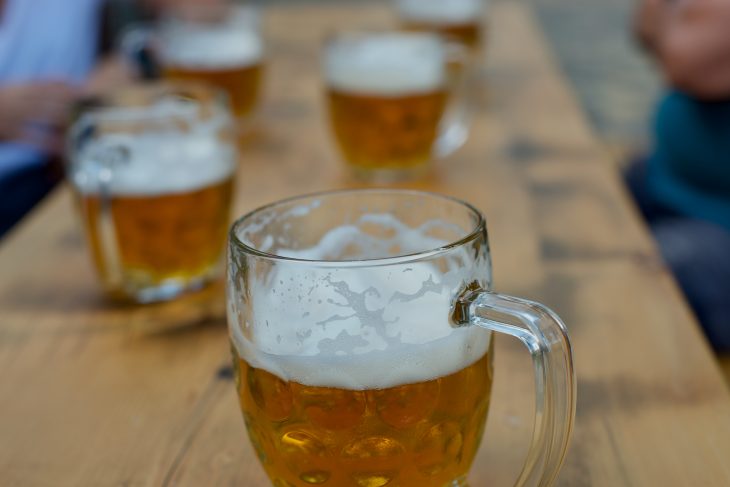 How is Gluten Free Beer Made?
Genuinely gluten free beer is brewed just like traditional beer. However, instead of making the malt from barley, wheat, or rye, other non-traditional ingredients are used.
This is one of the most difficult things about brewing gluten free beer—the lack of data on grain alternatives. Before there was a demand for gluten free beer, breweries didn't know how millet or buckwheat, for example, would handle the malting process or even fermentation. Many of the grains are also different sizes and shapes than barley, wheat, or rye, so milling and mashing alternative grains also affects the outcome.
Once the wort has been made, though, the process is very much the same. The wort goes into the primary fermenter. Then, the fermentation process begins with yeast. After a few weeks of primary fermentation, the beer is siphoned from the carboy so that the yeast gets left behind. After that, the beer sits for another period before getting bottled and sent out for consumption.
Some breweries will also use sugars like corn sugar or sorghum syrup in their brews, as well.
Are Gluten-Removed Beers Safe For Celiacs?
You can find a variety of beers out there. Some of the beers are 100% gluten free, so you don't have to worry about ever coming across a trace of gluten. Then there are beers labeled "gluten-removed" or GR. While gluten free beers use only grains that are free of gluten, such as brown rice or sorghum, gluten-removed beers use wheat, barley, rye, or a blend.
In other words, they are made with gluten. Once the beer has been fermented, enzymes are added to remove the gluten.
Is this process completely effective? Not really.
What About "Gluten-Reduced Beers"?
Another way to say "gluten-removed" is "gluten-reduced." These beers are brewed like any regular beer then get exposed to the enzyme, as mentioned above, during the first phase of fermentation. The enzyme is then filtered out, having little effect on the flavor of the final product.
So whether you are looking at gluten-removed or gluten-reduced beers, the fact still remains that it was made with gluten. Therefore, experts have recommended that those with celiac disease stay far away from anything made with gluten.
The gluten is not entirely removed, meaning that there are still trace amounts. Some people with celiac disease may have a reaction. Studies have found that celiac disease may be triggered with 100 mg of gluten—that's about 1/64 of a teaspoon of flour. Others are so sensitive that it only takes 10 mg of gluten.
In short, look solely for gluten free beers that are made without any glutenous ingredients.
The Ultimate Gluten Free Beer List (With Beers That Taste Good)
Looking for the best gluten free beers around? Leaving no stone unturned, this gluten free beer list features a selection from several locations. The beers are divided up based on where they are from. You will also see that each one is listed as either gluten free, dedicated gluten free, and gluten reduced. Keep in mind that gluten reduced beers are not safe for everyone.
So without further ado, here is the ultimate list of gluten free beers:
North American Gluten Free Breweries and Beers
The following are all from either the USA or Canada. Keep the location of the beers in mind, because it will dictate where you can find them or have them shipped. The more popular the brew, the better your shot at getting your hands on some!
1. Alt Brew
Location: Wisconsin, USA
Dedicated to being gluten free, Alt Brew wants nothing more than to make "gluten free beer that tastes good." Trevor Easton, the brewmaster of Alt Brew, decided to create a completely gluten free line after learning that his wife has a gluten intolerance. To this day, Alt Brew is known for their well-rounded beers and long list of GF options.
One of the favorites is Rustic Badger, the flagship brew. Rustic Badger is a farmhouse ale that contains notes of apple and has 6.0% ABV. If you like a good copper ale, try Copperhead. It's chocolatey and malty. Alt Brew has also made gluten free stouts, IPAs, and blonde ales for your enjoyment.
2. Anheuser-Busch Redbridge Lager
Location: Missouri, USA
Few macro breweries are committed to making gluten free beers, though that may change in the future. For now, there is Redbridge Lager, a creation from Anheuser-Busch. Originally released in 2006, Redbridge Lager has been the mainstay gluten free option in restaurants for years. Sadly, it isn't the best, but it is available throughout the US.
The sorghum in Redbridge Lager is a bit bitter, which can take some getting used to, but there are notes of the brewery's other products. You may enjoy those flavors if you like other offerings by Anheuser-Busch. Give it a try. You have nothing to lose!
3. Aurochs Brewing Company
Location: Pennsylvania, USA
Dedicated gluten free, Aurochs Brewing Co. is one of the most reputable brands on the East Coast. Aurochs carefully sources their non-gluten grains, including millet, buckwheat, and quinoa. The selected grains are also milled and malted to suit a broad range of beers.
Aurochs has a selection of beers to choose from. If you want a good introduction to the company, sample the Blonde Ale. Aurochs Blonde Ale is full of tropical flavors from Amarillo and Saaz hops. The Session IPA has notes of citrus, pine, and grapefruit, as well as 4.5% ABV. Don't forget about the Amber Ale, Light Lager, Hazy IPA, and Porter!
4. Burning Brothers
Location: St. Paul, Minnesota
Dedicated gluten free! That is always exciting to see. Burning Brothers has a huge taproom out in Minnesota if you are close by. Otherwise, you definitely want to try to find some of their gluten free beers near you (shipping is unavailable at this time). Burning Brothers has a long list of GF beers, including their popular "Pyro" American Pale Ale, which is both bitter and refreshing.
Another favorite is the Roasted Coffee Strong Ale, a mixture of cold brewed coffee and single-hopped strong ale. They also have a Lime Shandy, Irish Red Ale, and an IPA with 70 IBUs.
5. Glutenberg Craft Brewery
Location: Canada
Glutenberg has been receiving a lot of attention for their beers lately. As a microbrewery from Quebec, Glutenberg is hitting all the right notes among their gluten free drinkers. Founded in 2011, Glutenberg has gained a steady following in both the US and Canada for their genuinely delicious beers. You will have no problem finding a gluten free beer that suits your taste buds.
Each beer crafted by Glutenberg contains grains like quinoa, millet, buckwheat, corn, or amaranth. Topping the charts in popularity is Glutenberg's Blonde Ale. If you want a refreshing GF beer, this is it. At 4.5% ABV, Glutenberg Blonde Ale is bright and balanced with a few bready notes.
Glutenberg also brews up an American pale ale, a gluten free Blanche inspired by Belgian wheat ales, a gose, stout, and even a nonalcoholic offering. Each one is unique and delicious, so try them all.
Here is a video of a Glutenberg taste test:
6. Stone Brewing
Location: California
Few breweries have gotten as experimental with their brews as Stone Brewing from California. Stone Brewing has a varied portfolio that includes boldly flavored IPAs. Most of their beers are traditionally made, but in 2015, Stone Brewing released Delicious IPA in a bright green bottle or can. Delicious IPA is 7.7% ABV and gluten-reduced.
Is delicious IPA true to its name? Yes. The beer was made using a combination of El Dorado, Nugget, Lemondrop, and Calypso hops. It's dry yet bursting with citrus notes.
If you are worried about the gluten-reduced label, don't be. Stone Brewery maintains their facilities and ensures that there is no cross-contamination between their ingredients. Furthermore, their Delicious IPA only has small traces of gluten remaining (less than 20 ppm) by the time it is bottled.
7. Ghostfish Brewing Company
Location: Seattle, Washington
Enter Ghostfish, a dedicated gluten free brewery with an amazing lineup. Presently, Ghostfish beer is available in several US states and a few Canadian provinces. Due to their growing popularity, you may see them soon near you (if not already). Ghostfish works primarily with millet and occasionally buckwheat, sorghum, and brown rice for their malts.
Some of the year-round beers include hoppy IPAs and refreshing pale ales. Ghostfish also does seasonal blends, including a gluten free pumpkin ale.
One of the best beers from Ghostfish, however, is the Shrouded Summit Belgian White, which puts many traditional witbiers to shame. The genius brewers at Ghostfish somehow managed to mix rice, buckwheat, and millet and make a juicy golden beer with a hint of coriander. Another contender for their top beer is the Grapefruit IPA, a bitter, bright, and brilliant brew.
8. Odd13 Brewery
Location: Lafayette, Colorado
Founded by Ryan and Kristin Scott, Odd13 Brewery has been serving up amazing brews that you won't believe are gluten free. Right now, the entire lineup of beers is gluten free, though the seasonal collections often contain gluten. Odd13 has five beers worth sampling, such as Codename: Superfan, Colorado Kid, n00b, Intergalactic Juice Hunter, Vincent Van Couch, and Jetman Jimmy.
The favorite out of the list is Codename: Superfan, an IPA with 6.5% ABV and Simcoe, Ekuanot, and Citra hops. If you love a good DIPA, look at Intergalactic Juice Hunter, which contains Simcoe, Amarillo, and Galaxy hops and a few surprising ingredients, like lactose.
9. Ground Breaker Brewing
Location: Oregon
Looking for a dedicated gluten free pub and brewery that makes everything 100% gluten free? Get out to Oregon and visit Ground Breaker Brewing. Aptly named for their approach to brewing beer, this brewery consistently makes incredible beers that taste better than the traditional recipe.
One of the beers you should try from Ground Breaker is their Dark Ale, which has hints of chocolate, fruit, chestnuts, and roasted coffee. The beer is deliciously dark and has such a decadently rich flavor that you will feel like you just had dessert. Other options include Inclusion Dry Hopped Pale Ale, IPA No. 5, and Olallie Ale.
10. Two Brothers Artisan Brewing
Location: Illinois
Two Brothers Brewing from Chicago was founded by—you guessed it—two brothers and has remained family-owned and operated ever since. The brewery is highly independent and unique in their approach to gluten free beers. In turn, they manage to craft up sheer magic.
One of their best selling beers is "gluten-removed," meaning that a special enzyme was used to reduce the amount of gluten. This beer may not be suitable for everyone. The process of removing gluten but maintaining the flavor means that Prairie Path Golden Ale tastes 100% dreamy. The beer is 5.1% ABV and has 25 IBUs. Plus, the creamy yet refreshing taste is to die for.
Two Brothers Brewing Company also distills spirits and brews coffee.
11. Omission Brewing Co.
Location: Oregon
Omission Brewing Co. is on a mission to produce highly satisfying beers, and they are doing an incredible job so far. Omission is not 100% gluten free, but they do produce gluten-reduced beers that come in at 10 ppm per serving. For most people with a gluten-sensitivity, Omission beers are safe to drink.
Omission beers come in four styles: a pale ale, IPA, lager, and Ultimate Light Golden Ale. Each beer is full-bodied, flavorful, and refreshing. The Ultimate Light Golden Ale is only 99 calories and 3 g of carbs but has 4.6% ABV. The lager is truly unique and has a delightful flavor from Cascade and Millennium hops.
12. Holidaily Brewing Co.
Location: Colorado
Holidaily Brewing Co. was the first gluten free brewery in Colorado. Since their foundation, Holidaily has been winning awards, gaining popularity, and crafting some true winners. For instance, Holidaily flagship brew, Favorite Blond Ale, and its Boombastic Hazy IPA both won awards at the 2019 Great American Beer Festival. Holidaily also offers stouts, red ales, a dunkelweiss, seasonal beers, and more.
Each beer is nearly identical in flavor to the respective style of beer, despite the use of millet or buckwheat. Doing so shows off exceptional skill from the brewers.
Try their BuckWit Belgian witbier or Blonde ale.
13. Moonshrimp Brewing
Location: Portland, Oregon
Looking for a microbrewery that makes gluten free beers in small batches? Check out Moonshrimp Brewing. You can also inquire about custom beers, too. Moonshrimp Brewing has a rotating lineup that has zero gluten (it's not even on the property) and is also vegan friendly. Their permanent collection is made up of Negative Space, a dark pale ale that is hoppy, light, and intermingled with fruit. It's a complex beer. Next is Starlight White ale—it tastes like summer days and a sea breeze. Lastly, One Small Step: IPA, which was crafted with Chinook and Cascade hops.
14. Lakefront Brewery
Location: Milwaukee, Wisconsin
Lakefront Brewery is one of the few in the US that has a regular lineup of traditional beers and a full complement of gluten free ones. If you compared the different varieties side by side, you would find that they taste extremely similar—and that's a great thing. Lakefront Brewery released New Grist a few years ago and was one of the first beers to have a gluten free label approved by the US Government. To this day, New Grist is a staple in every gluten free cupboard.
If you like a pilsner that tastes like hops, bread, and crisp green apples, you are going to love New Grist. The other gluten free beer currently offered is La Gosa Rita, a margarita-style ale.
15. Bard's Tale Beer Company
Location: Minnesota
Using sorghum as the chosen grain, founders of Bard's Tale Beer Company Kevin Seplowitz and Craig Belser stumbled upon something amazing. Both men suffer from celiac disease, so they were motivated to find a way to drink beer without the pain. They came up with Bard's beer and proclaimed it "the Original Sorghum Malt Beer." Bard's has been a hit ever since.
When drinking Bard's, you might compare it to Miller, Coors, or even Heineken. In short, you might consider Bard's as a gluten free alternative for a shower beer.
16. Dogfish Head Brewery
Location: Milton, Delaware
Back in June 1995, the founder of Dogfish Head, Sam Calagione, didn't know how big and popular his brewery would become. Since then, Dogfish Head has been featured in the Beer Wars documentary and on the Discovery Channel. Although Dogfish Head makes many traditional style craft beers, they have also expanded their repertoire to fit in a gluten free option that is truly delicious.
Introducing Dogfish Head Tweason'ale, a 6.0% ABV ale that has the scent of strawberries when you open the bottle. As you can imagine, it is divinely fruity and sweet. Dogfish Head used a mild sorghum malt for the base then worked their genius from there.
17. Buck Wild Brewing
Location: Oakland, California
Buck Wild Brewing—once known as Alpenglow Brewery—is committed to bringing gluten free beer to the San Francisco Bay region. In fact, Buck Wild Brewing is California's first dedicated gluten free brewery. There are several variations of beer classics offered by Buck Wild, including Buck Wild Pale Ale, Buck Wild Amber Ale, Buck Wild Hazy IPA, and a Buck Wild Kolsch Style Ale.
Each beer is brewed with a mixture of millet, buckwheat, brown rice syrup, or pale rice malt. The Buck Wild Pale Ale is a great place to start, as the delicious malts are balanced out by the addition of Cascade, Chinook, and Magnum hops.
18. New Planet Brewery
Location: Denver, Colorado
Established by Pedro Gonzalez in 2009, New Planet Brewery was made by a celiac sufferer for those with the same disease. New Plant beers range between 4.5% to 5.3% ABV and are known for being crisp, refreshing, and innovative. Two options to try include the New Planet Pale Ale and Blonde Ale.
New Planet Pale Ale rivals many domestic beers in flavor. You will taste the citrus notes from the Falconers Flight, Cascade, and Bravo hops. The Pale Ale is a boozy 6.0% ABV.
19. Ipswich Ale Brewery
Location: Massachusetts, USA
Want a broad selection of pilsners, ales, and fruit beers that are all gluten free? Check out Ipswich Ale Brewery from Boston, Massachusetts. Try the Celia Saison, inspired by Belgian brews. Ipswich Ale Brewery did a fantastic job at bringing out a strong wheat character despite there being no wheat in the beer. Instead, Ipswich Ale Brewery used Belgium yeast and sorghum to give the beer a full body, citrus notes, spice, and a whole lot of character.
20. Duck Foot Brewing Company
Location: San Diego, California
Matt DelVecchio of Duck Foot Brewing Company discovered he had a gluten allergy. This prompted a lifestyle change that drew him far from the world of NYC finance to start brewing gluten free beer. According to the website, Duck Foot Brewing is a gluten-removed beer that uses enzymes to remove all the gluten from their products, leaving each beer with less than 5 ppm of gluten.
Duck Foot Brewing Company has several incredible offerings, including The Looker, an American Blonde Ale with 5% ABV. There is also Drink This or The Bees Die, which contains locally sourced honey; Kook Slams, a West Coast Style IPA with 7.5% ABV; Duckzilla, a surprisingly bitter beer with 95 IBUs; and Hook 'em Sock 'em, a West Coast Style IPA brewed with Simcoe hops.
21. High Hops Brewery
Location: Windsor, Colorado
High Hops Brewery started out as a seasonal greenhouse. Now, the brewery is making over 40 flavors of unique beers. You can visit the taproom in Colorado for the full menu. One of the gluten free options from High Hops Brewery is called Puckerberry. As you can imagine, it is a sour beer flavored with blackberry and brewed with millet and buckwheat. The beer pours a bright red, and the foam is pink. It has 4.2% ABV.
UK and European GF Breweries and Beers
There are many gluten-reduced beers in the UK, including macro brews like Peroni and Stella Artois. Check out this video reviewing some notable (and common) gluten free beers in the UK and describing how they taste:
22. Bellfield Brewery
Edinburgh, Scotland, United Kingdom
Next time you are in Edinburgh, look for Bellfield Brewery beers in the store or visit their taproom. Two friends with celiac disease partnered up to make beer. Their aim? "To produce exceptionally tasty beers that everyone can enjoy." To accomplish that, every beer from Bellfield Brewery is certified by the Coeliac UK association and Vegan Society.
23. Green's Beer
Location: Lochristi, Belgium and Stockport, UK
In the UK between 1988 and 2003, the founder of Green's Beer, Derek Green, was searching for gluten free beer all over the place. When he couldn't find anything decent, he decided it was time to craft his own. In 2003, Green met with a Belgian professor who taught him about the brewing process and how to use alternatives to wheat, barley, and rye.
Since then, Green's Beer has been coming out with many varieties of gluten free beer, including Discovery, a 100% gluten free beer made from a blend of sorghum, millet, buckwheat, brown rice, and hops. Green's also has a Premium Pilsner that is gluten-removed, a double fermented Golden Ale, an Amber Ale made with deglutenized malts, and more.
24. St. Peter's Brewery
Location: Bungay, United Kingdom
St. Peter's Brewery is based out of South Elmham in Suffolk, UK and has been around since 1996. The brewery is not exclusive to gluten free brews, but it does have two gluten free beers to try. This includes Cream Stout Gluten Free and Suffolk Gold Gluten Free. The cream stout is reminiscent of a cream soda and has a hint of chocolate in it. Suffolk Gold ale has Suffolk malt, a tinge of citrus, and a brilliant golden color.
25. Carlsberg Group Celia Gluten Free Beer
Location: Czech Republic
Although owned by the Carlsberg Group, Zatecky Brewery from Czech Republic, which has a very long history, started brewing gluten free Celia beer. The beer is brewed with the same ingredients as their famous lagers, but the gluten is removed using advanced deglutenization techniques. There are two options to try: Celia Premium Czech Lager and Celia Premium Czech Dark Lager.
If you are also vegan and eco-conscious, you will like that both options are also vegan and organic. The Celia Czech Lager contains only 129 calories per serving and has a 4.6% ABV.
26. Mongozo Beers
Location: Melle, Belgium
Gluten reduced and fair trade? Yes, please. Mongozo Beer is owned by Brewery Huyghe from the Netherlands. Mongozo beers are available in Sweden, Belgium, Switzerland, Germany, and the Netherlands. Other regions are also beginning to see Mongozo on the shelves. The flavors are sure to raise your eyebrows, too. Mongozo has Buckwheat White, Mango, Premium Pilsner, Banana, and Coconut beers.
Asian and Australian GF Breweries and Beers
27. Billabong Brewing
Location: Perth, Australia
Hailing from Western Australia, Billabong Brewing has a lineup containing both gluten free and gluten-containing beer. However, you don't have to worry about any cross-contamination. Billabong Beer is brewed according to rigorous standards, permitting every gluten free bottle to be stamped with the Coeliac Society of Australia's insignia.
Check out Billabong's Australia's Pale Ale, which tastes like a blend of grapefruit, passionfruit, and sunshine. There is also a Blonde Low Carb Lager for those who are calorie conscious but don't want to lose out on flavor. Billabong also has a gluten free ginger beer that is delectable.
28. TWØBAYS Brewing Co.
Location: Dromana, Victoria
Live in Australia or visiting for a time? You are going to want to try TWØBAYS gluten free beers, created by TWØBAYS Brewing Company. All of the beers are brewed using buckwheat, millet, and rice that the brewery has imported from other sources. TWØBAYS has a complete lineup of beers, including a Mandarin Rice Lager, a Pale Ale, Session Ale, IPA, Extra Pale Ale (XPA), and a Margarita Sour. If you are in Australia, you can order a customized bundle of beer, too.
Try the Margarita Sour if you want something unique. It's a sour Gose that was inspired by Brooke Stratton, an Australian Olympian and celiac sufferer.
29. Koala Beer's Wilde Beer
Location: NSW, Australia
Owned by Koala Beer, Wilde Beer is a perfect example of how healthy beer can be. Not only is every single offering gluten free, they are also vegan, low carb, and preservative free. Score! According to the Wilde Beer website, their beers are also the only brew to be FODMAP-friendly certified. In other words, this is a beer that is safe for everyone to drink.
There are two beers by this brand that you should try. Wilde Pale Ale is light, crisp, and refreshing—perfect for an Australian summer. You can also drink quite a bit before getting tipsy, as it is only 3.5% ABV. The Wild Crisp Lager is made with sorghum and is made for slow drinking. It has 4.2% ABV.
30. Sapporo Beer's Sokai Zero
Location: Japan
If you find yourself in Japan and don't know what is gluten free or not, this is what you ask for. Sokai Zero by Sapporo is one of the few gluten free beers in the country. The beer is a great option for those with a gluten allergy as well as people looking to cut calories. Sokai Zero is made with pea protein rather than your traditional grain. The flavor is light and a little watery, making it the equivalent of a Bud Light or Coors Light in Japan.
31. Suntory's Jokki Nama
Location: Japan
Here is another option for gluten free beers in Japan. Jokki Nama by Suntory tastes very much like Draft One. Corn was used as the malt, along with a few other ingredients for flavoring. Unfortunately, you won't find Jokki Nama in a lot of restaurants, though it may be available at many convenience stores.
32. Kirin's Nodogoshi Nama
Location: Japan
If you head to a gluten free restaurant in Japan (there are a few) and ask for a gluten free beer, you will most likely receive Nodogoshi Nama from Kirin. This is a special blend made with soy protein instead of grains. Nodogoshi Nama is repeatedly named one of the best GF options in Japan.
The Freedom To Drink Responsibly
Now that you have seen this gluten free beer list, things might seem a little less hopeless. While gluten free beer is still less available than normal beers, more and more breweries around the world are making the switch. These days, you can find all kinds of delicious gluten free craft beers packed with flavor. Just keep your eyes open, and bring this list with you when you go shopping!
FAQs About Gluten Free Beers
What common beers are gluten free?
Very few domestic beers that are commonly found in tap rooms and liquor stores are gluten free. You have to go looking for gluten free breweries near you, so you can find beers without gluten. Do not expect Budweiser, Blue Moon, Corona, Miller, Heineken, and other popular beers to come out with gluten free alternatives any time soon. The most common gluten free beer is Redbridge Lager from Anheuser-Busch. You can also try Stella Artois, Peroni, Buck Wild Pale Ale, and Copperhead Copper Ale from Alt Brew.
Is Corona beer gluten free?
No, Corona is not gluten free. Corona does contain a small amount of gluten, around 20 ppm, which is considered just above the designated mark for gluten free beers. That said, Corona is made with barley, and so it is not gluten free.
Is Budweiser beer gluten free?
Budweiser contains malted barley, and so it is not considered gluten free. There are plenty of gluten free substitutes for Budweiser out there—some even better tasting. In fact, Anheuser-Busch makes both the gluten free Redbridge Lager and Budweiser.
What are the most popular gluten free beers?
Some of the most popular gluten free beers come from dedicated gluten free facilities. Glutenberg, Holidaily, Ghostfish, Stone Brewing, Ipswich Brewing, Omission are all incredibly popular gluten free breweries. If you want to try one of the best GF beers ever, try the Ghostfish Shrouded Summit Witbier or Stone Brewing Delicious IPA.