by Dane Wilson
|
Last Updated:
July 19, 2021
Hey there! This site is reader-supported and we earn commissions if you purchase products from retailers after clicking on a link from our site.
The iconic red star and green bottle combination is known throughout the world. With over 150 years of brewing history and a global fan base, Heineken is one of the best known beer brands out there. Heineken is easy to drink and decently flavored, making it one of the better tasting mass-produced beers around. But if you are looking to expand upon your beer drinking experience, you might not know what to try next. After all, what could rival the taste of Heineken?
We've got some recommendations for you.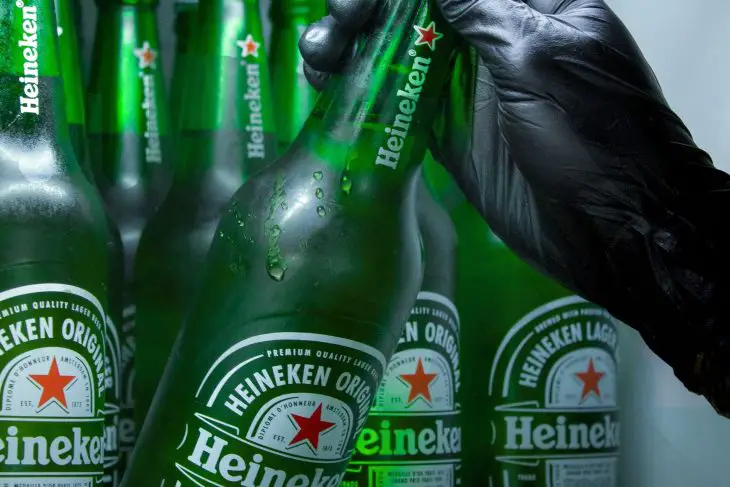 What Does Heineken Taste Like?
So, to be clear, when we talk about Heineken beer, we are referring to the Heineken pale lager, a 5.3% ABV beer that is brewed by the Dutch company Heineken N.V.. There are other proprietary beers brewed by the same company (as well as a mass of other beverages under different names), but our focus today is on the internationally known pale lager.
With that in mind, Heineken is considered the lager that all other mass-produced lagers are compared to, because it's well known. The flavor is strong, slightly bitter, and more flavorful than other watered down brands. The beer is carbonated and has a striking yellow color. There is little to no head when poured.
(Don't know the difference between a pilsner vs lager? Check out our article.)
Beers Similar to Heineken
What beers compare to Heineken? There are plenty of pale lagers out there from around the globe that have a clean, crisp, and slightly bitter flavor. Here are some of the ones that we found to have more flavor without that well-known Heineken lightstruck quality:
1. Carlsberg Danish Lager Beer
If you're looking for a beer that compares very closely to Heineken, Carlsberg is your best bet. With 5% ABV, this lager is a favored alternative for Pilsner Urquell, if you can't find that. In a glass, Carlsberg foams a thin head of foam and has some carbonation running throughout. You can smell the hops in the beer, but on the tongue there is a blend of malty sweetness and some caramel notes; overall, though, it's a very hoppy beer. There is little spice and a fine mouthfeel, making this an easily drinkable beer.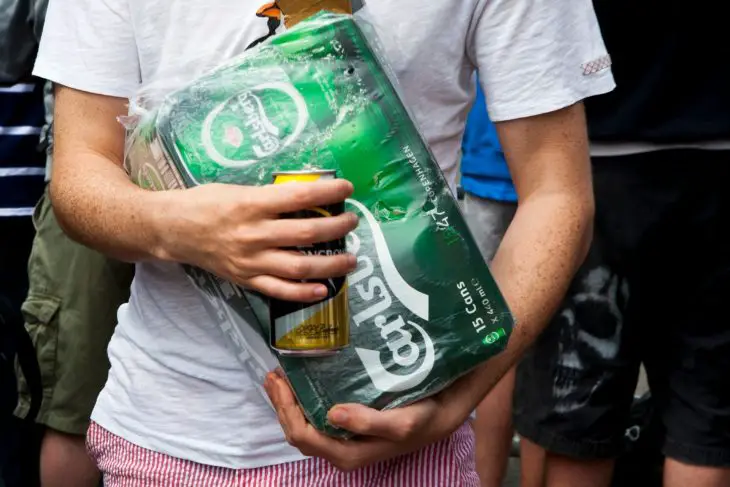 2. Spaten Munchner Lager
A well- known German export beer that brings to you the classic flavors of Munich. In fact, Spaten is regularly served up at Oktoberfest. Similar to Heineken, Spaten's Munich Helles Lager is served up in a 330 ml green bottle. Being that this is a German beer, Spatn is made with only four ingredients because of the Purity Laws. This lager has a golden color and has a loose foam that doesn't leave behind any residue. You can smell the noble hops used, as well as a grassy scent. On the tongue, you get some floral notes, grass, peppercorn, honey, and malt.
3. Pilsner Urquell
Interestingly, many would say that, instead of Heineken, Pilsner Urquell should be considered the gold standard for pilsners and pale lagers. This pilsner is a classic and is made using Saaz hops, pale malt, and the soft water of Pilsner, Czech Republic. Coming in at 4.4% ABV, this is a less intense experience that is also full of a distinctive hop flavor and carbonation. One thing that separates Pilsner Urquell from other beers is the buttery quality and flavor.
4. Augustiner Helles by Augustiner-Brau
This Bavarian beer is a true pleasure to drink. What makes Augustiner such an excellent beer is the delicious flavor—a subtle hoppy profile that is mixed with sweet malt. The finish is mild, while the overall flavor is reminiscent of a flaky bread crust. When poured, the beer is a pale gold, and the eggshell-white head is dense. If you can get your hands on Augustiner Helles, give it a try. You'll be impressed.
5. Samuel Smith Old Brewery Pure Brewed Organic Lager Beer
Ranked one of the best pale lagers in Europe, this British brew is light, bright, and clean in the glass. This lager is made with love and care using organic ingredients, medium-soft water, and a bottom-fermenting yeast. The result is a soft hoppiness and a delicate flavor that goes down easily. The Samuel Smith Lager Beer has a cracker flavor, fine carbonation, some spice, and a mouthfeel that is deeply refreshing.
Final Thoughts
There are many pale lagers for sale, many of them mass-produced and not very tasty. But if you are looking for beer similar to Heineken, you're in luck. The beers we've listed in this article have character, flavor, and a good amount of alcohol to keep the party going. Give them a try and see which one gives Heineken a run for its money.