by Dane Wilson
|
Last Updated:
September 17, 2020
Hey there! This site is reader-supported and we earn commissions if you purchase products from retailers after clicking on a link from our site.
Beer is not the same all over the world. Not surprising, right? Some beers were made with things other than hops and malt, opening up a window for more flavor varieties as different parts of the world started swapping ingredients and recipes. Back in Ancient China, beers were made from a blend of fermented rice, grapes, honey, and hawthorn fruit. Over time, that has led to the creation of one truly refreshing beverage. 
If you are looking to go on a flavor journey, then you should seek out some Chinese beers to taste. Most are pale lagers with lighter flavor profiles than European beers, but any fan of beer should give Chinese beer a try.
To help you get started, we have selected the best Chinese beers.
Table of Contents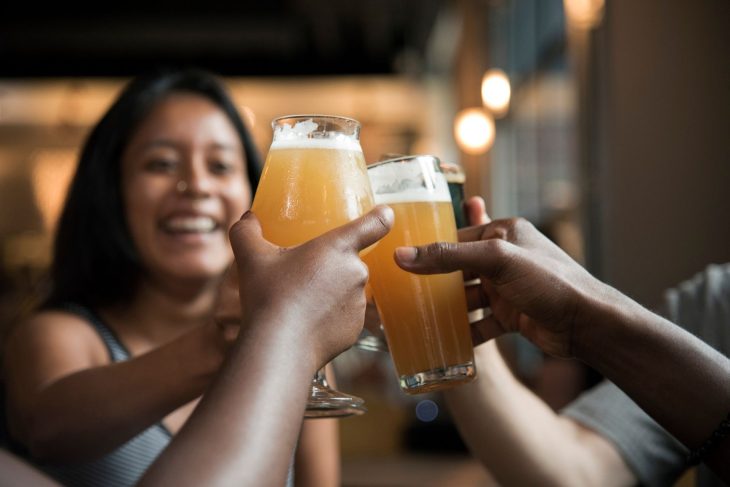 Best Chinese Beer List
Snow Beer (雪花啤酒)
Even if you have never heard of Snow beer, it is one brew that has busted some serious records. Snow beer is both the bestselling lager throughout China and the world's most sold alcoholic beverage. In fact, Snow accounts for about 25% of all beer sold in China, which is impressive, given the country has a population in the billions. 
The beer is known for having a light floral taste and is in the style of a pale lager. The ABV is around 4.0%. Golden in color, the beer pours nicely into a glass and has a good amount of carbonation. It is named after the pure white head. Snow beer does have a weak flavor—one of hay and corn—and is light on the alcohol, which is why so many Chinese tend to drink it with heavier meals. 
You can find Snow beer almost anywhere in China, and it is sold rather cheap. So even if it doesn't taste as much like beer as some other brands, people drink it because of the reasonable price. 
Tsingtao Beer (青岛啤酒)
In overall sales, Tsingtao (pronounced Ching Dow) beer is Snow beer's main competition. The flavor profile is slightly different from Snow's, because its recipe was influenced by British and German settlers. Since 1903, that recipe has remained unchanged and calls for things like Laoshan mineral water, barely, rice, and hops. In 1904, the brewery served its first beer. 
When poured, Tsingtao is topped with white foam and a gentle carbonation. It's clear and has a light yellow color. With an alcohol content of 4.0 percent, you can knock back a few while enjoying the fresh taste of barley and yeast. It's not overly complex, but it does go well with a variety of Asian-style foods. 
Yanjing Beer (燕京啤酒)
Did you know that Yanjing is the original name of Beijing? Because of that, Yanjing beer happens to be very popular throughout northern China. This is one pale lager that is seen in restaurants and bars. No wonder it is called China's state beer. Beijing even owns the brewery! The beer is also distilled in a homegrown paddy that is irrigated with water sourced from the stunning Yunshan Mountains. 
The brewery uses only state-of-the-art technology. The beer tastes clean and refreshing. In a glass, it has a light straw color and a thin foam. Scents of pepper and grain fill the nose while there are hints of corn, malt, and fruits on the tongue. It's a semi-dry beer that offers a crisp, smooth finish. Yanjing beer is 4.7% ABV.
Flying Fist IPA (飞拳IPA)
The signature beer of Jing-A Brewing Co., Flying Fist is an IPA done in the American style. Produced by dry hopping with Citra and Simcoe, as soon as you crack open the bottle, you will smell the hops. The scent is also played up by pineapple and passion fruit flavors. When poured, the color of the beer is a coppery orange and comes with a thick head. It has an IBU of 50 and an ABV of 6.5%. 
Jing-A is a popular microbrewery located in Beijing. It is known for using interesting ingredients like ginger, Sichuan peppercorns, and red rice koji. If you plan on traveling to China, be sure to check out their taproom in Sanlitun, a place teeming with nightlife. Jing-A also produces the equally popular Airpocalypse Double IPA. 
Tibetan Pale Ale (藏式爱尔)
This unique beer is one of a kind and even won an award in 2016 (China Beer Awards) for being so delectable. When poured, Tibetan Pale Ale (TPA) has a cool orange color and is topped with a half-finger of frothy, off-white foam that lingers. The aroma is full of mango, citrus, pine, malt, and some floral accents. On the tongue, you first get the malt, and then you taste some fruits and the bitterness of hops. 
Tibetan Pale Ale has an ABV of 4.6% and is available throughout the year. Be sure to give it a try, because it's a one of a kind experience. 
Shangri-La Brewing also produces Yalaso, Son Gha, Fat Dolma, Black Yak, and Super Nova beers. Each bottle has gorgeous Asian artwork. The brewery has a history, too. The founding team was international, using various technologies throughout the world to make one fine brewing facility. Shangri-La Brewery took most of its inspiration from the Swiss. 
Every beer they make—TPA included—has the same base ingredients: 100 year old Tibetan spring water and 1,000 year old Qingker barley. 
Sinkiang (Xinjiang) Black Beer (新疆黑啤酒)
Xinjiang is a province to the far west of China and is often called China's Wild West. The land is elevated and dry. But when Xin Jiang Wusu Breweries (owned by the international brewery Carlsberg) started delivering this unique black beer, people around Xinjiang (and the rest of China) were spellbound.
It's a regional brew, so it may be a little difficult to get your hands on to try a bottle—unless you go there, that is. If you do, make sure you pair the beer with something spiced, like cumin, lamb, or a grilled meat skewer. 
The dark color is the result of Loulan hops and brown sugar. It has a robust scent that combines hints of chocolate, nuts, and sugar. On the tongue, it will remind you of an American dark lager but with a little less alcohol. Although it may not be strong, it is one beer to keep an eye out for. 
Xin Jiang Wusu Breweries Co. is also responsible for another popular beer: Wusu. 
Pearl River Beer (珠江啤酒)
Last but not least is Pearl River, a popular beer by Zhujiang Brewery that comes from Guangzhou, in the southern part of China. The name comes from the Zhujiang River, otherwise known as the Pearl River, the third longest river in the country.
Interesting, the brewery responsible for Pearl River beer is all about sustainability and environmentally-friendly practices. They were the first brewery to utilize methane from multiple sources and use it for electricity and heat/cooling. 
The brew is a 5.3% ABV pale lager that has a clean, fresh flavor. Fresh spring water, Canadian barley malt and Czech hops are three main ingredients. It is highly popular in Southern China but also can be found internationally. The brilliant white foam tops off a pale yellow beer. There is little carbonation, so it is best consumed from the bottle and cold. 
In the nose, you can't miss the grassy scent of hops alongside a sweet grain. When sipped, it's a little sweet.