by Dane Wilson
|
Last Updated:
July 31, 2022
Hey there! This site is reader-supported and we earn commissions if you purchase products from retailers after clicking on a link from our site.
When it comes to the world of whiskies, Scotch whisky is often held in particularly high regard. As the home nation of this particular liquor, this is hardly surprising! Many Scotch distilleries have literal centuries of experience in the craft. One example of this is the Glenturret Distillery which predates the formation of the United States Of America by thirteen years. Within the world of whiskey though, perhaps one of the most valued traits by which many a Scotch whiskey can be measured against another is smoothness. With that in then, you may be wondering which Scotch whiskies are considered the smoothest.
Table of Contents
What Does Smooth Scotch Mean?
Now, if you're more of a casual whiskey drinker, or new to it entirely but wanting to try something more high quality, you may not be too familiar with what smoothness means within the context of whiskey. Don't worry, this is perfectly understandable. Fortunately, though, the answer is actually quite simple.
Simply put, how smooth whiskey is will be defined by its texture. This means that whilst all whiskies are liquid, the mouthfeel of them isn't the same. More specifically though, this typically refers to how much of a bite of alcohol you get from a sip of the whiskey. As such, the less pronounced this bite is, the more smooth the Scotch whisky will be considered.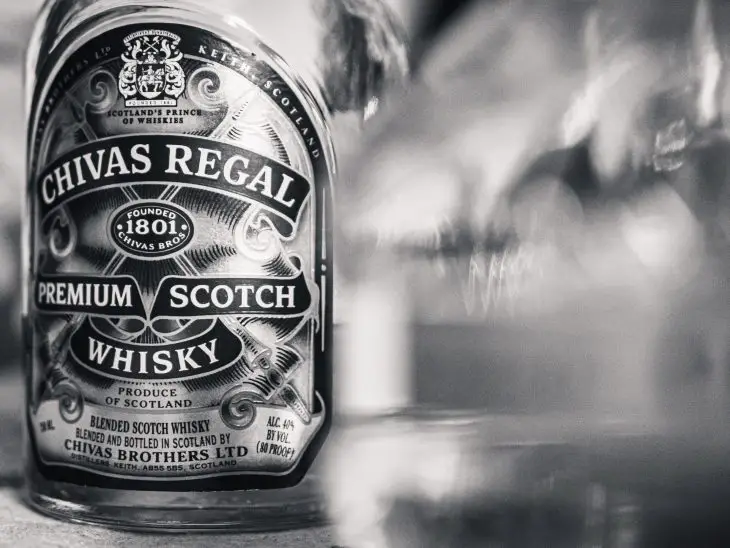 How To Tell When A Scotch Is Smooth
In particular, Scotch whiskies have something of a reputation for smoothness. As do single malts which have to be made within a single distillery. As such, for the smoothest whiskey, a single malt scotch whisky will likely be your best bet. That being said, some blended Scotch whisky varieties can also be incredibly smooth. As such, when trying to identify a smooth Scotch whisky, you should also look for some telltale characteristics.
Whisky Ageing
Perhaps one of the most obvious and easiest to identify traits that will tell you which will be the smoothest and therefore best Scotch whiskies is how long they have been aged. Now, this is often easy to discover as many bottles will tell you how many years, the whisky within has been aged. In particular, though, a Scotch single malt whisky that has been barrel aged for at least five years is a safe bet. The reason for this being that the longer a whiskey is aged, the more pronounced some of the characteristics of the wood will be within the Scotch whisky itself. Meanwhile, the alcoholic bite will be more muted. Some examples of barrels or casks used for this purpose include ex-sherry casks or ex-bourbon barrels along with many other types.
The ageing process is often what gives different whiskies, especially single malt scotch whiskies their distinct flavours and aroma. Along with their colour. As such, it can sometimes be quite easy to identify a smooth whisky from sight and aroma alone, before you even taste it. Smooth whiskies as established before tend to have aged for a long time. 
As such, many a single malt Scotch whisky that is notably smooth will have inherited a dark colouration from the wood. That said though, this can sometimes be deceptive as whiskey that hasn't been aged very long will sometimes be dyed with caramel colouring. As such, both the colour and age of the whisky should be taken into account.
Whisky Aroma
In terms of aroma though, a smooth Scotch whisky will typically not have a particularly strong odour of alcohol. Instead, other aromas will be much more prominent. Most notably a smoky aroma will be identifiable from well-aged smooth Scotch whiskies. The reason for this being that the barrels they are aged in will often be charred. In addition to smokiness though, the smoothest scotches will also often have unique aromas of their own. Some common examples of which may include fruity, citrusy, sweet, or wine-like.
Of course, though, the most reliable and accurate way to identify a smooth Scotch whiskey is to take a sip of one. Specifically, when doing so you should drink it neat. If the whiskey you're sipping is good quality, then drinking it will be a pleasurable experience with it smoothly gliding down your throat. When doing so it may provide a subtle burning sensation but shouldn't make you gag, wince or cringe. As such, if drinking your whiskey feels more reminiscent of downing cheap shots at a bar then it's certainly not a smooth one.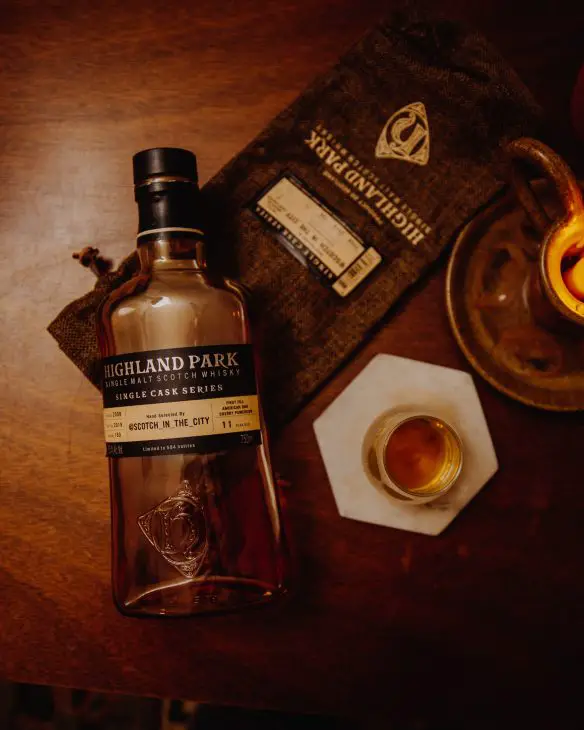 The Smoothest Scotch Whiskies
Now that you know what to look for when it comes to identifying smooth whiskies, you'll need some good options to start with. Well, the good news is that within the world of Scotch whiskey, there are a variety of possible options. As such, no matter your preferences for Scotch types or what your budget is. That said, the sheer amount of choice might be a bit overwhelming. If so, don't worry. Some of the smoothest and best Scotch whiskies you can find today will be outlined below:
The GlenDronach Revival
Lagavulin 16-Year-Old Single Malt Scotch Whisky
Ardbeg Uigeadail
Glenmorangie Vintage 1997
Dewar's Double Double 32 Year Old
Johnnie Walker Black Label 12-Year-Old blended Scotch
Auchentoshan 21 Year Old
The GlenDronach Revival
In terms of all-round fantastic Scotch that is wonderfully smooth, you really can't go wrong with a bottle of GlenDronach Revival. This Highlands Scotch whiskey has been aged for fifteen years in Pedro Ximenez oloroso sherry casks. 
As such, it has a wonderful aroma of spiced fruit which foreshadows notes of chocolate-covered cherries. However, a delicate balance of other tastes soon make themselves known including cedar, pecans and honey.
Lagavulin 16-Year-Old Single Malt Scotch Whisky
Lagavulin is a name known for its bold Scotch whiskies. With that in mind, the dark-coloured Lagavulin 16-Year-Old Single Malt Scotch Whisky is perhaps the most intense, smoky and rich whisky of all. 
Aged for an unhurried and patient sixteen years, this Islay distillery whiskey truly captures the spirit of the region and is the quintessential classic malt Scotch whiskey. As such, drinkers can enjoy delicate notes of peaty smoke, which bring to mind Lapsang Souchong tea and pipe tobacco, fishboxes and kippers. Meanwhile, the aroma is quite sweet with notes of Laurel and cereal.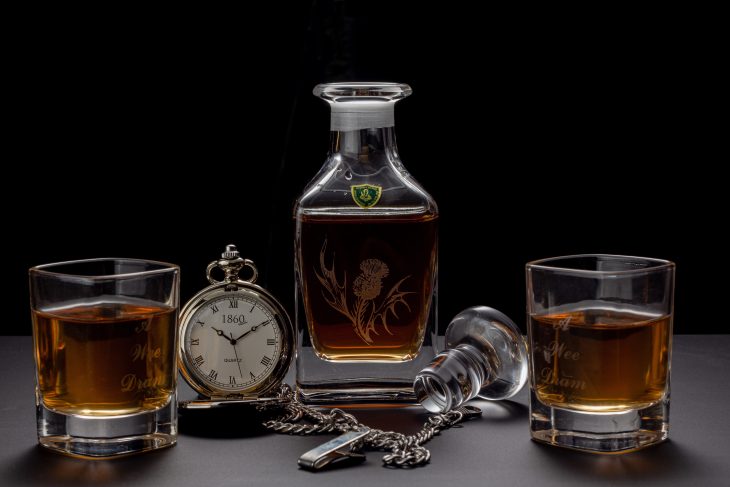 Ardbeg Uigeadail
Another wonderful Islay Scotch option is Ardbeg Uigeadail (pronounced 'Oog-a-dal'). This Scotch is the deepest gold in colour which it derives from its sherry cask maturation. As such, it this scotch has very distinctive smokey and raisin notes.
Additionally, though, the aroma is rich and weighty with smokey aromatics along with a variety of beguiling and complex scents. Some of these include Christmas pine needles, fresh ocean spice, walnut oil and parma violets. Each of these is just an appetizer for the complex array of delicately balanced tastes. They may include sweet, spicy and deep smoky flavours.
Glenmorangie Vintage 1997
Now, this is definitely one of the more expensive options on this list (although not nearly the world's most expensive Scotch). That said though if you are a Scotch enthusiast and not concerned by budget then this may be a great option for you to try. 
This blended Scotch whiskey has been aged for twenty-three years with the first ten being in ex-bourbon casks. Followed by an additional thirteen in red wine barrels from Château Montrose from the appellation Saint-Estèphe, Bordeaux. Finally, it will then be blended whiskey aged exclusively in ex-Bourbon casks, and with whisky from ex-Oloroso sherry casks.
The result of all this being a dark ochor-coloured Scotch with a complex aroma including the following notes:
fruity perfume
spices
herbs
sweets
Following this, the flavour is a complex and distinct balance of spicy, sweet, floral and zesty with a sweet and rich finish.
Dewar's Double Double 32 Year Old
Another more high-end blended Scotch option is Dewar's Double Double 32 Year Old. This being a wonderfully smooth Scotch whiskey which has undergone a unique four-stage or "double-double" ageing process. The process itself involves ageing the separate malts and blending them. Afterwards, ageing the blended malts and then finishing in Pedro Ximenez sherry casks.
The result of this is an incredibly smooth whiskey which has been aged to perfection for over thirty years whilst retaining a rich dark caramel colouration. Flavour-wise, this Scotch will be a wonderful harmony of rich and ripe treacle notes and subtle smokiness. 
Johnnie Walker Black Label 12-Year-Old blended Scotch
On the other end of the spectrum, a more affordable but still delicious and wonderfully smooth whiskey option is Johnnie Walker Black Label 12-Year-Old blended Scotch. Perhaps one of the most iconic and recognisable Scotch whiskies around the world is Johnnie Walker. In particular the black label is perhaps the most iconic one there is. 
The results of this Scotch whisky blend's twelve-year ageing process truly speak for themselves with the colour being perfect dark amber. To start, the aroma is a wonderful mixture of bold fruity scents, vanilla and toasted oak. Then the flavour itself is a combination of creamy toffee, spices and sweet fruits. All of which are followed by a warm and smokey finish.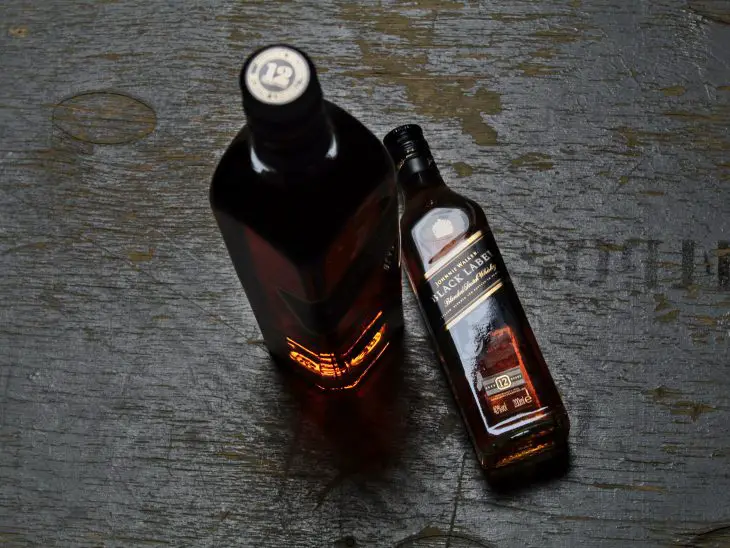 Auchentoshan 21 Year Old
Here we have a wonderful example of fine single malt Scotch whiskey. In fact, Auchentoshan 21 Year Old is perhaps one of the most deliciously smooth whiskeys out there. This is thanks to a combination of triple distillation and twenty-one years of ageing in both Spanish and American sherry barrels.
The result of which is a perfectly hued Scotch whisky that is packed with a myriad of complex, contrasting and complimentary flavours. Some of which include aromas and tastes of gooseberry, honey, and creamy vanilla. Followed by notes of chocolate, green fruit, sweets and old oak upon sipping.
Answered: What Is The Smoothest Scotch? The Top 7 Picks in 2022
As established above, there are truly a wide variety of smooth Scotch whiskies that you can find and enjoy at home. This being true, no matter your budget or your own particular flavour preferences. Some examples of such include but aren't limited to:
Johnnie Walker Black Label 12-Year-Old blended Scotch
The GlenDronach Revival
Glenmorangie Vintage 1997
That said, these are merely some examples of the great Scotch out there. As such, you should definitely experiment with different Scotches to find the one you like. Just bare in mind that you should seek out for those which are well aged, dark in colour, and have appetising aromas. And, of course, have a silky smooth taste.
FAQ – What Is The Smoothest Scotch
What is the smoothest drinking scotch?
It is difficult to say which Scotch is the smoothest since there are a wide variety of silky smooth Scotch whiskies out there. Some examples of these though include but aren't limited to Johnnie Walker Black Label 12-Year-Old blended Scotch, The GlenDronach Revival or Glenmorangie Vintage 1997.
What is a smooth single malt scotch?
The are a wide variety of deliciously smooth single malt Scotch whiskies that you can get. A couple of great examples of such being The GlenDronach Revival and Auchentoshan 21-Year-Old.
Is scotch smoother than whiskey?
Scotch generally has a higher level of prestige when it comes to the world of whiskey. The reason for this being that most varieties of good quality Scotch tend to be noticeably smoother than equivalent bourbons for example. The reason for this being that typically good Scotch will be barrel aged for significantly longer periods of time with five years often considered the bare minimum.
Which scotch is best in taste?
Which Scotch is best in taste is something that is impossible to say definitively. The reason for this being that everyone's palate is different. That said though some great examples of fantastic Scotch include Johnnie Walker Black Label 12-Year-Old blended Scotch, The GlenDronach Revival and Glenmorangie Vintage 1997.