by Dane Wilson
|
Last Updated:
October 12, 2022
Hey there! This site is reader-supported and we earn commissions if you purchase products from retailers after clicking on a link from our site.
When it comes to iconic duos, you might name peanut butter and jelly, salt and pepper, or beer and pizza. And with so many different styles of beer and pizza to choose from, the flavor combinations are nearly infinite. Together, beer and pizza tastes incredible. But how do you know you are getting the best pairing? Well, you have to consider the cheese, sauce, and crust, as all these are heightened by the right beer.
That's why this pairing guide was written—to show you the best beer with pizza combinations around. Grab a napkin, because you might start drooling.
Table of Contents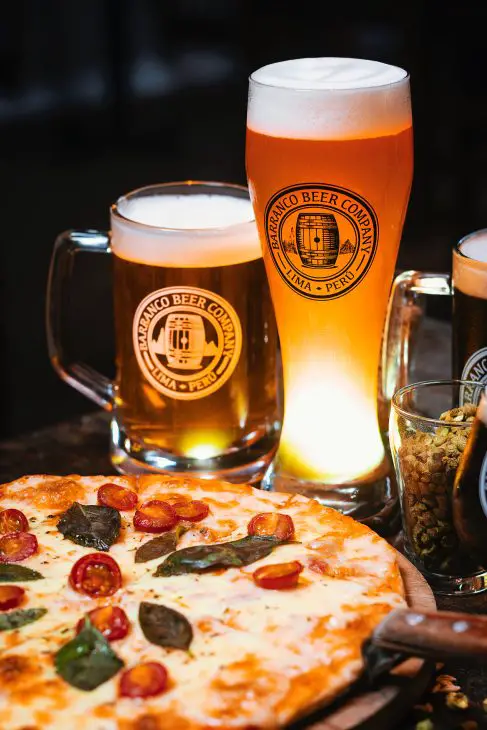 Classic Cheese Pizza
Who doesn't love a slice of cheesy, saucy pizza? The traditional cheese and sauce pizza deserves to be partnered with an all-time favorite, the American pale ale. This style of ale was born around 1980 and has been known for its medium body, floral notes, and piney hops, like Cascade. Generally, American pale ales range between 4.5-6.2% ABV. Light, clean, and very drinkable, American pale ales are considered beers for people who don't fancy heavier brews and loads of malt.
Some examples of American pale ales include:
Five Cheese Pizza
Unlike a traditional cheese pizza, five cheese pizzas can either come with a white or red sauce. It depends on the pizzeria. Thus, the style of beer you consume with your five cheese pie may differ depending on the crust and sauce. That said, you can select a decent beer by thinking about the cheese on the pizza: mozzarella, parmesan, and ricotta are common additions.
Most of these are subtle with just a bit of salt in there. Therefore, you want a beer that wakes up the taste buds. Something hoppy like an IPA or DIPA should do the trick.
For that, your recommended best beer and pizza pairings include:
White Pizza
White pizzas, regardless of what kind of toppings you get, are generally the same base: olive oil, cheese, and garlic. You might get something with spinach or marinated artichokes, roasted red peppers, or asparagus. What you want to focus on balancing out is the garlic and cheese.
An IPA works most of the time, but when you get a lighter white pizza with just a bit of cheese and oil, you need weight. Brown ales and stouts are popular options.
Choose Modelo Negro, Guinness, and more extreme varieties like Fonta Flora Brackish (made with oysters) are all worthy of sipping.
Spinach & Ricotta Pizza
Did you know that nutmeg is a spice that makes spinach pop? It's true. Spinach and ricotta pizza is often low key and mild, yet filling. For that reason, you want to sip a beer that leaves a little on the tongue, so you get a combination that complements every element of your meal. Brown ales made with nutmeg, such as Athletic Brewing Dark and Gourdy, are the best beer and pizza pairing. Another option is Scotch ale, also referred to as Wee Heavy. Strong, sweet, and heavy, Scotch ales are high in alcohol and a delightful maltiness to make the spinach on your pizza dance.
Check out the following:
Vegetarian Pizza
A lot of people think that a pizza topped with vegetables would be boring. Think again. There are dozens of veggies you can heap atop pizza. Spinach, olives, mushrooms, eggplant, broccoli, artichokes, peppers, onions, and tomatoes are just some of the possibilities. Since there are so many options, you want to choose a beer that can hang with any crowd, such as a light lager. Yes, lagers are also thought to be boring, but they are actually just introverted.
When you get a light lager with the right group, it tastes amazing. Aside from your typical Budweiser, Miller, Coors, and Heineken, you should also try Kona Light Blonde Ale or Yuengling Flight. Blue Moon regular or light is also an option for those looking for a bit of citrus.
Mushroom Pizza
If there is one thing to know about mushrooms, it is that they are earthy and meaty in their own unique way. Mushrooms add umami to whatever it is you are cooking. On pizza, they can be a vegan's meat substitute or used for texture and flavor. Want to know the best beer and pizza pairing for anything with mushrooms on it? English ales. With an English ale, you get a decent about of resinous hops as well as just enough malt for some caramel sweetness.
Brighten up your mushroom pie with these beers:
Margherita Pizza
The humble margherita pizza is similar to cheese pizza but much less complicated. Simple flavors are combined together for a refreshing slice that does not weigh you down much. As such, you want a delicate beer with smooth flavors. The malt of a pilsner is exactly what you need to complement the richness of the mozzarella, the acidity of the cut or diced tomatoes, and the zest of basil. Plus, the bitterness that rounds out a solid pilsner can round out the cheese a little further.
Some people feel that the tomato sauce can sometimes overpower the hops, but when you have fresh basil on top, it can make the herbal notes from the hops sing.
Here are some pilsner beers worth drinking with your next margherita slice:
Not feeling the pilsner recommendation? This Italian chef recommends a lager:
Buffalo Chicken Pizza
Most buffalo chicken pizzas use BBQ sauce, red onions, smoked Gouda (or similar) cheese, and spicy chicken atop a crispy crust. This means you get a mouthful of spice and zest with very little sweetness to round out everything. One of the best beer styles for a pizza such as this is a Vienna Lager. Toasty, malty, and subtly hoppy, a Vienna Lager can bring balance to your palate. The aromas of the beer also blend nicely with those of your pizza.
Having trouble finding a Vienna Lager? They sometimes go by other names, such as a Boston lager, amber lager, or Oktoberfest brews.
Try the Samuel Adams Boston Lager, Paulaner Oktoberfest, Hofbrau Oktoberfest, or Modelo Negra.
Pepperoni Pizza
The favorite pizza topping of many in America and beyond, pepperoni adds a robust and meaty flavor to cheese that is to die for. The richness of the grease brings a touch of salt to the pizza too. Because the pizza itself is so heavy, you want a beer that is light and easy to drink. For pepperoni, you are going to want a pale lager like Stella Artois. Pale lagers are crisp, malty, and finish off clean, leaving your palate refreshed and ready for another greasy bite.
The other recommendation is a brown ale, since the nutty caramel sweetness adds dimension to the spiciness of pepperoni.
For that reason, choose one of the following:
Miller, Coors, or Bud Light
Modelo
Heineken
Stella Artois
Hawaiian Pizza
Although Hawaiian pizza is largely contested and controversial for having pineapple and ham and cheese, it is considered a classic topping. There are also variations of Hawaiian pizza that include thicker slices of ham instead of Canadian bacon. Sometimes hot dog slices are used. Canned pineapple also adds a different flavor from freshly cut pineapple. That said, you want a beer that does two things: accents the salty ham and the sweet pineapple.
Blonde ale, also called golden ale, is perfect for this occasion. Blonde ales are mildly bitter and malty, and they have a little more depth than a commercial lager. There is a hint of fruit on the tongue; the aroma is floral.
Some examples include:
Meat Lover's Pizza
Throughout the world, what goes on a meat lover's pizza changes. One thing remains true: there is plenty of meat to go around. You might find slices of pepperoni, ham, and sausage on the same pizza. That ends up being a salty, spicy, fatty pizza. For this, you do not want a heavy beer with thick foam. Instead, you want something crisp enough to cut through the grease and complement the elements of the meat on your pizza.
Witbier, like Allagash White, is full of wheat, oats, and citrus that jazzes up every kind of meat on your meat lover's pie. When looking for a decent witbier, select those that utilize oranges or other tropical flavors, as they bring out the different meat flavors.
Seafood Pizza
Pizza topped with garlic, cheese, anchovies, shrimp, oysters, and other fruits of the sea are not common but they are gaining popularity. Think of your seafood pizza as you would pasta. Very rarely do you select a red wine for seafood. Instead, you opt for something white, a little dry, and tart. How about a Berliner Weisse? Once dubbed the "Champagne of the North," this beer has high drinkability.
Some examples include the most popular beer in Berlin, Berliner Kindl Brauerei Weisse (good luck finding it Stateside, though), as well as Creature Comforts Athena Berliner Weisse, and Independence Brewing Redbud Berliner Weisse.
Sausage & Peppers Pizza
Like pepperoni, sausage and peppers pizza has a reputation for being a little greasy, salty, and spicy. Add in the crunch and zing of sauteed or baked pepper slices, and you get something with loads of flavor. Sausage and peppers pizza is often down on a thicker crust to hold up all those toppings, and so you want something to drink that is refreshing. Lagers and pilsners, like the ones already mentioned, are ideal for balancing out the meatiness of the sausage and the subtle spice from the peppers.
Samuel Adams Boston Lager and Becks are two wonderful choices for this kind of pizza.
Everything or Supreme Pizza
Bacon, sausage, beef, olives, cheese, peppers, olives, and more goes on top of this pizza monstrosity that is designed for a true cheat day. The supreme or everything pizza is a hard hitter that will make you feel fuller than the harvest moon. You will notice that the meat can sometimes overpower the other flavors of the onions, veggies, and olives. How do you counteract that? With the right beer.
One of the best beer and pizza pairings when you have all the toppings is an India Pale Ale or Double India Pale Ale. Choose one that is higher on the IBU scale, because you are going to need the bitterness to carve through the salt and grease, allowing you to savor the cheese and sauce.
Some highly rated IPAs include:
Time to Try the Best Beer with Pizza Combos
There you have it: the best beer and pizza pairings. Your taste buds are not going to understand what is happening once you start hitting them with pizza and perfectly partnered beer. While knowing how to pair pizza and beer is not going to save your life one day, it can be mighty impressive when taking a date out for a slice or two or when hanging out with your friends on the weekend. So, which of these pairings are you going to try first? Did we miss any of your favorites? Let us know!