by Dane Wilson
|
Last Updated:
April 23, 2021
Hey there! This site is reader-supported and we earn commissions if you purchase products from retailers after clicking on a link from our site.
If you watch the hit Canadian show Letterkenny, you have no doubt seen a can of Puppers beer in the hand of one of the characters or on set. Even if you never heard of the show, Puppers beer is such a craze these days that you're probably wondering if its worth a try. No doubt, Puppers Premium Lager looks and sounds amazing, especially when most of the dialogue on Letterkenny is "Get this guy a f***ing Puppers."
But is Puppers beer real? And if it is, how do you get your paws on a batch? We're going to fill you in with those details right now.
Table of Contents
The Puppers Origin Story: What is Letterkenny?
First, we can't talk about Puppers beer without giving you some context of the show that inspired it. Letterkenny is a Canadian sitcom that originally started as a YouTube series called Letterkenny Problems. The show debuted in February 2016 and portrays residents of the small town of Letterkenny, Ontario, which is based off Listowel, Ontario, the hometown of Jared Keeso, who created the show. So far, Letterkenny has aired for nine seasons.
The basic premise of the show revolves around Wayne and Katy, two siblings who own a farm and produce stand. With a little help of their friends, Squirrely Dan and Daryl, and members of the ice hockey team, Reilly and Jonesy, the cast often has to deal with hicks (farmers), skids (drug addicts), and tackle more worldly issues, like religion and empathy.
So, where and when did Puppers become a thing on the show? While the show is focused on the antics of Wayne, Katy, Squirrely Dan, and Daryl, it also presents them consuming massive amounts of beer. Namely, Puppers beer.
Is Puppers a Real Beer?
Unlike helium beer which turned out to be a total sham, Puppers Premium Lager, or just Puppers beer, is real. It's drinkable. It's not just a prop beer the producers of Letterkenny decided to use—well, not anymore. A brewery in Ontario took care of that. And if you live in a very specific place on the planet, you might be able to get a hold of the elusive Puppers Premium Lager.
What Kind of Beer is Puppers Beer?
The official description from the Letterkenny website is: "People, persons, peasants, pheasants. We proudly present a palate pleasing potion for pals parched proper. Partner the whole population'll be pilin' up to partake promptly…so pitter-patter, partner. Who's a good beer? Puppers. Perfect."
Another description: "Puppers is a 4% premium lager, it's everything you could want in a beer. This golden lager has a satisfying taste that will get along with anyone. It's a faithful friend that will always be by your side. Pure. Loyal. Golden."
So, aside from the vast amount of alliteration and dog-like characteristics, what is Puppers beer? Well, it's an American-style lager brewed in Canada that has a wonderful appearance (golden, as described) and a bright, clean flavor. Pour a Puppers and enjoy the straw yellow tint with light carbonation. The soapy head stays about an inch thick for a good three minutes before fizzling away.
The aroma of Puppers lager is also drool-worthy. First, you get a nice raw whiff of malt and bread that intermingles with vegetables, wheat, and honey. Don't be alarmed if you don't detect any hops in the aroma, since the malt and vegetable smells tend to drown out all else.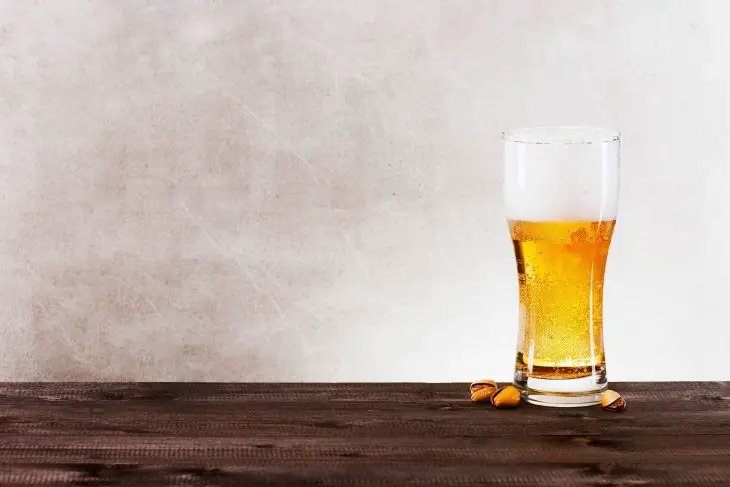 What Does Puppers Taste Like?
Now, the most important part of any beer worth buying: the flavor. Puppers beer has to be good if the Letterkenny crew drinks so much of it, right?


Puppers beer tastes a little like it smells, but the flavor is far more nuanced. You get the sweetness of malts and a hint of bread, as well as some earthy hops on the finish. The aftertaste is slightly sweet and doughy, along with a wink of lemon at the end. Being that this is a pale lager, the body is light and crisp. Carbonation is average, keeping the overall beer smooth going down.
Thus, that makes Puppers beer a relatively drinkable beer that you can sip in the shower or after a long day of picking weeds and farming. It's light enough for the summertime and for sharing with friends around a bonfire. Plus, Puppers beer is only 4% ABV and comes in at 120 calories per serving. Drink it like you would a Coors Light (and enjoy it much, much more).
What Makes Puppers Beer So Popular?
Puppers beer is considered a light beer, like Coors Light or Millers Light, except for the part that it still tastes like beer instead of being watered down. One of the reasons is that Puppers Premium Lager isn't mass produced. It's made by a craft brewery up in Ontario.
Where Does Puppers Beer Come From?
Puppers Premium Lager is crafted by Stack Brewery in Sudbury, Ontario. Interestingly, Sudbury is also where Letterkenny was filmed. It's also the hard rock mining capital of the world.
About Stack Brewing
Founded in Sudbury, Ontario in June 2013, Stack Brewing is an award-winning, beer brewing machine. They have claimed prestigious awards like the Canadian Brewing Awards and the Ontario Brewing Awards, as well as acclaim from brewing up Puppers beer. Due to growing popularity and demand, Stack Brewing is now distributing beer throughout Ontario.
They have a wide selection of beers, including:
Impact – award winning altbier with 5.2% ABV and 22 IBUs.
Black Rock – a black IPA with 66 IBUs and 6.6% ABV.
Panache – a Session IPA that has 4.5% ABV and several varieties of hops.
Expansion – a dry-hopped sour IPA with 6.5% ABV and a presence of white grape.
Nickel City – a light lager with 4.0% ABV, 13 IBUs and a crisp finish.
Saturday Night – a 5.3% ABV, 17 IBU cream ale.
Judging by the description, Nickel City is the closest to Puppers beer, as they are both light lagers with similar ingredients and ABV.
How to Get Puppers Beer in USA
Unfortunately, Puppers beer is not available in the US at this time. Because of laws and regulations within Canada, having it shipped across the US border would be extremely difficult—if not impossible. That said, you could potentially drive to Sudbury, Ontario and visit Stack Brewing and their Brewhouse restaurant for a chance to buy the official beer of Letterkenny.
That sounds a bit depressing, but it's even hard for Canadians to find Puppers beer! Puppers beer can only be sold in Ontario, currently, which means that people from other provinces also have to travel to Ontario to snag a can or two.
If you are in Canada, here is some useful information for you. First, yes, Puppers is a real beer. People have tried it. You can find the pale lager in 473 ml aluminum cans in any LCBO store throughout Ontario. Puppers beer is not sold in kegs, just cans. The online Stack Brewery retail shop or the Letterkenny website can also point you in the right direction.

Unfortunately, at the time of writing this article, both the links to the Stack Brewery retail page and the LCBO page yielded no results. We reached out directly to the brewery to see if Puppers is no longer available and are awaiting a response. When one is received, we'll post it here.
Can I Order Puppers From Canada or Stack Brewing?
For the American readers, you cannot order Puppers and have it sent to your American address. The only real solution to getting Puppers beer in the US is to drive to Ontario (kind of impossible during a pandemic and travel restrictions, as of 2021). Maybe when borders reopen and flights resume, you could make that trip—assuming Stack Brewery will continue producing the beer until then!
If you can't find Puppers beer near you or don't feel like driving across the border for a case, you can always do the next best thing: buy Puppers merchandise off of Amazon. From t-shirts, Puppers posters, to baseball caps, there are tons of things with the Puppers logo on it that will make any Letterkenny fan beam from ear-to-ear.
The other option is to find beers that are similar to Puppers beer. For a quick and easy find, you can grab a Millers Light. It might not seem as premium as Puppers, but it will scratch the itch well enough. The Montucky Cold Snacks beer is light and refreshing and also gives 8% of their profits to charity. Craving some juicy Czech hops? Go for Victory Prima Pils, which is a bit more spicy than a pale lager but pairs well with any kind of food. Lastly, consider Maui Brewing's Bikini Blonde Lager. It's boldly German in flavor but a lot more sunny and crisp. And the best part? You don't have to go all the way to Hawaii for it.
Real hard up for some Puppers lager? You could always buy some Puppers beer stickers, slap it on a can, and drink any kind of beer you want, supposedly.
Puppers beer for sale near me?
You can see a map of where Puppers and Stack Brewing company beers are available over on the Stack Brewing website.
Unfortunately, you won't find many USA towns on the list!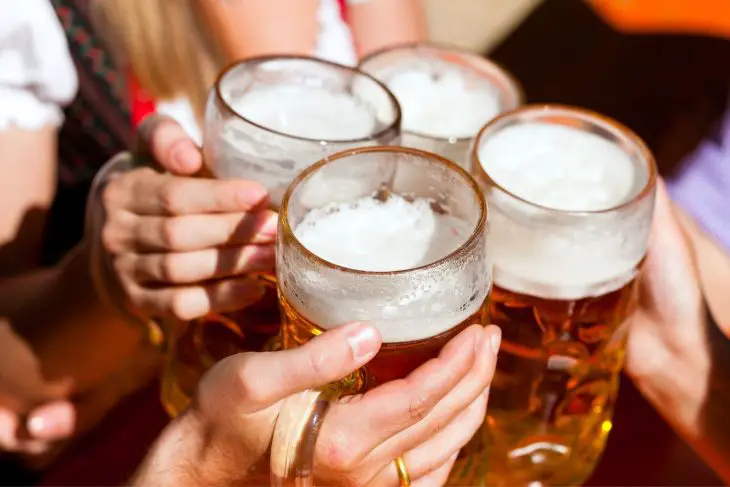 Should You Try Puppers Beer?
Let's say you manage to get your paws on some Puppers beer. Lucky you! Now, should you drink it? Typically, a pale lager is going to be crisp and clean. The light body makes it enjoyable for anyone who likes drinking beer but not getting weighed down. Plus, the fruity notes make Puppers lager much better than standard American lagers, like Budweiser.
Yes, pale lagers can be difficult to appreciate. They are weak in terms of alcohol. But that doesn't mean you shouldn't give Puppers beer a try if you happen to find a can. Who knows, you might even find it as easy to drink as water and find yourself acting like Wayne or Katy or the Letterkenny hicks. Okay, maybe not. At least you'll feel refreshed with each sip.
Puppers Premium Lager Reviews
Want some independent views on Puppers Beer? Here are some pretty entertaining beer reviews from YouTube (I personally love Drunk Polkaroo – he cracks me up)
Think these guys might have actually had TOO MUCH Puppers lol
Final Thoughts on Puppers Beer
Grab yourself a Puppers beer—if you can. The beer might be hard to find outside of Canada. Can you buy Puppers beer in the US? No. It's a shame, really. Puppers beer is such a pleasant experience that more people should be able to sample it. Hopefully the chance will come in the future.