by Dane Wilson
|
Last Updated:
September 3, 2020
Hey there! This site is reader-supported and we earn commissions if you purchase products from retailers after clicking on a link from our site.
The season is upon us! Winter beer season, that is. The aisles in the liquor store are decked with German eisbock, Winter lagers and ales, spiced IPAs, and chocolatey stouts. So many breweries are delivering to-die-for stouts and porters with thick, creamy heads to warm you up throughout the holidays.
Whether you consider yourself a dabbler in all things craft beer or just want to try something new for Christmas, here is a list of winter beers that will fit every stocking hung around the house.
Table of Contents
What Makes a Beer Seasonal?
You may be wondering what the difference is between a regular beer and a seasonal winter beer. The best way to describe the variances in taste and seasonality is the structure of the brew. For example, when you sip a summer beer, you will notice how light, refreshing, and fruity sweetness it is. In comparison, a winter beer is complex, rich, and hearty.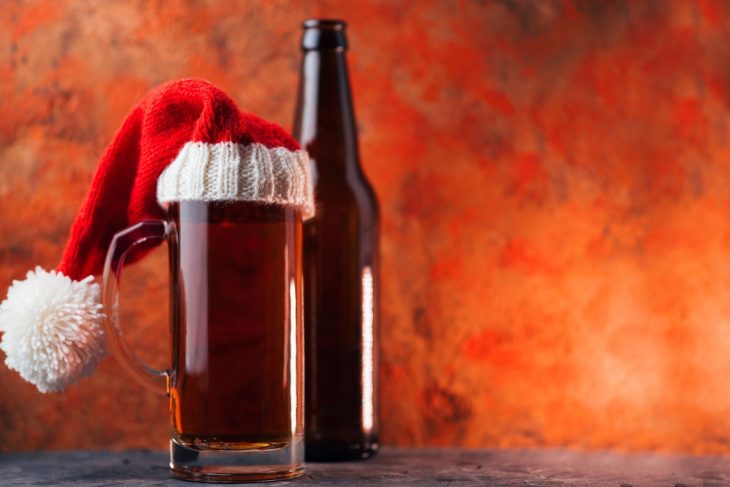 Furthermore, seasonal beer incorporates ingredients that make you think of specific holidays or seasonal foods. An autumn blend, for instance, will probably have pumpkin spice or maple included in the ingredients.
For those who enjoy immersing themselves in the world of craft beer, Christmas beers are something you should certainly try out.
Elements of Winter Beer
When you think of winter and of the holidays, you probably imagine a white Christmas, sparkling lights, frost on the branches of trees, and those long, dark nights. Winter beers are made with these things in mind. They are often richly colored and heavy; many brews also hint to the feasts of the season by featuring flavors commonly associated with Christmas.
Here are some winter beer styles to look out for this holiday season:
Porters and Stouts
Though these two styles of beer have similarities, they are both known for being heavy, dark, full, and having a roasted flavor. Many winter beers are considered a stout or porter, but you may find some lighter beers if you're not one for thicker brews.
Imperial Brew
During the winter months, imperial beers are popular. Not only does "imperial" stand for "ultra-boozy," but all that additional alcohol warms the body.
Eggnog
Although considered a more contemporary development in the world of beer, the spiced flavor of creamy eggnog has now made an entrance among Christmas beers. Of course, eggnog flavored beer is best served as a dessert, because one too many will have you seeing sugarplum fairies.
Bourbon
Barrel-aging is a technique used throughout the year, but there is something about oak and bourbon barrels that screams Christmastime. Bourbon barrels are most often used to infuse the earthy flavors of oak and Scotch into beers with more alcohol.
Coffee and Chocolate
You will notice that many stouts and porters have subtle hints of chocolate and coffee.
Other flavors you may see include cranberry, caramel, spices (clove, allspice, cinnamon), and honey.
The Best Beers to Bring in the Christmas Spirit
Want to try the best Christmas beers of 2023? Then check out this list: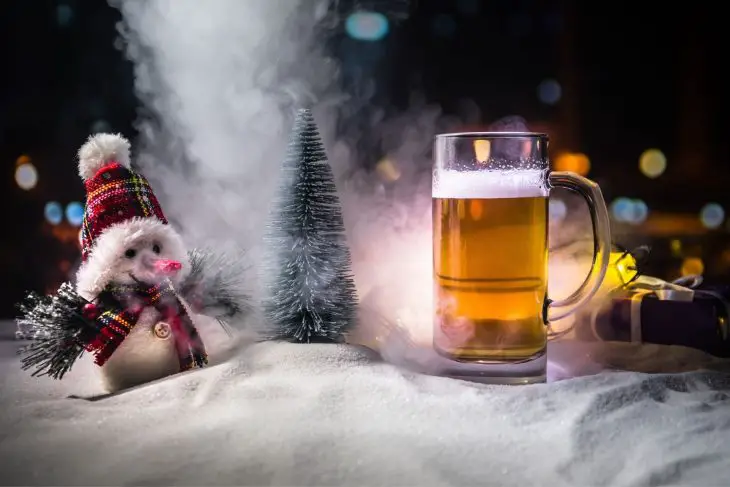 Schneider Weisse Aventinus Eisbock
This German beer hints to Germany's love of all things Christmas. One sip is all it takes to transport yourself to the Yuletide markets full of delectable treats and handicrafts. No wonder Schneider Weisse Aventinus Eisbock has become a household favorite around the world during Christmastime.
What's an eisbock? It's when the brew is frozen, thereby removing the water content and allowing the sugars and alcohol to remain behind, making it far more concentrated.
Aventinus Eisbock is a hard-hitter. The beer is 12 percent ABV—the same as a whole bottle of wine. You will smell banana, clove, and spiced plums on the first whiff, but the flavors are much more complex. Marzipan, molasses, spices, and hazelnuts dance on your tongue with every sip. At the end is a little bite of malt.
Samuel Smith's Winter Welcome Ale
Looking for a classic? Samuel Smith is located in North England, where it is fermented with something called Yorkshire Squares. Instead of wooden barrels, the squares are enormous tanks made of stone. Winter Welcome Ale has been crafted the same way since the 1800s, making it a Christmastime staple that anyone can enjoy.
Samuel Smith's Winter Welcome Ale is full-bodied but delicate. It leans less towards the dark wintry effect and more towards the feel of a crackling fire and Christmas cookies. You will taste this in the candied fruit flavor and the malt. Grassy hops, caramel, and nuts smooth out the sweetness of the fruit.
Tröegs Brewing Company Mad Elf
Tröegs has come up with some insanely delectable seasonal beers, like the mouthwatering First Cut Mango IPA for springtime. So when Tröegs introduced their Mad Elf Christmas beer, it was no wonder that it flew off the shelves like electronics on Black Friday. Mad Elf is a Belgian dark ale with a bitterness of 15 IBU and 11 percent ABV.
The malts involved—Munich, chocolate, and pilsner—blend together amazingly well with the note of Pennsylvania cherries and yeast. Other notes include wintry spices, vanilla, chocolate, fruit, banana, toffee, and honey.
It's so smooth going down that you'll be crooning Christmas songs in no time.
Stone Brewing Xocoveza
Here is a beer that defies logic. Stone's Xocoveza beer tastes just like Mexican hot chocolate, which is far different from the American standard of marshmallows and sugar. Mexican hot chocolate is peppery, waking you up from hibernation. And with 8.1 percent ABV, you get the best of both worlds—the comfort of hot cocoa and the effervescence of a truly satisfying beer.
This mocha stout has a wonderful flavor profile: pasilla peppers, coffee, cocoa, and cinnamon. An aroma of roasted malt and chocolate greets you before you indulge in the creaminess of the beer.
Go on, sink into your armchair and say, "Ah."
Deschutes Brewery Jubelale
Deschutes may be one of the younger breweries on this list, but Jubelale is a long-standing tradition. That's because this Christmas beer was the first brew the brewery bottled in October 1988.
Since then, the popularity of Jubelale has skyrocketed throughout the States, but its recipe has yet to change at all. The only thing that changes is the artwork on the bottle. Every year, Deschutes hires a local artist for the label.
What makes Deschutes Brewery Jubelale a winner? The brew features five distinct malts and five different hops, bringing the beer to 65 IBUS. That said, the ABV is only 6.7 percent. In short, if you adore spice and hops, Jubleale is sure to please.
Flavors include sweet fruit, toffee, and cacao. Hidden behind the first notes is nutmeg, allspice, and cloves. Among the mixture of rich and hearty flavors paired with Christmastime spice, you get a wisp of cranberry at the tail-end and a bit of brine. It's a fascinating mix.
Deschutes Brewery The Abyss Imperial Stout
Here is another winning Christmas beer from Deschutes: the pitch black Abyss. The amount of work that goes into crafting the Abyss is astonishing, which is why it is only seasonal. Aside from being aged in a series of Pinot Noir, Oregon Oak, and Bourbon barrels, the beer has six styles of malt and four types of hops.
If you can get your hands on the Abyss, consider yourself lucky.
The range of flavors is complex: Licorice, vanilla, cherry bark, and molasses are the primary notes, but you get a distinctly tannic end. It has an ABV of 11.4 percent, so it's a great beer for sipping.
Anchor Brewing Christmas Ale
The Christmas Ale presented by Anchor Brewing has been gracing the shelves during winter since 1975. Based on San Francisco, Anchor is an American institution. You could even say that Anchor's Christmas Ale is the baseline for seasonal winter beers, one that may be traditional but always seems innovative.
The base of the beer is undoubtedly spectacular: nutty banana bread, bruleed sugar, and malt. Then, you get a whiff of slightly bitter cacao, pine resin from the hops, and a sweetness of candied sweet potatoes that ties everything together. The beer itself is velvety, and you will definitely knock back a few bottles. With an ABV of 6.9 percent, you can safely have more than one.
Harpoon Winter Warmer
Although Harpoon's Winter Warmer holiday ale has one of the lowest ABVs on this list—only 5.9 percent—that doesn't mean it doesn't do the job. Winter Warmer is perfect for pre-gaming your holiday party. Poured into a glass, you will notice that it is dark and frothy, but in the mouth it is thin and pleasant.
One whiff of the beer, and you will want to indulge in the cinnamon and nutmeg that is so apparent in the scent. On the tongue, you get a faint note of toffee and roasted malt. While the flavor is not very complex, it is welcoming. Anyone new to the craft beer scene can enjoy Harpoon Winter Warmer.
Dark Horse 4 Elf Winter Ale
This beer is considered a winter warmer, and judging by its alcohol content of 8.75 percent and brilliant reddish-brown appearance, it does just that. Dark Horse Brewing Company is well known for other blends, but many consider it's 4 Elf Winter Ale bottled holiday cheer. If you want a beer that pairs well with your holiday feasting, choose 4 Elf Winter Ale.
The brew is a pleasant balance of hops, malt, and spice. The dominating flavors are cinnamon and ginger, which gives way to notes of caramel, toffee, coffee, and allspice. At the end, you get a tea-like leafiness that adds to the overall well-rounded spectrum of flavor. Best of all, it goes down smooth.
Jolly Pumpkin Artisan Ales' Noel De Calabaza
Jolly Pumpkin is a brewery that has pioneered the sour ale beer and gained instant popularity for their incredible blends. It's no wonder Michigan-based Jolly Pumpkin decided to make a seasonal winter beer for their fans—Noel de Calabaza. The beer is a Belgian dark ale that has aged in oak barrels for a full six months. It is also mixed with Jolly Pumpkin's proprietary mixed-fermentation treatment.
What comes from those barrels is a true Christmas miracle: a coppery beer with a pungent, sour scent with a tannic bite. The flavor is sour—as expected—but also rounded out by spices, tart cherries, sour apple, sourdough bread, and plums. It's a complete feast in a bottle and only 9 percent ABV.
Which Beer Will Be Your Wintertime Favorite?
There are so many seasonal winter beers out there that are perfect for Christmastime that we couldn't possibly name them all, but our list does have some awesome beers that top the charts anywhere you look. Now, the only question is which beer you are going to try first?
Will you go for something rich and hearty? Or maybe something a bit more merry and bright? Either way, there is a Christmas beer out there that's perfect for you!