by Dane Wilson
|
Last Updated:
August 27, 2022
Hey there! This site is reader-supported and we earn commissions if you purchase products from retailers after clicking on a link from our site.
Instead of seeming like a daunting chore, drinking whiskey should be seen as an adventure. Whether you end up preferring scotch whiskey or bourbon whiskey, it is nothing short of a mission that you should go on to explore and try all the best whiskey for beginners.
Whiskey is known for having a reputation for being harsh and uncomfortable for newcomers. However, out of all the top-shelf spirits available, whiskey is arguably the easiest for a newcomer to get used to. The world of whiskey is exciting, interesting, and incredibly deep.
Table of Contents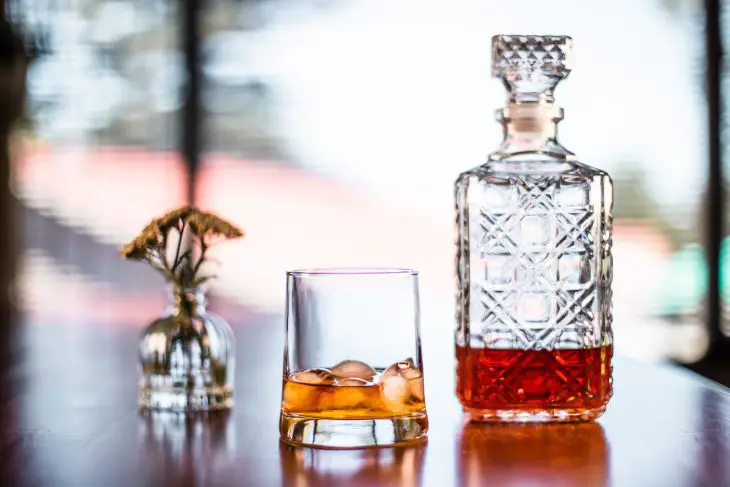 Is It Easy To Get Into Whiskey?
While a harsh spirit that is synonymous with either rich billionaires or grizzly cowboys may seem terrifying, it is actually a lot easier than it may seem. Whiskey might seem to be something exclusively held for seasoned drinkers but the truth is, anyone can start drinking it and be able to enjoy and appreciate it for what it is.
For the first few glasses in your life, you might feel your throat burning as you drink it, but this is usual for all spirits such as vodka, tequila, and rum. The burn of whiskey does go away once you get used to it, but if that intimidates you, there are still some whiskies out there that you can drink to avoid the burn.
Whiskey For Beginners
No one that is brand new to whiskey should be reaching for the high-end, luxurious bottles of 18-year-old Japanese whiskey. While it may sound like a good idea, it would be a huge waste as you will not be able to appreciate it for what it is. If you are wanting to buy this bottle anyways, go ahead. Just save it for a time down the road when you are more comfortable with drinking it and are a bit more experienced.
Whiskey comes in multiple different types that have different flavors, but other than this people tend to divide whiskey into two categories; sipping whiskey and shot whiskey.
Sipping whiskey is what you see in the short glasses with ice in them. It is drunk in a sort of large quantity, usually neat with no additives, and is for sipping and enjoying, as the name suggests. Shot whiskey is for the more energetic drinker who is wanting to have a small amount of whiskey and drink it very quickly. These whiskies will still be nice to sip but are more commonly used for downing in one go.
The only way this does not work is if you try and use a sipping whiskey for shots. It will obviously be a good way to consume the whiskey, but sipping whiskeys are more expensive and tend to taste nicer so it would be a waste as you would be drinking it so fast that you cannot even experience it.
For those wanting to see a list of brilliant whiskey for a newcomer to try, here is a list of all the best suggestions available to you;
Buffalo Trace
Four Roses Bourbon
Jack Daniel's Tennessee Whiskey
Suntory Toki
Bulleit Bourbon
Tullamore Dew
Nearly everyone who has experience with different whiskeys will be able to look at that list and agree with at least three of the options. Whether they have sweet light-bodied notes or are smooth and have a small taste – these are the best bottles for you to buy and try when you first get into whiskey.
10 Best Whiskey For Beginners – Detailed
As listed, all of these different whiskey bottles are amazing for newcomers to get comfortable with. While some of them can offer stronger flavors, there are also options that are sweeter and more light bodied. A single malt whisky or an Irish whiskey may not be to your liking. Thankfully the list also includes some nice bourbons as well.
Buffalo Trace
Buffalo Trace is a brilliantly crafted Kentucky bourbon that has hints of mostly oak, caramel, and vanilla. If you are going to choose a whiskey to be your first sip ever, this is one of the top contenders. The flavors are very mellow and warm. You will not be overwhelmed or put off by any overly-strong tastes.
This is best-drunk straight with some ice cubes in a small glass. While you can certainly shot it, as it has a delicious caramel aftertaste, this whiskey is best for sipping and drinking throughout the night as it can be incredibly enjoyable to experience all of the flavors it has to offer.
Four Roses Bourbon
Anyone who is new to whiskey might be a tad hesitant to look into it as there is a stigma about whiskey being very expensive. While this is true for some lines of whiskey or certain bottles, not all whiskeys are very expensive. A great example of an affordable yet delicious whiskey is the Four Roses bourbon.
This whiskey will cost you nothing more than $20 for a good-sized bottle, and will also go down a treat when you drink it. Bourbon whiskey is loved for not being too intimidating with its flavor. If you are reluctant to drink whiskey as you are unsure about how harsh the flavor is, a nice sweet bourbon whiskey like Four Roses is a great choice.
Jack Daniel's Tennessee Whiskey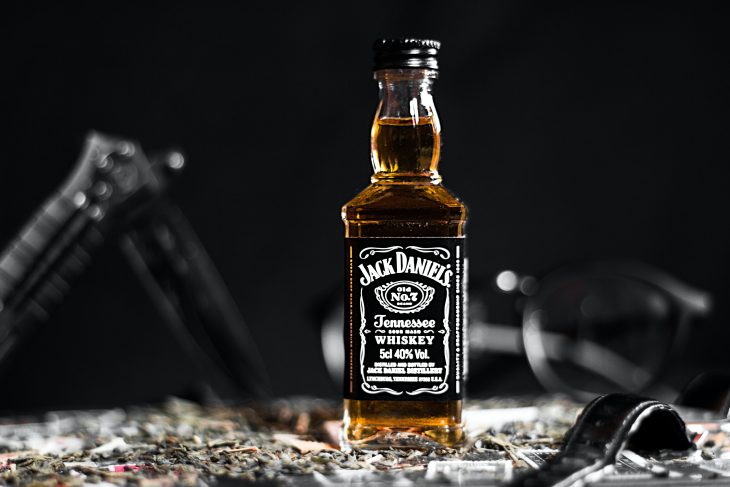 While you might expect some grain whiskies to be a bit too harsh for your liking, Jack Daniel's Old No. 7 is a brilliant choice for beginners. This iconic whiskey is the most popular grain whiskey globally and has a sour mash formula that is delicious.
While the flavor profile is a bit more intimidating than the other choices, this is still one of the best whiskies for beginners as the flavors are amazing. There is a lot of brown sugar, vanilla, oak, and char in this whiskey. You can taste and experience that all!
If you prefer something lighter, such as a rye whiskey, Jack Daniels also does a bottle of rye whiskey that is just as good as the standard bottle.
If the flavor of Jack Daniels is just too much for you, you can always pair it with Coke to make the famous 'Jack and Coke' cocktail. This is a staple in a lot of bars and allows you to taste the whiskey without having the full force of its flavor at once.
Suntory Toki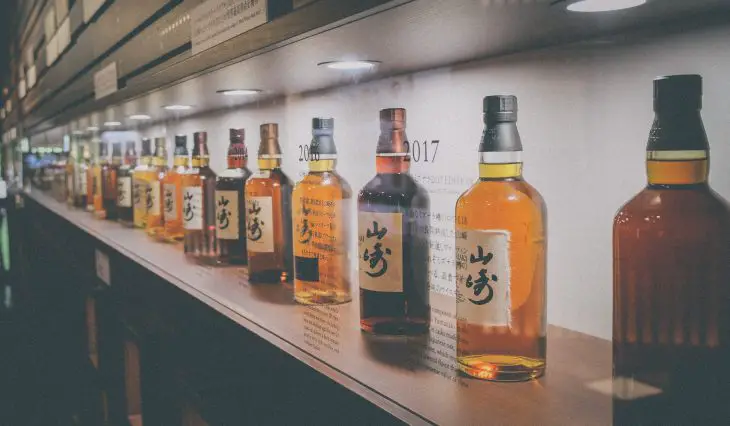 While a lot of these choices are friendly on the wallet, Suntory is a Japanese whisky that might be a bit more expensive to get your hands on depending on where you live. There are a lot of import prices that you would need to pay as the whiskey is flown overseas. Other than this, the Suntory line of products is absolutely delicious and has a premium quality unlike any other.
The flavors found in this whiskey are smokey and delicious, with a lot of sweetness coming from honey. This taste and texture make the Suntory Toki a perfect bottle for any newcomer wanting to treat themselves to a special first drink.
Bulleit Bourbon
Bulleit Bourbon is a Kentucky brand of straight bourbon whiskey that is distilled in Lebanon, Kentucky. This rye whiskey has a relatively high rye content (28%) which is higher than a lot of comparable rye whiskies.
The bourbon is left to age for at least six years before it is ever bottled. This means that the whiskey has had time to develop a lot of flavors and has had all of the harch impurities removed. The longer age whiskey has, the smoother it becomes. While it may seem weird to bite the bullet and buy an aged whiskey as your first, it is arguably the best choice. It will be smoother and easier to drink than any of the non-aged choices.
While caramel and vanilla are almost expected in a whiskey, this bottle also has a unique flavor of orange zest which add a bitter yet excellent twist. This whiskey has spice but still remains smooth and easy for newcomers to drink.
Tullamore Dew
Production of Tullamore Dew goes in an interesting way. This Irish whiskey is made using ex-bourbon and ex-sherry butts which create a very soft and unique taste. Out of all the other brands of whiskey, this bottle is consistently lighter and is a lot easier for newcomers to appreciate from the start. It is almost unanimously described as one of the best 'entry-level' whiskeys.
Best Type Of Whiskey For Beginners
There are a lot of different types of whiskey. They are determined by how it is made and what ingredients are used. The most notable of these are;
Scotch whisky
Bourbon whisky
Blended whisky
Grain whiskey
Rye whiskey
Blended Scotch whiskey
All of these different types have characteristics that some people may love while others may hate. While it may be tempting to buy a single malt scotch whiskey as your first, it can be a bit overpowering. Furthemore, and can intimidate you before you have even had a chance to try many options.
For newcomers, straight bourbon whiskey is a safe bet as it is sweet and smooth. Canadian whisky is also another good choice as they are typically sweet and have a lot of smooth flavors. Some Canadian whiskey is even finished aging in rum barrels which impart a really unique and nice flavor.
FAQs On Whiskey For Beginners
What whiskey should I try as a beginner?
As a beginner, you can try any whiskey you want but you may be put off by the stronger tasting choices. A sweet bourbon such as Four Roses or Buffalo Trace will be an ideal starting point for you.
Should a beginner drink whiskey?
Absolutely. Whiskey is not at all a drink exclusively for experienced drinkers. If you are wanting to try whiskey, jump right in. While it may take a moment to find one you love, you'll definitely find it eventually.
What is the smoothest whiskey?
The smoothest whiskey is arguably Tullamore Dew as it has a smooth and soft flavor that is unique and different from all of the competition. It is smooth as it is made with ex-bourbon and ex-sherry butts.
What's the smoothest sipping whiskey or bourbon for beginners?
The best sipping whiskey for beginners would depend on what flavors they like. Bulleit Bourbon is smooth and delicious, a perfect choice for sipping. However, Suntory Toki is incredibly sweet and well-rounded which can make it more enjoyable for some people.